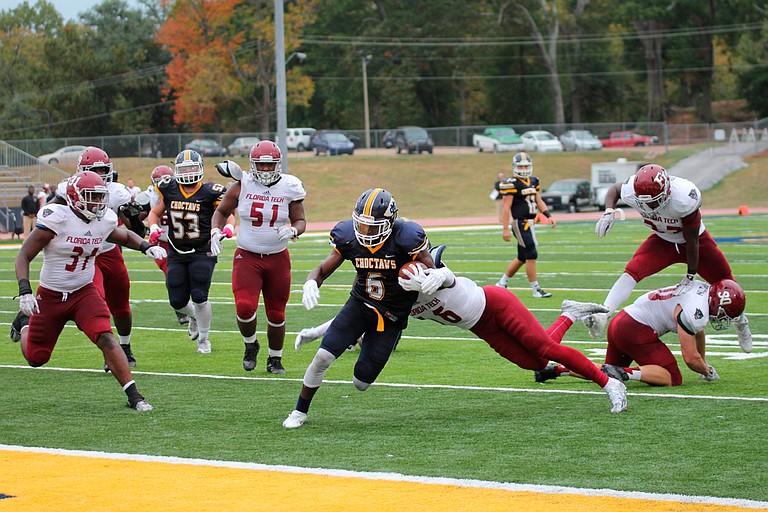 Wednesday, August 10, 2016
Alcorn State University Braves
Head Coach: Fred McNair (0-0 record, first season as a head coach)
2015 Record: 9-4 (7-2 SWAC)
Stadium: Spinks-Casem Stadium
Last Season Recap
Alcorn had a rough start last season with a 69-6 blowout loss to Georgia Institute of Technology. ASU bounced back with four straight wins by an average 34.5 points per game. Grambling State University slipped by the Braves in a 35-34 overtime win. ASU returned with a 48-7 win over Southern University before Prairie View A&M beat the Braves 40-34.
The Braves came back with another four wins and beat Grambling State 49-21 in the SWAC Championship. ASU earned a berth in the first Air Force Reserve Celebration Bowl, where North Carolina A&T State University won 41-34.
This Season Overview
After the season, USM hired Alcorn head coach Jay Hopson to fill its vacancy. ASU hired Fred McNair, a former star player who spent four seasons as assistant coach and quarterback coach. Now, McNair is tasked with continuing Hopson's work, which led to two SWAC Championships.
The good news is that he has many returning players including quarterback Lenorris Footman, who stepped in after John Gibbs Jr. was injured, running back Arron Baker, wide receivers Marquis Warford and Brandon Campbell, and linemen Stacey Garner and Mike Brooks Jr., among others.
Schedule
Sept. 4 @ Bethune-Cookman, Sept. 10 Alabama State, Sept. 15 Arkansas-Pine Bluff, Sept. 24 @ Grambling State, Oct. 1 @ Arkansas, Oct. 8 @ Alabama A&M, Oct. 15 Texas Southern, Oct. 29 Southern, Nov. 5 @ Prairie View A&M, Nov. 12 @ Mississippi Valley State, Nov. 19 Jackson State
Mississippi Valley State University Delta Devils
Head Coach: Rick Comegy (176-105 overall, 3-19 entering third season at MVSU)
2015 Season: 1-10 overall (1-8 SWAC)
Stadium: Rice-Totten Stadium
Last Season Recap
The Delta Devils opened last season with a 66-0 loss to the University of New Mexico, and it didn't get much better. Southern University, Alcorn State, Alabama State, Jacksonville State, Prairie View A&M, Texas Southern and Grambling State all beat MVSU. After falling to a 0-9 record, MVSU notched its only win of the season, beating Alabama A&M 27-24 in overtime. MVSU ended the season with a 25-19 loss to Arkansas-Pine Bluff.
This Season Overview
The building job at MSVU took a step back last season. Rick Comegy should begin to see mostly his recruits on the field this season. The early front-runner for quarterback looks to be Slade Jarman, and he needs to get the ball to star return man and wide receiver Booker Chambers. The secondary could be one of the best in conference with cornerbacks Marquis Green and Farrean Toney.
Schedule
Sept. 2 @ Eastern Michigan, Sept. 10 Alabama A&M, Sept. 17 @ Texas Southern, Sept. 24 Prairie View A&M, Oct. 1 @ Jackson State, Oct. 8 @ Montana, Oct. 15 @ Alabama State, Oct. 22 @ Grambling State, Nov. 5 @ Arkansas-Pine Bluff, Nov. 12 Alcorn State, Nov. 19 @ Southern
Delta State University Statesmen
Head Coach: Todd Cooley (22-10 overall, all at DSU entering fourth season)
2015 Record: 6-5 overall (2-5 GSC)
Stadium: Parker Field-McCool Stadium
Last Season Recap
The 2015 season had all the makings of something great for Delta State. The Statesmen ranked in the top 25 and opened with a four wins to start the season, but they lost their first conference bout 41-37 to the Florida Institute of Technology. The Statesmen bounced back to win 38-17 over Shorter University. DSU went on a four-game losing streak before closing with a win over Mississippi College.
This Season Outlook
DSU starts a healthy Sullivan this season, though backup Tyler Cameron got experience after Sullivan went down with a collarbone injury. Leading rusher D'Juan Bellaire returns and will spend time at running back. DSU will replace five leading wide receivers from last year, but the team will have lineman Sifa Fanau and a strong secondary.
Delta State also had some staffing shake-ups. Defensive coordinator Lanier Goethie left for Louisiana Tech University. Head coach Todd Cooley hired Arkansas Tech University's Raleigh Jackson, who will have to improve a defense that gave up 401.6 yards per game.
Schedule
Sept. 1 Kentucky Wesleyan, Sept. 10 Texas A&M-Commerce, Sept. 17 @ West Georgia, Sept. 24 Shorter, Sept. 29 Mississippi College, Oct. 8 @ West Alabama, Oct. 15 West Florida, Oct. 22 @ Valdosta State, Oct. 29 North Alabama, Nov. 12 @ Florida Tech
Mississippi College Choctaws
Head Coach: John Bland (78-43 overall, 3-17 at MC entering third season)
2015 Record: 2-8 overall (0-7 GSC)
Stadium: Robinson-Hale Stadium
Last Season Recap
The Choctaws opened with a 61-6 win over Texas College but lost their next game 34-17 to the University of North Alabama. MC won its final game of the year 42-21 over Belhaven University. The growing pains of transitioning from Division III to Division II showed the rest of the year.
Starting with a 37-0 loss to McNeese State University, the Choctaws lost their final seven games. The first five losses were blowouts, but there was some improvement in the final two losses. In those games, MC lost by 1 point to West Alabama and 8 points to Delta State, respectively.
This Season Overview
MC is now a full member of Division II and can take part in the postseason. The Choctaws won't start competing at that level suddenly, of course. There will still be a growing process, but there should still be improvement this season. The Choctaws have returning players such as quarterback Walker Meadows, running backs Josh Dixon, Colt Freeman and Moregan Sharp, and wide receiver Marcel Newson.
Schedule
Sept. 3 Point University, Sept. 10 @ Florida Tech, Sept. 17 West Alabama, Sept. 24 Cumberland, Sept. 29 @ Delta State, Oct. 8 West Florida, Oct. 15 Valdosta State, Oct. 22 @ West Georgia, Nov. 5 @ Shorter, Nov. 12 North Alabama
Millsaps College Majors
Head Coach: Aaron Pelch (32-27 overall, all at Millsaps entering seventh season)
2015 Record: 3-7 overall (2-6 SAA)
Stadium: Harper Davis Field
Last Season Recap
The season started out hopeful for Millsaps with a 52-23 win over in-town rival Belhaven University. After that win, the wheels fell off. The Majors went on a seven-game losing streak with blowout losses to the University of Mary Hardin-Baylor, Centre College, Birmingham Southern College and Washington University in St. Louis. Millsaps bounced back with two wins over Sewanee and Rhodes College.
This Season Outlook
Millsaps is going to try to avoid its third consecutive losing season and get back to its winning ways. Defense should be a strong point, with safety Jared Bullock, linebacker Hector Sandoval and defensive lineman Alex Foust back this season. Foust was first-team All-SAA, Sandoval was second-team All-SAA, and Bullock was an honorable mention. Second-team All-SAA offensive lineman Austin Harris and All-SAA honorable-mention receiver Rashad Sims also return.
The Majors begin the season again with Belhaven and face Trinity University, the only team they didn't face last season. Millsaps begins conference play by going on the longest road trip of the season against Chicago.
Schedule
Sept. 1 @ Belhaven, Sept. 10 Trinity University, Sept. 17 @ University of Chicago, Sept. 24 Hendrix College, Oct. 8 @ Centre College, Oct. 15 Birmingham-Southern, Oct. 22 Washington (St. Louis), Oct. 29 @ Berry College, Nov. 5 @ Sewanee, Nov. 12 Rhodes College
Belhaven University Blazers
Head Coach: Hal Mumme 139-136-1 overall, 4-17 at Belhaven entering third season)
2015 Record: 2-8 overall (1-4 ASC)
Stadium: H.T. Newell Field
Last Season Recap
It was a rough start for a young Blazers team, who lost its first six games, including blowout losses such as a 62-6 loss to the University Wisconsin-Whitewater and a 59-13 loss to the University of Mary Hardin-Baylor.
The team broke through with a 42-33 victory over Warner University to end a 15-game losing streak that dated back to 2014. Belhaven then dropped its next two games to East Texas Baptist University and McMurry University but ended the season with a 12-6 win over Sul Ross State University.
This Season Outlook
Last season, Belhaven was a young team but also a team in the process of moving from NAIA to Division III. The Blazers started freshmen quarterbacks Clayton Webb and Tristan Hibbeler and only had nine seniors on the roster.
For this season, though, Belhaven will bring back most of its leading rushers and receivers. There were 23 juniors and 25 sophomores on the roster last season, and if most of them come back, this squad should have plenty of experience. That means most of the defense should return and hopefully be a better unit than the one that gave up 38.7 points per game.
As Belhaven moves divisions, there will still be some tough times. Head coach Hal Mumme has seen nearly everything in his career, so chances are good that he will get this program on track.
Schedule
Sept. 1 Millsaps, Sept. 10 @ Wisconsin-Whitewater, Sept. 17 @ Huntingdon College, Oct. 1 East Texas Baptist, Oct. 8 @ Sul Ross State, Oct. 15 McMurry, Oct. 22 @ Louisiana College, Oct. 29 Hardin-Simmons, Nov. 5 Mary Hardin-Baylor, Nov. 12 @ Howard Payne
Hinds Community College Eagles
Head Coach: Gene Murphy (170-69-5 overall, 144-48-5 at Hinds entering 30th season)
2015 Record: 6-3 (4-2 conference)
Stadium: Joe Renfroe Stadium
Last Season Recap
It was a season of streaks for Hinds Community College last year. The Eagles started off with three straight wins, including a four-point victory in the season opener against Holmes Community College.
Hinds then went on a three-game losing streak that put its record at 3-3, though one of those was a one-point loss to eventual national champion Northwest Mississippi Community College. The Eagles got back on track in their final three games with another string of victories to end the season.
This Season Outlook
Hinds almost always recruits well, and head coach Gene Murphy does an effective job behind the helm each season. The Eagles will likely be competitive again this year.
Schedule
Sept. 1 Northwest, Sept. 8 Itawamba, Sept. 15 @ Southwest, Sept. 22 Pearl River, Sept. 29 @ Gulf Coast, Oct. 6 Co-Lin, Oct. 15 @ East Central, Oct. 20 Jones, Oct. 27 @ East Mississippi
Holmes Community College
Head Coach: Jeff Koonz (18-27 overall, all at Holmes entering sixth season)
2015 Season: 4-5 overall (3-3 conference)
Stadium: Ras Branch Stadium
Last Season Recap
Holmes started with a loss to Hinds before getting a win against Pearl River Community College. The Bulldogs dropped two games in a row to Itawamba Community College and East Central Community College.
The team bounced back with a win over Mississippi Delta Community College before a second two-game losing streak against Northwest Community College and East Mississippi Community College. The season ended on a strong note with wins against Coahoma Community College and Northeast Mississippi Community College.
This Season Outlook
Holmes has been close to turning the corner in the last two years, with several close defeats during both seasons. If the Bulldogs can add just a little more talent, they can make that turn. In our state's junior-college system, it will be hard to rise too far without bringing in new blood. But that doesn't mean it's entirely impossible for either Holmes or Hinds.
Schedule
Sept. 1 @ East Central, Sept. 8 Southwest Mississippi, Sept. 15 Mississippi Delta, Sept. 22 @ Coahoma, Sept. 29 @ Northwest Mississippi, Oct. 6 East Mississippi, Oct 13 Co-Lin, Oct. 20 @ Northeast Mississippi, Oct. 29 Itawamba