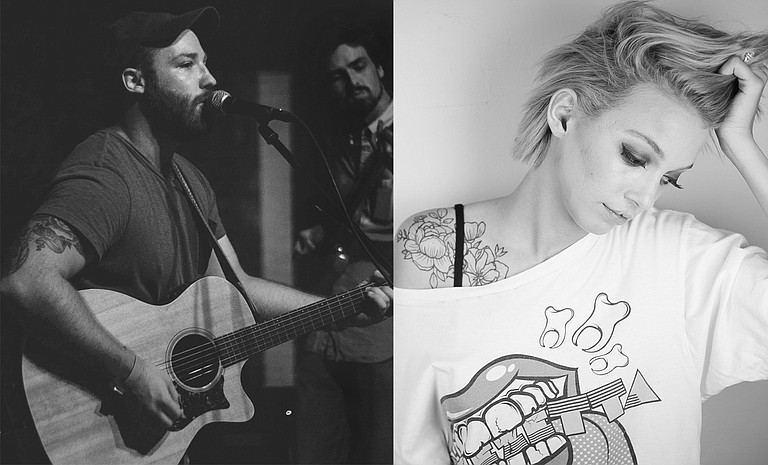 While the local music scene is never short on fresh faces, it's less common to be introduced to two at the same time. Rather than going the traditional individual-release route, singer-songwriters Alex Fraser and Victoria Fortenberry decided to team up for their debut recording projects, creating "After the Fact," a split EP that comes out today, Aug. 12, on record labels Elegant Trainwreck and Homework Town.
While Fraser says his music has more of a "rootsy" sound that melds elements of acts such as Frank Turner and Brand New, Fortenberry's musical foundation is experimental pop, taking inspiration from artists such as Regina Spektor and Leonard Cohen. "After the Fact" creates a "microcosm," combining two worlds and two contrasting styles in a way that the Jackson music scene has a habit of doing, Fortenberry says.
"My favorite part is hearing my song between Alex's," she says. "I have so much respect for his talent."
The artists' backgrounds are distinct, as well. Fraser was born in the United Kingdom and moved with his family from the U.K. to Memphis, Tenn., at age 10. He came to Jackson to attend Millsaps College in 2009 and received his bachelor's degree in political science in 2013. While he had always been a fan of music and sang in various bands in high school, he was 20 years old before he decided to take up an instrument.
"I got a guitar for my birthday, and I just kind of learned from there, teaching myself for a little while and then just getting lessons here and there at Morrison Brothers," he says.
Music has quickly come to serve as more than just a hobby, Fraser says, comparing it to meditation for him.
"It is a creative outlet, but it's also an emotional one. It helps even me out," he says. "I try to capture what I'm feeling and share it with other people."
Fortenberry, on the other hand, grew up in the Jackson metro area in a musical home. Her father used old hymnbooks to teach her and her siblings to play guitar. Her love of folk music first inspired her to write songs, but in more recent years, her creative output has taken the form of experimental candy-pop music, she says, which is a genre that pushes the elements of existing pop music into new areas. For live performances, Fortenberry, who performs under the moniker Standard Issues, often plays with only a keyboard or an acoustic guitar, putting her voice and lyrics at the forefront.
"I hope that when I write a song, it's a reflection of how I feel about something or how I want to feel about something," she says. "This experience—being connected with someone—is very validating."
Both Standard Issues and Alex Fraser and the Vagrant Family Band will be performing with full accompaniment for their EP release party, which takes place tonight at 7 p.m. at Fondren Underground at Fondren Corner (2906 N. State St.). Admission is free, though copies of "After the Fact" will be available for sale. After the show, the EP will be sold at local businesses such as Offbeat and the Cups Espresso Cafe Fondren location and online at elegant-trainwreck.com.