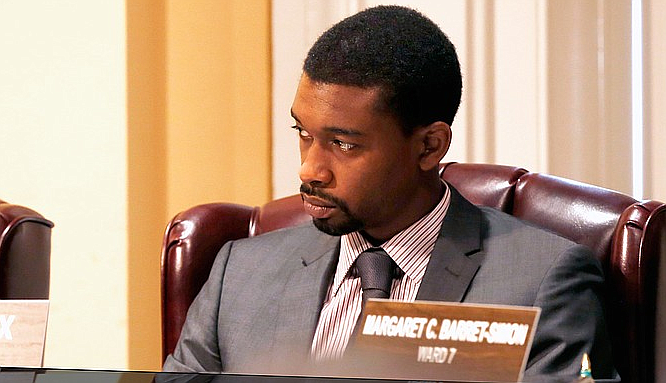 The Jackson City Council decided today to hire outside counsel to represent its interests in the sexual and race harassment lawsuits filed last week, citing conflicts of interest within the City's legal department.
"The City Council will identify and hire outside legal counsel to represent the City of Jackson and to thoroughly investigate these matters," Council President Tyrone Hendrix posted on his Facebook shortly after the meeting today. The post indicated that the council would choose its attorney at the next regular meeting, scheduled for next Tuesday, Sept. 6.
The council recessed the special meeting, which began at 10 a.m. and went into executive session shortly after 11 a.m. today, pushing the discussions until 4 p.m. on Friday, Sept. 2. The council already had a meeting scheduled for 6 p.m. Friday to discuss the budget as a part of the budget-approval process for next year.
In his post, Hendrix said the City would not pay for Mayor Tony Yarber's attorney fees for the two cases filed last week. Yarber released a statement soon after the council entered session.
"This is now a legal matter. My private legal counsel will respond accordingly," Yarber said in the statement that Shelia Byrd, the City's spokeswoman, released on his behalf. "I was unable to attend the meeting today as I had a conflict. We will continue to work with the council on these and other issues. Indeed, now our focus is on crafting a budget and taking the necessary steps to keep Jackson on path to fiscal resiliency."
Hendrix also stated that City Attorney Monica Joiner would be recusing herself from the proceedings of the two cases.
The city attorney is mentioned in both cases, as is the mayor. Kimberly Bracey, former executive assistant to the mayor, filed the sexual harassment lawsuit, alleging that she had to continue a sexual relationship with the mayor in order to keep her job. She said the sexual relationship with Yarber continued while she was living with Joiner, who Bracey states in her complaint was also seeking a relationship with the mayor at the same time.
A statement the City released the day of Bracey's lawsuit called her "disgruntled" and vowed to fight the charges. The mayor has not responded himself to requests for comment.
Bracey filed an amended complaint yesterday, dropping mentions of Tyrone Lewis and Aaron Banks from the narrative about events where sexual activity allegedly happened from her original lawsuit.
The other lawsuit, from former Deputy City Attorney Lara E. Gill, alleges that she was transferred and eventually terminated in December 2014, after working with the city as a litigator since July 2008. Joiner fired Gill, the complaint alleges, for being white and for pointing out "waste/misuse of municipal resources," among other supposed "violations from the City Attorney's legal practices, policies and procedures."
The City is also dealing with another discrimination lawsuit from May of this year, WLBT reported this afternoon, involving a former public information officer.
Amanda Williams alleges in her complaint that she was terminated for "pregnancy and pregnancy-related medical conditions" in 2015.
"In June and July 2014, Ms. Williams intermittently took leaves of absence under her physician's orders because of medical conditions, such as illnesses and complications, related to her high-risk pregnancy," the complaint states.
After she gave birth, per city policy, she had to turn in a letter from her physician stating that she could return to work, she alleges. Willams said that in January 2015, she turned in the notice but that when she returned to her home, she found a termination notice in her mailbox.
Email city reporter Tim Summers Jr. at tim@jacksonfreepress.com. Follow City lawsuit developments at jfp.ms/citylawsuits.