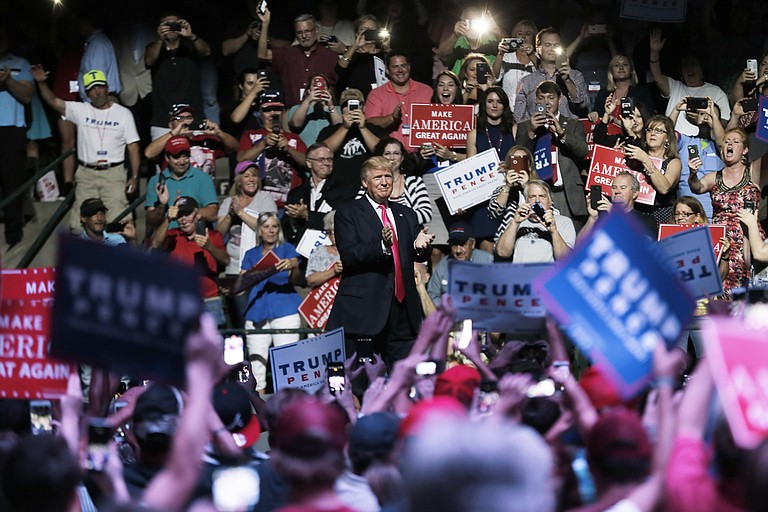 Wednesday, August 31, 2016
JACKSON — "We had some tremendous polls come out today—we're leading in a lot of locations." That's what Donald Trump told supporters in Jackson last week at the Mississippi Coliseum, but which polls is he leading, and if so, how accurate are they? And more importantly, which polls should voters pay attention to—if any? In Mississippi, so far, Trump looks like the favorite, but some pollsters have also speculated that with the right turnout formula, Clinton could give him competition, depending on several factors.
National polling expert Nate Silver wrote in a recent article, "What A Clinton Landslide Would Look Like," that if Clinton can pull 20 percent of Mississippi's white vote, "the outcome could be close." In 2008, only 11 percent of the white vote went to Barack Obama, however, and even with Mississippi's high percentage of African Americans—the highest in the nation at 38 percent—the white vote would be equally important to make Clinton competitive here.
FiveThirtyEight, weighing four polls (two national and two state) in Mississippi, estimates that Trump has around a 91 percent chance of winning the state. A Mason-Dixon poll, which polled registered voters in March, asked a question isolating Trump and Clinton as candidates in the election. Forty-six percent of people who were polled chose Trump, while 43 percent chose Clinton in that Mason-Dixon poll. These numbers led to Silver's discussion because 20 percent of white voters in that poll chose Clinton.
An August poll, which Y'all Politics, a conservative local blog, commissioned and Magellan Strategies conducted, polled likely voters, showing a wider spread between the two candidates. In a question that isolated Trump and Clinton as options for president, 54 percent of those polled chose Trump, while only 39 percent chose Clinton. In this poll, only 15 percent of white voters chose Clinton.
Nathan Shrader, a political-science professor at Millsaps College, said the Magellan poll seemed to use a weighted sample that reflects actual voter participation in the state. He said the poll shows that for the Democratic candidate to have a shot in Mississippi, she would need to garner more than 20 percent of the white vote in the state, as well as rely heavily on African American voter turnout. Clinton drew 87 percent of the African American vote in the Magellan poll, but this number could fluctuate depending on voter turnout.
Traditionally, Mississippi has been a low-turnout state, but has grown in recent presidential elections.
In 2008, when Barack Obama first ran for president, Mississippi posted the highest voter turnout numbers in the state's history. Secretary of State data show that 1.289 million Mississippians voted in the 2008 November election out of 1.895 million registered voters or 68 percent. In 2012, 1.285 million Mississippians voted, setting another high level of voter participation—but not quite matching 2008.
D'Andra Orey, a political-science professor at Jackson State University, said Mississippi turnout this year might increase due to Trump's message resonating with conservative Republicans throughout the state. In this year's Republican primary, Mississippi posted record numbers in terms of turnout with 416,252 Republicans voting in the primary election, secretary of state data show. NPR reported that this number is much higher than the 2012 primary.
"Mississippi is one of the most conservative states in the union if not the most, and Trump has delivered at least early on one of the most conservative set of messages ... and I think that resonates with Republican Mississippi voters," Orey said. "And that might be the impetus for increasing voter turnout for Republicans."
On Tuesday, Gov. Phil Bryant and other state Republican leaders announced the Trump campaign headquarters in Mississippi. Trump surprised the RNC earlier in August when he asked the party to themselves open field offices for him in all 50 states—an unusual strategy, Politico reported. Campaign offices are typically concentrated in battleground states.
Two Reuters' Ipsos polls, released recently, which are national in scope but included Mississippians, seem to match the Magellan poll's results. Around 53 percent of those surveyed support Trump. It's only August, and more polls will continue to roll out the political snapshot of this year's election. Orey said he thinks this election could draw comparable numbers to past presidential election years like 2008 or 2012, but not necessarily for the same reasons.
"Trump can increase turnout, and Hillary can increase turnout, but it would be because those turning out would be against (the other candidate). It's more of a voting against a candidate than voting for a candidate," he said.