Wednesday, February 17, 2016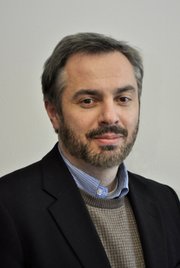 Do you all have a problem with potholes there?" My mom asked me that question when I called her on Valentine's Day, lamenting the state of the streets in south Florida where she lives.
"Yeah, they're pretty bad," I replied, aware that my response was something of an understatement.
At the end of our street is a pothole so big that I've actually reported it to 3-1-1 (it's been only a few weeks, so I still hope for a fix soon); it's easily 4 feet across, and when filled with water, it's at least shin deep. In the evenings, when our neighbors park in front of their houses, it's essentially impossible to turn into our street without plopping right into this pothole.
The Honda Insight we drive has regular-profile tires and some ground effects appropriate to a hybrid; it bottoms out every time I go (gingerly!) through there. Our Miata—much less anything with low-profile sport tires—might honestly not make it through that pothole without a blown tire, bent rim or worse. (Some friends coming to visit make a point of going around the block to get to us.) Not to mention, like so many deep potholes in Jackson, it has no warning or barriers to warn drivers.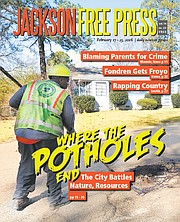 In recent months, city residents have seen a spate of high-profile pothole-related incidents. Residents are ready for a solution.
Are potholes the worst problem we face in Jackson? No. But they represent a pretty big problem for more than one reason. It may feel a little whiny to worry about potholes when we've got serious sewer and water infrastructure issues, but there's a little context to consider.
First, potholes are a safety issue and a transportation issue. In terms of safety risks, things seem to be getting worse over the past few years, possibly because water has taken precedence, and the 1-percent tax program has been in limbo.
Maybe I'm just paying more attention to it—but there seems to be a lot of orange cones and sawhorses that aren't even in the hole they're supposed to protect us against; it feels like nobody has the job of even driving through the city and looking for dangerous spots to flag. People's cars are getting banged up, affecting their finances—given the state of public transportation in Jackson, that could mean not being able to get to work for many people who can't afford fixes.
Second, potholes (and other woes) can affect investment. As Duane O'Neill of the Greater Jackson Chamber Partnership points out in this week's cover feature (and other city leaders and economic-development folks have mentioned to me personally), pothole-riddled streets can be a problem for recruiting businesses. When you have to map your route for the smoothest ride while showing prospects around town, you're hurting your chances to create new jobs.
(Yes, New Orleans has bad roads, too, so I'm not discounting the possibility that one way to deal with the roads might just be more open containers, street festivals and brass bands on the corner. Couldn't hurt.)
Third, potholes wouldn't be as frustrating if they didn't feel like "more of the same" when it comes to our infrastructure woes. It's clear to me that the $91 million Siemens contract for water and sewer repairs has been a huge lost opportunity for Jackson's citizens. (As far as I can tell, Siemens and some of the contractors and subcontractors did just fine for themselves, at our expense.)
After spending three times what San Francisco spent on each new water meter, and millions to overhaul the software, the experience for the consumer is worse and more expensive. I'm still getting estimated water bills weeks after they are supposed to arrive. And those estimates are easily 60 percent to 100 percent higher than what I was billed under the old system, when someone was actually reading the meters!
Who is accountable for the billing issue? Who can fix it? When?
Now, we've got the 1-percent sales tax dollars that are supposed to go to streets and bridges, among other infrastructure. The first-year money technically kicked in back in May 2015, but it took half a year before a program manager was hired and projects started to get budgeted. By May 2016, the City expects to have spent a little over $13 million on infrastructure improvements, city spokeswoman Shelia Byrd told me today.
To make that happen, the next three months will need to be a whirlwind of projects to meet that goal, given the state of some of the "first year" projects. For instance, none of the major street-reconstruction projects on the city's list (Medgar Evers, State Street, Mill Street, Lynch Street and Riverside Drive in two phases) has their cost and scope finalized, although some are in different phases of being advertised and consulted on.
Only eight of the total 38 initiatives among the "year one" projects have city council approval, according to a document the City provided us. Hopefully, many of those will start this spring.
Jackson is big in terms of square miles; we have more space to manage than much more populous cities such as Oakland and Cleveland. As you'll read this week, we have two crews patching potholes, and one of them is a crew with shovels and a pickup truck. Which, to my mind, presents the question—I wonder if we could proactively hire and manage a few more crews and a few more pickup trucks so they can get more done faster? Certainly, one approach is to contract for a project manager, scope each project, contract it out, receive the bids, fight it out in council, court and press ... and then, if we're lucky, bring on some of these fabulous subcontractors who have helped spend the Siemen's project money.
That, so far, is how the Yarber administration seems to spool up these big projects.
But, unlike the Siemens "performance" contract, to me it seems that the 1-percent sales-tax dollars present the very real opportunity for the City of Jackson to build some internal capacity and to fill some jobs in the Public Works department.
I, for one, would love to see this extra tax burden on Jacksonians' and Jackson businesses translate not only into filled potholes, manicured exits and smoother streets, but also into some honest middle-class jobs for Jackson-based workers who can then use some of that money to reinvest in their homes, families and neighborhoods.
As we consider the prospects of spending an extra $15 million or more per year on infrastructure, let's remember that $14 million divided by $40,000 is 350 decent jobs—with a million left for admin. Those jobs could lead to a better city for all Jacksonians—including commuters, investors, visitors, business owners—who could bring more money to the city. That's real infrastructure investment, which we sorely need.
Let's DO this. Not just talk about it. Not just write it down. Not just contract it out. Just for starters, how about we hire some more folks, fill some more trucks with asphalt ... and get some more streets fixed?
Todd Stauffer is the president and publisher of the Jackson Free Press. Email him at todd@jacksonfreepress.com.