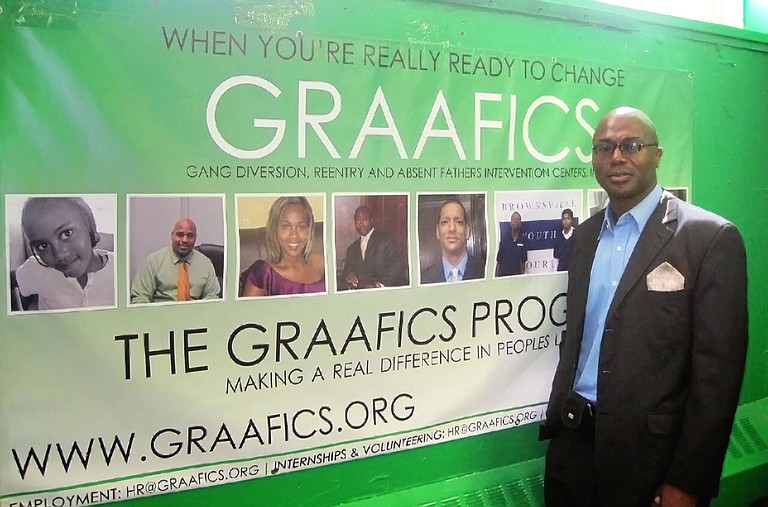 New York City — The halls of William Alexander Middle School 51 in Brooklyn, N.Y., are buzzing, filled with a dozen bright, beaming brown faces at the end of a long school day. The school year is almost over, and the halls are being swept clear of art projects and "A+" papers.
In the center of it all, nearly twice as tall as his students, is Dr. Kai Smith.
Smith, a native of Harlem, runs GRAAFICS, Gang Diversion, Reentry And Absent Fathers Intervention Centers, a program he founded to give young men and women an outlet to avoid criminal behavior. He helps active gang members, inactive gang members, the incarcerated, the formerly incarcerated, and absent fathers with successfully reforming the attitudes and behaviors that directly contribute to unhealthy decision making, he and the GRAAFICS website explain.
On this day, Smith is at MS 51 leading a class of a dozen 6th and 7th graders through an opinion questionnaire that includes statements such as "When I see a cop coming towards me, I am usually afraid because I think they will harass or shoot me" and "Gay people are people like all of us and should be treated 100% equal" with a space to mark "Agree" or "Disagree" off to the side.
The class, filled with mainly young boys except for two girls and two female teachers, feels somewhat inviting, if not a little bit sterile with plain white posters filled with literary terms and book reports. The boys are rowdier than the girls, likely not out of disrespect, but because they're 12 or 13—you can see the boyhood curiosity behind their eyes.
Smith gives everyone a chance to voice their answers to the question, but he asks that they also flesh out their opinion because "'it doesn't make sense' is not an answer." He stresses that, one day, they may have to defend themselves to strangers without resorting to violence or a tantrum. He is tough on the class, demanding them to sit up straight, answer with respect and not to talk over each other.
With a sharp "Focus up!", the boys quiet almost immediately. From the first glance, it may feel like Smith is too hard on them, but the more he interacts, the more they pay attention and open up.
Smith, too, shares bits about his past in prisons in New York, Virginia and South Carolina, how he got out and immediately went to school, and how he wants to set the example for them.
"I've told you from the beginning that you're never going to get a lie from me," Smith tells the students.
During the discussion, one student raises his hand and articulates his opinion on whether LGBT people should be treated equally (they should, because "what they do doesn't affect my life and they can't help who they love," he says) and waits for Smith to reply. Smith is silent for a moment, and then a smile plays on the edge of his lips.
"I love you. You're going to be the next black president," Smith tells the young man.
'Credible Messengers'
Though GRAAFICS has only been around since 2003, the idea for the intervention program came to Smith while he was incarcerated. An avid basketball player, Smith grew up playing and competing against men twice his age, eventually landing a full scholarship to the University of Nevada at Las Vegas. He had dealt drugs as a teenager, building a reputation for turning $50 worth of crack into 22 kilos of cocaine.
He spent a combined total of 16 years in prisons, and says that when he was first locked up, he thought of it as an adult summer camp. After a few years, he realized he needed to get his act straight, and once he was released in 2002, he earned his bachelor's and master's degrees in human services and resources from the Metropolitan College of New York, an executive master's degree in public administration from Rutgers University, and certification as a Professional in Human Resources. He is currently pursuing his PhD in organizational psychology and operations management.
GRAAFICS has more a dozen different programs that vary from afterschool to gang intervention, with classes for women, fathers and gang members. It includes training courses in behavior modification.
In his day program, Smith offers 20 to 40 sessions during school hours that focus on subjects such as cyber bullying, stress and anger management, alternatives to aggression and breaking out of the cycle of violence.
The gang-diversion course takes at-risk youth and gang members through all aspects of their gang relationships, asking members tough questions and examining the roots of gang violence, learning what it's really like in prison and ways to remove themselves or stay away from violence.
In his Models for Non Violence program, young girls and women work to decrease violence by increasing awareness and education through beauty, fashion, culture and social consciousness. Smith says his program is the only community-based organization that allows women to use their intelligence and beauty to voice their frustrations against the biggest issues in the African American and Hispanic communities: gun violence.
"You can't stand on your terrace in the Hamptons and tell us what to do on Lenox Avenue," he says, referring to a wealthy, largely white coastal getaway and a street in Harlem. "History is given by the person that's alive to tell the story."
Through his work, Smith says he provides an innovative solution to violence by listening to his kids. He meets them on their level and helps them reach the goals and earn the things they want, like tickets to basketball games or a new pair of shoes in exchange for perfect grades—things many of them can't afford.
Smith has five members on his team he calls credible messengers who are visible in the communities in New York and New Jersey. Each messenger is responsible for about five to 10 kids that they guide in school or teach them life skills. He is currently working to get contracts in more public schools, and says that one of the things that curbs crimes by children is to have someone available to mentor them as an educator or an authority figure.
Smith stressed using credible messengers—people who grew up on the streets that they're working to save and protect—because they know what it feels like, and what does and doesn't work.
The benefit of the mentorship is felt both ways, because the kids learn how to be responsible, and it gives the adults who have been in the system an opportunity to give them a job and a chance to love to kids that mean something to them. He often takes his kids to the park or a basketball game, with their parent's permission, like mini field trips. To him, the mentoring doesn't end once he leaves the classroom or his day is over. He has even had students reject gang violence just because he spent time with them.
"Sh*t gets crazy at times, and we have to understand that there are things we need as a people that we don't get, and because we don't get it, we never are placed into the position to become our best, just because of certain little small things we don't get," Smith says. "I tell people all of the time my program works because I do things for my kids that I wanted people to do for me at my age, cut and dry," he says.
"I don't perform magic. I don't make promises. I don't tell lies. I do for my kids what I wanted someone to do for me at my age, and majority of that has to do with giving a damn."
Kai Smith is visiting Jackson July 11-16 as part of the JFP's ongoing "Preventing Violence" program. Attend a free public conversation with him, JFP Editor Donna Ladd and Deputy News Editor Maya Miller at Millsaps College on Thursday, July 14 at 6 p.m., with a reception following in the Gertrude C. Ford Academic Building, Room AC215.
Learn more about the GRAAFICS program at graafics.org or find it on Facebook. Read more about crime prevention and juvenile justice in the JFP's ongoing series at jfp.ms/preventingviolence. This reporting was supported in part by a grant from the Solutions Journalism Network.