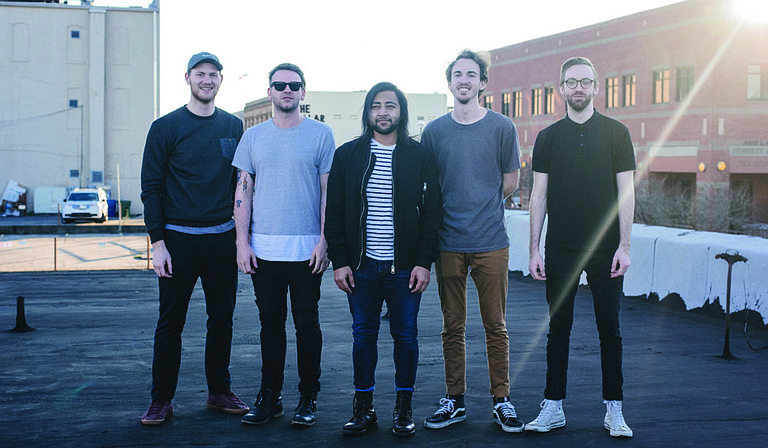 What began as a group of Jackson friends jamming together as surf-rock band The Weekend Kids has turned into a music career for the members of '80s-inspired indie-pop act Dream Cult. Vocalist and rhythm guitarist Hayden Boyd, drummer Cody Bass, bassist Salar Almakky, guitarist Travis Bass, and guitarist and keyboard player Justin Moreira, will release their debut full-length album, "Weekend," through Cincinnati-based label Old Flame Records on Friday, July 29.
In the early days of Dream Cult, the band of high-school friends mostly performed at local events such as Fondren's First Thursday before embarking on regular weekend tours 2013. Boyd said it was after they began performing outside of Jackson regularly that they decided to change their name in 2014 and cracked down on recording an album, which was an almost two-year process. They wrote more than 40 songs, but only 11 tracks made it to "Weekend," which they recorded last spring and named as an homage to their previous moniker.
"We wanted it to sound pristine, and that's what we set these songs aside for," Almakky says. "We really wanted those songs to shine, and we dedicated those songs to that."
The band drew on indie-rock and new-wave influences, such as The Cure, to write its latest batch of music. While they recorded drums and bass at studio The Brown Owl in Berry Hill, Tenn., the musicians tracked guitars and vocals themselves before sending the album to Michael Freeman of Los Angeles-based EastWest Studios for mixing and mastering. While every member plays guitar and dabbles in songwriting, Almakky says they also try to find new ways to create and expand boundaries, whether it's him finding inspiration for lyrics in old text messages or Boyd rereading things he wrote when he was younger. Boyd says the musicians like to write in the way that they feel each song should be written and performed, not following one strategic model.
One of the most important things to remember in being a band is planning, Boyd says. On their tours, sometimes a venue will cancel a show, and instead of getting frustrated with the process, they make the best of it by spending time working on new music or seeing friends that they hadn't in awhile.
"If you expect the worst, then you're going to be let down," Boyd says. "If something falls through, it's not the end."
While listeners have only been able to hear the first two singles from "Weekend" thus far—"Convince Me" premiered through The Big Takeover on June 1, and "Limousines" premiered through Impose Magazine on July 21—Dream Cult already has new material lined up for its next record, which Almakky says has kept the band in the creative loop and working to write songs that are fun and relatable that people will connect with.
"We've been kind of listening to the same songs since January of last year, but it's like no one has heard it except for us at this point, so it will still be new to people," he says. "Once we kind of grasped that, it felt like we could kind of breathe again. ... People are still given a chance to have a reception to it, and that's exciting."
Dream Cult's "Weekend" is available Friday, July 29, at oldflamerecords.com. The band's album release party is at 7 p.m., Saturday, July 30, at Big Sleepy's (208 W. Capitol St.). Admission is $5. For more information, find Dream Cult on Facebook, Instagram and Bandcamp.