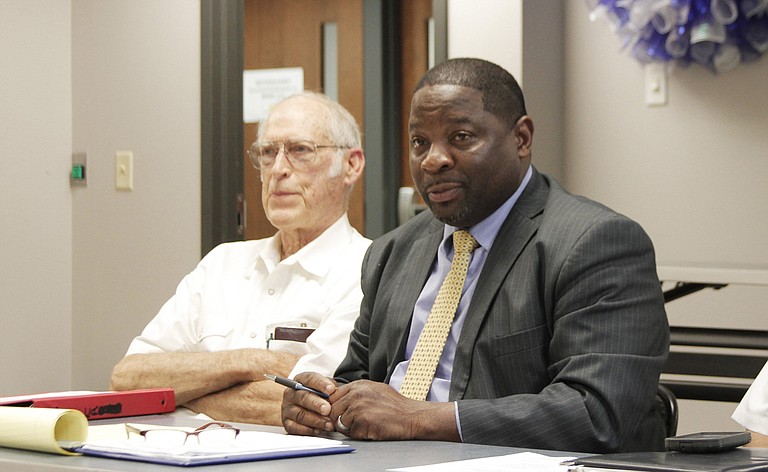 JACKSON — Johnnie McDaniels, the executive director of the Henley-Young Juvenile Justice Center, spoke softly to the assembled Justice Reform Task Force in Jackson's police headquarters about how in a decade as city prosecutor, he had known little about the realities of juvenile justice.
"It is absolutely imperative that everyone in this room become familiar with the Hinds County juvenile-justice system," he told the task force during its May 25 meeting. "I served as a prosecutor in this city for 10 years, and I had absolutely no idea of the gaps that are there."
The "gaps," McDaniels explained, are the steps that lead many young Jacksonians from the Youth Court, to their limited time in Henley-Young, and then back onto the street to repeat the cycle until they turn 18, when they move onto jail or prison.
"We can almost name every person that is on the news and can track them through the Hinds County juvenile-justice system," McDaniels said. "There is an enormous gap there in terms of what is happening with young people committing these felonies. So as I continue to go through this process of being the new director there, I am trying to address the issue."
The Henley-Young Juvenile Justice Center houses the Youth Court, the Court School that is run by Jackson Public Schools, administrative offices, and the detention center itself, where youth offenders between the ages of 10 to 17 are sent. McDaniels said a common track that the young people sent to Henley-Young follow is to repeat offenses until they are 18, when they are then charged as adults. The Mississippi Bar Association's website states that children over the age of 13 are charged as adults in the most serious crimes with a penalty of life imprisonment or death, like a murder or armed robbery.
McDaniels, flanked by Jackson Police Chief Lee Vance and Municipal Court Judge Gail Wright Lowery, said repeat offenders for felonies can cycle through the system several times before they turn 18, when they will no longer be under the privacy protections of the Youth Court.
"What you will find is that a young person in Hinds County will have been arrested on a felony charge at least seven times prior to becoming an adult, but they didn't start offending when they become 18 or 19," he said, explaining that the system moves the children into jail or prison after they become an adult. "It's been a progressive kind of system that I am still trying to get a handle on with how we are dealing with these young people."
By "progressive," he seemed to paint the system as a type of assembly line, which ends with young offenders entering the system over and over again before finally ending up in prison for serious offenses.
"But the number of young people in Hinds County who are committing felonies and are falling through the cracks and are simply being arrested and released, over and over, is why we have a serious problem."
Several lawsuits over the last few years targeted Henley-Young and the Youth Court system for shortfalls in care, resulting in a federal consent decree that is still an ongoing project. The Mississippi branch of the Southern Poverty Law Center and Disability Rights Mississippi filed the original suit in 2011, intending for it to expire in two years. It has since been extended twice, most recently until 2018.
The consent decree covers all areas of the detention center's treatment of the children held there, from how to staff the facility, how to process and treat mental illness, and even ensuring that the children are provided hygiene products during their stay. A court monitor was appointed to deliver regular reports to the federal court about the conditions of the facilities in 2012.
A recent study funded by the Mississippi Attorney General's office and conducted by Los Angeles-based BOTEC Analysis Corp., stated that the road to prison begins at a young age and that it can lead to more serious incarceration down the road.
"An individual arrested as an adult in Hinds County or Jackson is 240 percent more likely to have dropped out of school at some point, 160 percent more likely to have been involved in the juvenile justice system, and 67 percent more likely to have been chronically absent while enrolled in school in Hinds County," the study stated.
McDaniels said he could not discuss the consent decree due to a gag order as the result of pending litigation.
For Chief Lee Vance, the "gaps" to which McDaniels referred were in the home. "My fear is, is all of this is going to get back to weaknesses, neglect, helplessness within the family unit," Vance said at the end of the meeting. "And I don't know how we repair the family unit. I guess it is up to the rest of us to stand up and plug the gaps as we can."
That collaborative approach is precisely what BOTEC suggested, rather than blaming the family or anyone else.
"Rather than dwelling on the incendiary issue of who is to blame, the (attorney general) has asked us for solutions that could interrupt the status quo, which currently generates an intolerably high crime rate," the report recommended.
The researchers found what is true nationally: The number of young people at risk of serious crime is relatively low; it said that an estimated 225 children in Jackson Public Schools can be saved from a life of crime if the community takes targeted actions in order to interrupt the cycle they're caught in.
Email city reporter Tim Summers, Jr. at tim@jacksonfreepress.com. Read more about violence prevention in Jackson at jfp.ms/preventingviolence.