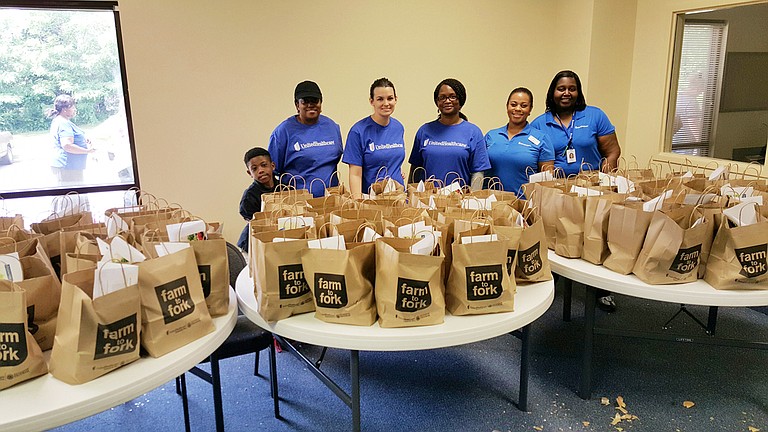 United Healthcare Community Plan of Mississippi and the Alcorn State University Extension Program collaborated once again this year to offer people in the community farm-fresh produce to show Mississippians the importance of making their health a priority.
The alliance focuses on preventive health and gives members the option of opting for healthy eating and nutritious choices by making fresh produce more accessible. Community plan members who are enrolled in the Mississippi Children's Health Insurance Program and Mississippi Coordinated Access Network receive the food through the Farm to Fork program, which runs from May through September.
Kobie Wells, supervisor of UHC community outreach, says the Farm to Fork family tries to be as accommodating as possible to its members.
"... Whether it's a little or a lot, our members are so grateful," he says. "We get to go out in the community and engage our members, and we get them things that they need."
He says the alliance developed the Farm to Fork program to give communities a path toward healthier eating to avoid life-threatening consequences, including obesity, heart disease and certain cancers. This year, Farm to Fork began Tuesday, May 3, at the Metrocenter Mall and will travel to 17 counties including ones in the Delta area and on the Gulf Coast, and Rankin and Madison counties. The final Farm to Fork destination point will be in Lowndes County on Sept. 29.
Each eligible family can expect more than just a grocery bag filled with a variety of seasonal produce. The project also provides educational information about healthy cooking methods offers weekly recipes to try. Members simply need to show their identification to UHC personnel. Participants can expect a range of options including lettuce, cabbage, tomatoes, beans, squash, sweet potatoes and other fresh produce.
Wells says the collaborative efforts of UHC and Alcorn are helping combat the state's food deserts, or urban areas in which it is difficult to buy affordable or good quality fresh food. He says one of the best ways they could help was by going out in the community, engaging the people and assessing their needs.
"When we are out there at the Farm to Fork destination points, we ask them how (they are) making sure they are taking care of their own health," Wells says. "Are they going to doctor's appointments? If they aren't, we ask them how can we get them to go to their doctors' appointments. United (Healthcare wants to) improve the lives of people in our community, and we strive to do that any way we can."