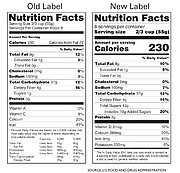 If you haven't heard yet, the U.S. Food and Drug Administration is redesigning and modernizing nutrition labels. Most food manufacturers are required to use the new label by July 2018. Here's what you need to know.
The new design will better highlight calories and serving sizes, and the FDA will also update serving sizes to reflect the amount of food people currently eat.
The label will include a declaration of how much added sugar the product has and a percent daily value for it.
The new label will have dual columns that indicate per-serving and per-package calorie and nutrition information for some multi-serving foods that a person may consume all at once.
For food and drink products such as a 20-ounce soda, the calories and nutrition will be labeled as one serving, instead of more than one as they currently are, because people tend to consume them all at once.
The new label will have updated daily values for nutrients such as sodium, dietary fiber and vitamin D that are consistent with the Institute of Medicine's recommendations and the 2015-2020 Dietary Guidelines for Americans.
Vitamin D and potassium will include the actual gram amount in addition to the percent daily value.
"Calories from fat" will be removed.