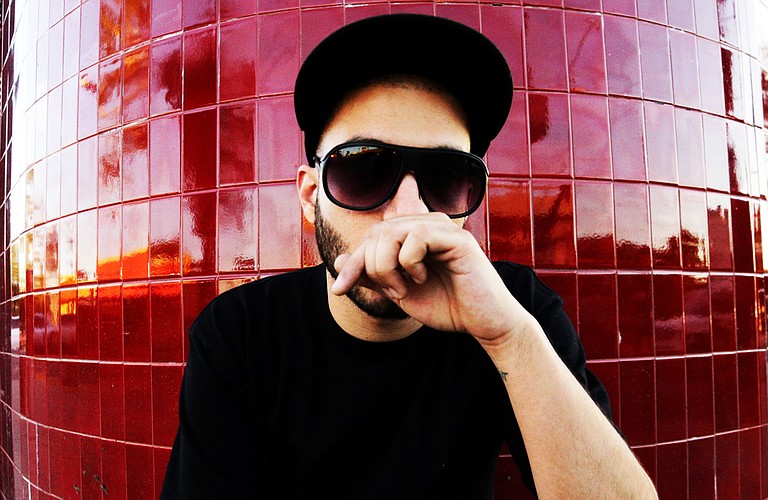 Los Angeles beat-music producer Eraserfase, born Tony Barkodarian, is on the road for his Dropping Gems Tour, which brings him to Offbeat on Thursday, June 2. The month-long tour, which also features projection artist Ashta, will deliver interactive audiovisual performances for fans—and future fans—across the United States.
The Los Angeles-born artist grew up in a musical family, including his uncle, who was a former conductor for the National Chamber Orchestra of Armenia. Because of this, Barkodarian says he was able to get a feel for the music industry at a young age. He was only 10 years old when he knew he wanted to pursue music as a career. He started performing on stage at age 11, which eventually led him to begin picking up gigs with different local bands in high school. Over time, he learned the ins and outs of musical engineering and decided to pursue a degree in this field, receiving an associate's degree in music production from Los Angeles Recording School in 2006. He decided to adopt his current moniker in 2011.
"The name Eraserfase is about separating the artist from the art," he says. "Once I create the music, it's mine, but once I share it, it's no longer mine."
For Barkodarian's first project, "Obsoletism," which he released in June 2013, he used Kickstarter to raise the $5,400 he needed to complete the project and recorded 90 tracks, selecting only 14 songs. The resulting high-energy album featured about a dozen live musicians and dealt with topics such as reconciling the past and moving on to something new. He says it essentially signified severing ties with the people and things that no longer mattered to him.
"This record was a labor of love," he says. "It's about how I went about making music and creating a new path for myself. I constantly recreated myself."
The next major turning point in his career came in 2015 with a show at Low End Theory, which is a weekly experimental hip-hop and electronic showcase that producers Daddy Kev and DJ Nobody created.
"This show wasn't the biggest show I ever did, but it was the best," he says. "I felt like it planted the seed in L.A. for me."
Barkodarian says Dome of Doom Records, which released "Obsoletism" and his 2015 album, "Analog Rituals," have been instrumental throughout his career as Eraserfase. Music is something spiritual for him, he says, and it allows him to channel things that he didn't know were there and have it connect with others.
"That's how I fell in love," he says. "I hope to connect with as many people as possible. I just want to put my head down and do the work. I just want to get better. ... I want to keep focusing. I want to know more about being a human and a musician through the art."
Eraserfase performs at 9 p.m., Thursday, June 2, at Offbeat (151 Wesley Ave.). DonChe also performs. Admission is on a donation basis, with a $5 suggested minimum. For more information, visit eraserfase.com.