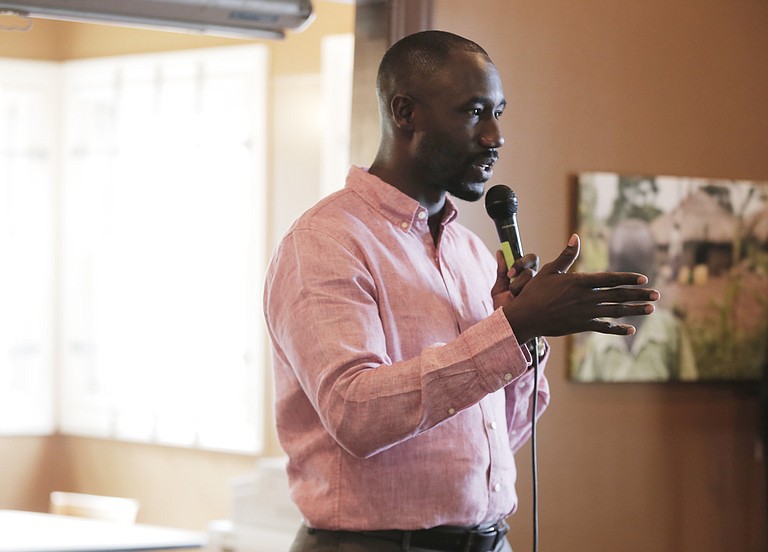 JACKSON — Mayor Tony Yarber announced his campaign for another term for the first time publicly at the weekly Friday Forum at Koinonia Coffee House, urged on to make the statement from former mayoral candidate, Jonathan Lee, an organizer of the group.
After the mayor gave a presentation to the assembled group of citizens, Lee said he he wasn't running but wanted to know if Yarber had decided yet.
"We have a massive plan," Yarber said. "We have a capital-improvement plan for the first time. So you think I am going to let somebody come in and take all the credit for that? Yeah, I'm running again, and I am running hard."
Yarber joins other candidates that have announced in the last few weeks, including Hinds County Supervisor Robert Graham and the son of a former mayor, Chokwe A. Lumumba.
The mayor ran through what he called a "buffet of issues" for the crowd, including the state of crime and the possible consequences of the budget constraints.
"(The police) are running some of the lowest crime numbers than they have ever run before," Yarber said, adding that "any homicide is a bad thing."
"We ended the month of May with the same amount of homicides this year as we did last year," he said. "That's important because last year we saw a reduction in homicides. We went from 68 in 2014 down to 58 in 2015, and we are running the same numbers now, which will give us the opportunity to be low again. Which would be our second year in a reduction in homicides."
Yarber said that a study in 1998 found that the police department should have at least 500 officers but that the numbers they are delivering are impressive because the police only number 395.
"You have a police department of 395 officers doing the job of 500, and that is commendable," Yarber said.
Yarber also commented on concerns about the city dipping and depleting its reserve fund to meet budget commitments along with unforeseen expenditures, passing the blame to the city council.
"The budget that I presented is not the budget that we are working on," Yarber said. "So I presented a budget, and council created another budget and adopted it."
Yarber said that the City's structure was based around a 1980 census number of 200,000 people, when Jackson's actual population now is around 173,000. As a result, he said, the City would be looking to "right-size" their staff, departments and perhaps programs.
"What is on the table at this time has to do with right-sizing," Yarber said. "What is on the table at this time has to do with sacred cows. What's on the table has to do with us looking at what our data says about performance of programs, about fraud, waste and abuse, and then making adult decisions about those."
"Number one, we have to look at the fact that we have programs that are running in our Human and Cultural Services where we are asking them to look at programs that deal with our elderly ... our children," Yarber said. "We are asking them to look at whether or not we are going to be able to offer the kinds of things at Thalia Mara Hall that we have been offering, whether we are going to be able to offer the kinds of things in the museums that we have been offering."
When his administration looks through the programs they offer, he said, they must show that they are "bearing fruit." If they're not, he said, "then we have to make those kinds of decisions," he said.
As to whether he was considering layoffs of City employees, Yarber said it was similar to what a business owner would do in tough times.
"What we anticipate is having to make decisions about restructuring," Yarber said. "Every department is being charged with restructuring their department. We aren't looking to do anything differently than what you have to do at your small businesses."
He compared it to a homeowner deciding about the extraneous wants versus the absolute needs of the household. "Some of you have to make decisions about cable," Yarber said, comparing it to whether or not to have premium channels. "And so the City is going to have to make those same decisions."
Email city reporter Tim Summers Jr. at tim@jacksonfreepress.com. See more local news at jfp.ms/localnews.