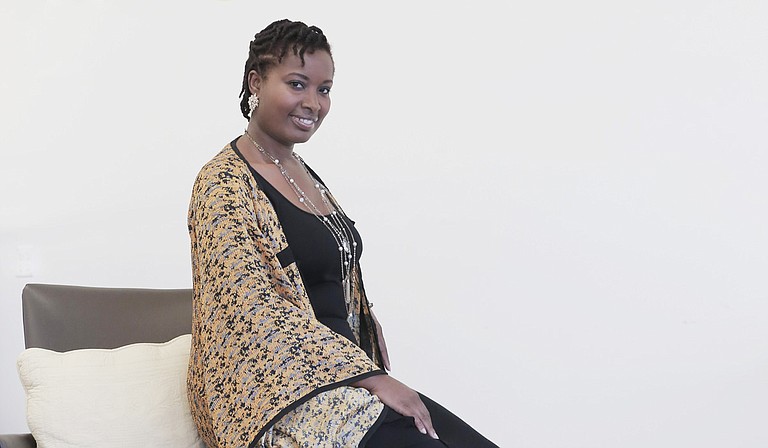 It's late in the afternoon, and Lashanda Brumfield is off work from her job as a recreational therapist at Brentwood Behavioral Healthcare. But instead of going home, Brumfield instead goes to her bridal store, Sassy Classy Curvy Bridal Outlet, in Pearl. At the store, white dresses covered in plastic line the racks. The floors are copper, and the large space, which looks like a converted warehouse, has gold accents.
Brumfield, an Osyka, Miss., native, has been in the metro area since 2001.
Besides her position at Brentwood, Brumfield was also a wedding coordinator for 13 years. In that job, she says she'd sometimes attend bridal appointments and would often hear brides complain about aspects of dress shopping, such as the high cost and the often small sizes.
Through that, she discovered she had a passion for helping people pick out the right gown.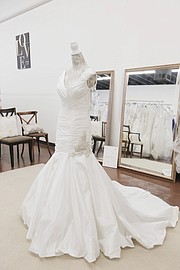 She first had the idea for the business about four or five years ago. She says she was watching The Learning Channel one Friday night and saw an episode of "I Found the Gown," which focuses on VOWS Bridal Outlet in Watertown, Mass. "I jumped up, and I was like, 'That's what I want to do!'" she says. "I ... researched the business to see how they did it, and found out there (were) none in the South. I'm like, 'OK, why can't we have this?'"
At that point, Brumfield says a bridal outlet was more of an idea than a possible reality. Around the time that her brother, Benjamin Tate, was going through treatment for non-Hodgkin lymphoma, she started taking business classes.
"You learn a lesson when people go through things like that, about how we put off so much stuff," she says. "... He knew I had a passion for it, and he would tell me, 'Why are you waiting? ... What is it? Is it fear?'"
She says some of the classes would be on topics that resonated with her, so she started writing the business plan and doing more research. After Tate passed away in 2013, she decided to move forward with her plans.
Her idea was to give metro area and Mississippi brides a place to purchase a designer gown without paying a designer price. Through networking, she got a business loan and then decided to order a couple of out-of-season dresses to inspect them and make sure they were the "real deal," as she says. After that, she began building her inventory.
Brumfield opened the store in January of this year. The Pearl Chamber of Commerce hosted a ribbon-cutting ceremony in February.
With the business growing, she says her main focus right now is learning the marketing side and how to do it on the budget of a small business. "It's easy when a chain moves in, and they have all the thousands (of dollars) that they can invest in commercials and invest in this," she says. She is focusing on the metro area but says that later she wants to start reaching out to the rest of the state and then neighboring states. "(Women) travel for a good deal," she says.
Sassy Classy Curvy sells bridal gowns that are discontinued, which Brumfield says doesn't mean they're not brand new. They're just dresses that have gone out of season, which the business sells for anywhere from 20 to 50 percent off the original price.
"That helps out with being in the South, in Mississippi, because ... we want to look good, and we want that gown, (but) a lot of people can't afford it. You want to be distinctly different. Hopefully, I can meet some of those needs."
Brumfield says that for her shop, brides can purchase gowns off the rack. She can also do search-and-orders for clients. She says that one benefit of an outlet is the quick turnaround time. If a dress is available, she can get it within a week or two. She says another benefit is that discontinued dresses give a bride the ability to set herself apart from others.
Some of the designers she sells are Allure Bridals, Justin Alexander, Designer Formal Dresses by Jovani, Mon Cheri Bridals, Eden Bridals and MODECA. The business also sells formal wear from designers such as Flash Prom and Paparazzi Prom by Mori Lee, as well as jewelry and veils.
Brides should enjoy the dress-finding experience, Brumfield says. "A lot of (brides) are like, 'Oh, well, I'm just going to order offline,'" she says. "... It's a wedding, so you should experience it. It's an event in your life."
But the most important piece of advice she says is to "never judge a gown by the bag," she says. Some brides may not like the way a dress looks in the bag, but if they try it on, Brumfield says it may end up being the perfect one.
Sassy Classy Curvy Bridal Outlet (2145 Highway 80 E., Pearl, 601-421-8644) is open Friday from 4 to 7 p.m., and Saturday from 11 a.m. to 6 p.m. It is open by appointment only on Monday through Thursday. The business also has a referral program. If customers refer someone to the store, they will be entered into a quarterly drawing. For more information, find the business on Facebook.