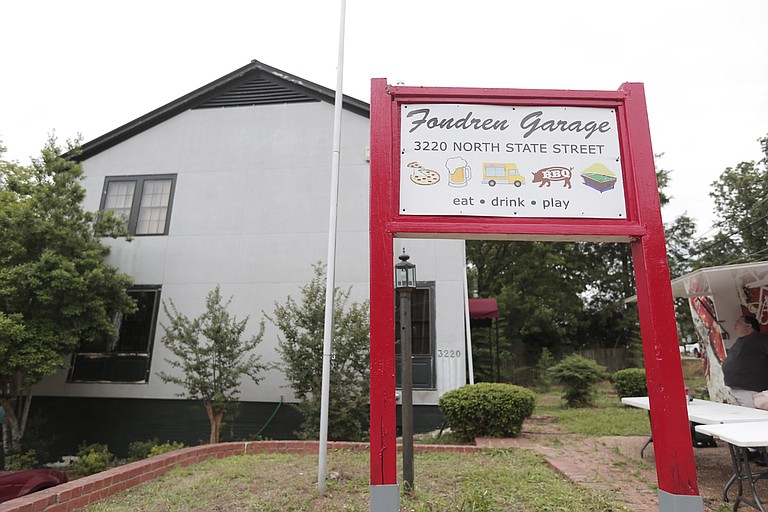 At Fondren Garage, some people play vintage video games. Some sit outside and watch a movie. Some watch live entertainment, and some eat at the business' two restaurants. Fondren Garage always has a lot going on.
The business opened Memorial Day weekend and has already caught the attention of many locals.
The search to purchase the perfect space did not actively begin until last October, although owners Chip Matthews (no relation to the author) and Gary Clark had long desired to develop a restaurant in the historic Fondren district.
Both Matthews and Clark have more than 20 years of experience in entrepreneurship, specifically the restaurant industry, and have owned several local restaurant and bar venues in the Jackson metro area, including Club Fire, Tomahawk Steak Company and Mama Mia's Pizza of Canton.
"We've been around for a while, and we just decided the Fondren would be ideal," Matthews says. "We needed a building where people could come to eat, drink and play."
The men recognized a need for this kind of entertainment in the area, which caters to young professionals. Matthews says this is what most interested them most about the neighborhood. "We wanted people to have a place to go when they get off work at night, or college and (medical)-school students to come dart over and just get a slice of pizza and have a beverage and chill," he says.
The two-story garage building seats around 200 people and houses two restaurants: the Blue Tree Pizza Company and Blind Pig Barbecue. On the lower level, Blue Tree has fresh pizzas available by the slice or by the pie, salads and three kinds of lasagna: white, traditional and vegetarian. Customers also have the option to dine indoors or outdoors, where they can enjoy their meal underneath the trees decorated with blue lights—hence the name.
Light-filled bottles hang from the roof eaves of Blind Pig Barbecue, which is located on the upper level. Its menu includes pulled pork, beef brisket, sausage, smoked hamburger and ribs (on weekends only). The restaurant also has pool tables and a bar area. Matthews says he came up with its name years ago while working at a radio station.
"The station I used to work for had a blind pig as the logo," he says. "At one time I wanted to open up The Blind Pig Saloon, so the name just stuck with me."
In addition to its food offerings, Fondren Garage sells coffee and specialty drinks, such as cappuccinos. Matthews and Clark are also currently working with the Mississippi Food Truck Association to provide patrons with up to three food trucks, the most frequent being LurnyD's Grille, during lunch time and at night to serve meals. Matthews says this helps with traffic flow during the restaurant's busiest hours. "The food-truck idea all began because we had been associated with a lot of those guys since we started really," he says. "They didn't have a place to park and needed a commissary, and we have a giant lot and wanted to offer three or four different concepts during lunch time."
The restaurant will host several themed nights throughout the year, including Disco Pizza Night, where customers can jam to their favorite disco hits and purchase pizza and beer pitchers at specialty prices. 
 Mainly, though, Matthews says he hopes Fondren Garage will have a positive effect on the local community, and people will simply come for an enjoyable time.
Fondren Garage (3220 N.State St., 601-790-0612) is open Monday through Sunday from 10 a.m. to midnight. For more information, find the business on Facebook.