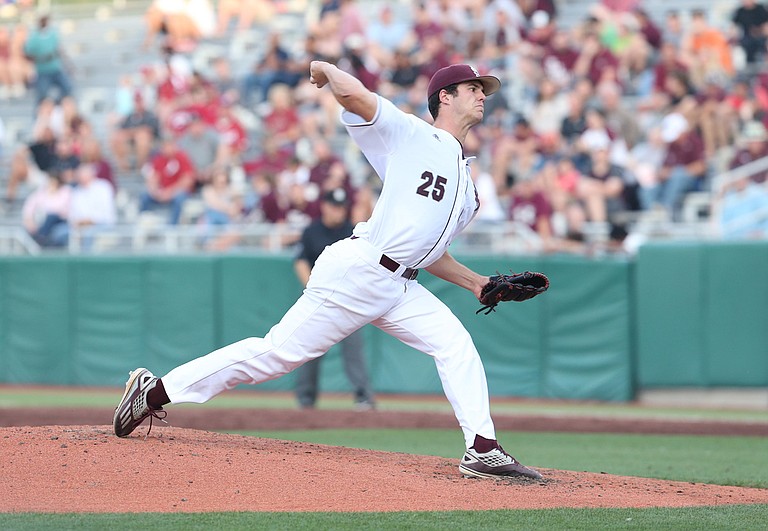 Mississippi State University pitcher Dakota Hudson will have a big hand in one of the three games against the University of Arizona. To be more accurate, it will be Hudson's right arm that will have an impact for the Bulldogs.
Hudson typically has been outstanding on the mound this season, but there have been days when he didn't have his best stuff, as in game one of the regional.
In the Starkville Regional opener, Hudson threw 74 pitches in 3.1 innings worth of work. He threw 41 strikes but struck out just two of the 18 batters he faced and gave up four hits and four runs.
The right-handed pitcher currently has a 9-4 record with 2.62 ERA with two complete games. He has 109 strikeouts in his 106.2 innings of work. He walked just 34 batters and gave up 99 hits.
In May, Hudson was nearly perfect. He finished the month 3-1 with two complete games and struck out 33 batters in 31.1 innings. Hudson's ERA was an amazing .086, as he allowed 27 hits and walked just four batters.
Hudson's work in the month of May earned him the honor of Pitcher of the Month from the National Collegiate Baseball Writers Association. Accolades have been stacking up for Hudson. Collegiate Baseball and Baseball America named him Second-Team All-American. He also made First-Team All-SEC and was a semifinalist for the Golden Spikes Award.
The six-foot, five-inch, 215-pound junior made his way to Starkville after an outstanding career at Sequatchie County High School in Dunlap, Tenn. As a high-school junior, Hudson was the 2012 Perfect Game Underclassman Honorable Mention All-American, and during his senior season, he finished with a 1.09 ERA and 124 strikeouts to just 14 walks in 64 innings of work.
The Tennessee Baseball Coaches Association named him First-Team All-State. He also earned the titles of District Co-MVP and MVP of the Tennessee-Georgia All-Star Game, while also earning 2013 Rawlings Southeast All-Region First-Team honors.
As a true freshman at MSU, Hudson went 1-2 with an ERA of 4.67, 10 strikeouts and eight walks in 17.1 innings. He made six appearances for the season with five starts.
Hudson worked out of the bullpen for most of his sophomore season. He made 17 appearances with a 1-1 record, a 4.32 ERA, 26 strikeouts and 11 walks in 16.2 innings. He also made the SEC Academic Honor Roll.
Entering his junior season, Hudson became team captain, and D1 Baseball and Perfect Game selected him as a preseason All-American. He also began to generate interest from scouts after being named MLB.com's No. 33 overall prospect, Perfect Game's No. 15 college prospect, D1 Baseball's No. 15 college prospect and Baseball America's No. 20 college prospect for the 2016 MLB Draft in the preseason.
Coming out of high school, the Texas Rangers drafted Hudson in the 36th round of the 2013 MLB First-Year Player Draft. He chose to play at Mississippi State instead of heading to the minor leagues.
Currently, MLB.com ranks Hudson as the No. 15 prospect, and Baseball America places him at No. 19. In the latest Baseball America mock draft, projections showed the Minnesota Twins selecting Hudson with the 15th pick.
The first and second rounds of the 2016 MLB Draft are tonight on the MLB Network. On Friday and Saturday, rounds three through 40 will stream on MLB.com.
Hudson and MSU on Friday, June 10, will begin a best-two-out-of-three series against Arizona in the Starkville Super Regional. All three games are set to start at 5 p.m. with game one on ESPN2, game two on ESPNU and game three, if necessary, on ESPN2 or ESPNU.
If the Bulldogs win the Super Regional, they advance to the 2016 College World Series.