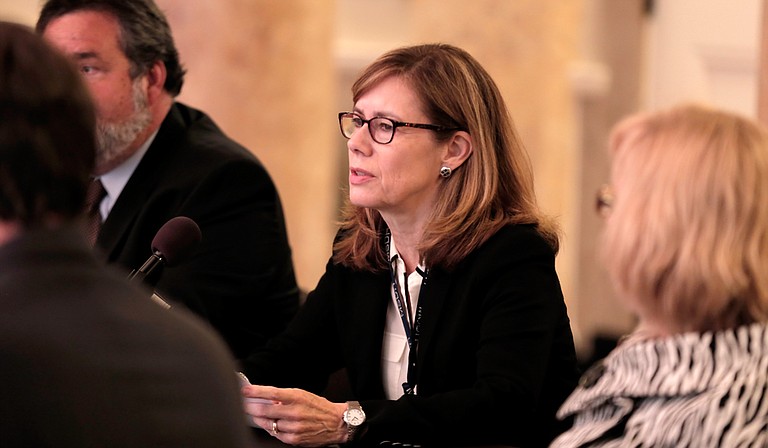 JACKSON — The Legislative Black Caucus policy committee held budget hearings on Wednesday to see how cuts to agencies' budgets will affect services and employment at the state's health and mental-health agencies.
Dr. Mary Currier, the state's public health officer, said her department will start fiscal-year 2017 with $4 million less funding in state support compared to fiscal-year 2016.
"It's about an 11 percent decrease in state support for the department," Currier told caucus members at the Capitol Wednesday.
The health department had to make service cuts before the legislative session was over this year due to a decrease in Medicaid income, Currier said. The department cut 64 staff members, closed nine health clinics and left 89 positions vacant.
Now, Currier says, her department is working hard to make sure cuts do not affect even more services.
"We are trying hard not to cut services anymore, so the place we're looking is in our regulatory services," she told lawmakers. "We wanted to make our environmental and our licensure and certification processes as efficient and effective as possible, so we have restructured those services and sent home 19 environmentalists."
House Bill 289, which passed this last session, could help the health department deal with its budget cut. The bill, which becomes law on July 1, will allow the State Board of Health to increase the department's fees for services by 15 percent twice in the next four fiscal years. The bill allows an increase of 5 percent or less twice for radiological services in the next four years, as well.
Currier told caucus members that restructuring the department has saved $1 million in state funds, but the difference still needs to be supplemented by state money.
For now, she said, the state's infant mortality initiative and environmental services will suffer from the cuts.
"We are looking at every state dollar that we spend, and we can't possibly get to more money by just moving people to federal grants and through attrition, but we're going to do a lot of (that)," she said. "We will also be sending people home; we just don't know how many people yet."
Senate Bill 2362, which prohibits state agencies from charging other agencies for fees and services, would have a large impact on the state's health department as it is written, but Currier said that her department is in conversations with the lieutenant governor and governor's offices. She said they have received assurance that the department will be able to provide emergency response services and other critical services that the law technically forbids.
Laura Hipp, communications director for Lt. Gov. Tate Reeves, said that the leadership is working with all state agencies to implement the new law.
"Legislative leadership and staff, the Governor's office, and agency directors are working together to implement SB2362," she said in an emailed statement. "While it will take effort to change the status quo, the Lieutenant Governor believes bringing more transparency and more scrutiny to spending of taxpayer dollars is well worth the work."
Sen. David Blount, D-Jackson, asked Currier if her agency had the opportunity to talk to the leadership while SB 2362 was being considered during the session.
"Did you have the opportunity to talk with the leadership about the effects of 2362 on your agency while it was being considered?" Blount asked Currier Wednesday.
"We did not," she said.
Currier later told the committee that she would love to have something in writing that explains what her department is expected to do and what the intent of the law is.
"We'd love to have something in writing that says, 'This is what we expect you to do and expect to keep doing ... because the intent of the law is to do this, not this,'" she said. "What would be wonderful would be to have it actually fixed, where the law says this and not this."
Legislative Black Caucus leader Sonya Williams-Barnes, D-Gulfport, said public hearings are important because people need to know what is going on and how they are affected by the decisions made in the Legislature.
"When we get calls from constituents, and they are in a crisis dealing with things that we have made decisions to do, such as cut mental health, we owe to those that we represent," she said.
Diana Mikula, director of the Department of Mental Health, and Joy Hogge, executive director of nonprofit organization Families as Allies, also addressed the caucus during the hearing.
Email State Government Reporter Arielle Dreher at arielle@jacksonfreepress.com. Follow her on twitter at @Arielle_Amara. Read more state news at jfp.ms/state.