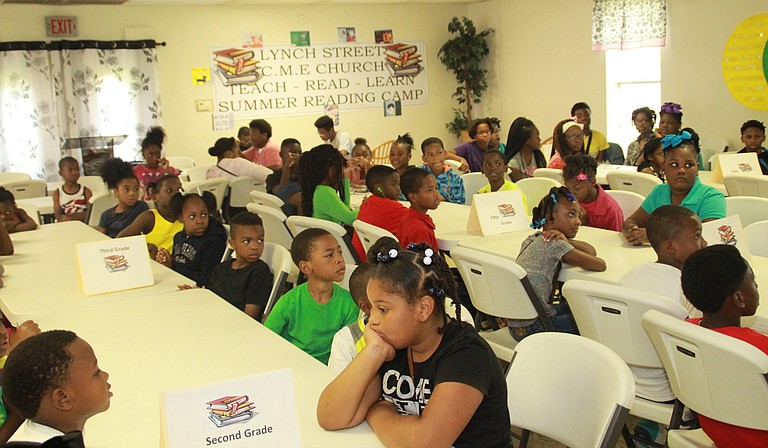 JACKSON — For the fourth grade students at Lynch Street C.M.E. Church's "Teach, Read, Learn (TRL)—Summer Reading Program" this morning, synonyms were a breeze. Under the guidance of former Boyd Elementary School Principal and church Sunday school Superintendent Julia Harris-Brown, the students read aloud and reviewed literary elements. They discussed the proper structure of paragraphs and whether or not it's appropriate to start them with phrases like "once upon a time."
Via hefty support from the congregation and the community with grants from community stakeholders, businesses and the Mississippi Department of Education's Office of Child Nutrition, the church's summer reading and feeding program focuses on language arts and reading skills for kindergarten through eighth-grade children. This summer marks its fourth year of operation.
From 7:30 a.m. to 1 p.m., the students, which represent schools from across the metro area, have a full, academically enriching day. They receive breakfast in the mornings, lunch in the afternoons and have a daily period of physical activity. There's a mentoring program for the boys, and students have access to counseling and speech-therapy services from licensed practitioners volunteering for the program. Students do not pay a fee to attend the church-based program, which also stresses Christian teachings and involves the children in spiritual activities such as reading scripture and praise dancing.
"We do want parents to know we're doing JPS' reading requirements, and if they're from Madison or Clinton, we want them to know it's enrichment," Harris-Brown said.
Harris-Brown says that the program's main focus is on maintaining children's reading and language-arts skills throughout the summer. Research suggests it's important work; the National Summer Learning Association reports that summer learning loss, a phenomenon that occurs when kids are out of school for the summer, results in approximately two to three months worth of loss in reading skills for low-income students. A 2010 Dominican University study on the effectiveness of public library summer reading programs shows that students who participated in those programs outscored their classmates who didn't participate on reading achievement tests at the start of the school year. The study also reports that those students had better reading skills at the end of the third grade than their peers who did not participate.
Eighty-seven percent of the state's third graders in public school passed Mississippi's own third-grade reading gate test this year, which the 2013 Literacy-Based Promotion Act established. The state requires students to pass the standardized reading test at the lowest passing level for promotion to the fourth grade, which some people such as State Superintendent Dr. Carey Wright have criticized as being an inaccurate marker of students' reading proficiency. An amendment that Gov. Phil Bryant signed into law this year would require students to pass at a higher proficiency level for fourth grade promotion, starting in 2019.
James "Lap" Baker, a member of the congregation instrumental in organizing the program's financial support, says he is passionate about the program and loves the children there, whom he encourages to call him "Pawpaw." Baker, president and founder of Comprehensive Planning Consultants in Jackson, says his initial interest in the program came from wanting to help uplift and enrich the black community by helping serve and empower its children.
"If you just take a little time with these kids, it helps them tremendously," he said.
Sierra Mannie is an education reporting fellow for the Jackson Free Press and The Hechinger Report. Email her at sierra@jacksonfreepress.com.