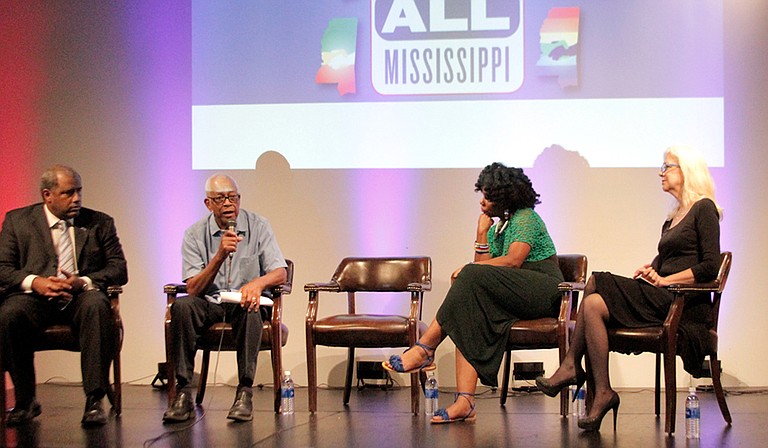 Originally published June 10, 2016 at 2:38 p.m., updated June 10, 2016 at 2:41 p.m.
JACKSON — Local advocates, civil-rights activists and actress Aunjanue Ellis, a Mississippi native and critic of the state flag, held a community town-hall meeting at the Smith Robertson Museum and Cultural Center on June 9. Conversation at the forum revolved heavily around the controversial state flag and civil rights for all Mississippians, as the state doesn't provide any civil-rights protections for citizens.
"We as, especially young whites and young blacks, we have to figure out how to come together, overcome the fear of coming together, to put real true issues on the table to talk about them," civil-rights activist Hollis Watkins said. "We all know what happened to and what's been done to our people. We all know who did it. We have to be sure that we overcome fear, first of all, to engage in truth telling."
Ellis, star of ABC TV show "Quantico," said that her experiences growing up as a black woman in the south influence her reaction to the state flag. She cited the discriminatory treatment that she experienced for starting a rally to bring down the flag and said that though the argument of heritage is valid, it's possible that heritage can also mean hate.
"If it's your heritage, then it's my heritage, too," she said. "My heritage started when your heritage started. My family has been here as long as your family has been here. Your heritage is my heritage. The difference is I experienced it differently. The difference is you were burning crosses, and I was the yard ... you burned the cross in."
Ellis also said that people tend to ignore Mississippi, and having the Confederate emblem in the state flag isn't a reflection on Gov. Phil Bryant but rather a statement on America. Moving past the state's hateful past isn't only a Mississippi problem, she said.
"The purpose of that for me, quite frankly, is to put the problem that we have compartmentalized as a Mississippi problem and make it what it is, and that's an American problem," she said. "People ignore Mississippi out of expedience. It's easy to ignore because they want to dismiss us and say Mississippi will always be Mississippi. I don't believe it."
On Tuesday, June 14, there will be a "Take It Down, America" Flag Rally in Washington, D.C. Speakers include Ellis, musician Genesis Be, professor Dr. Michael Eric Dyson and attorney Carlos Moore, who filed a lawsuit against the state for the flag saying that it is unconstitutional and discriminatory.
Email news tips to Deputy News Editor Maya Miller at maya@jacksonfreepress.com. For more information on joining the bus to the June 14 flag rally, email TakeItDownAmerica@gmail.com. For more on the state flag, visit jfp.ms/slavery.