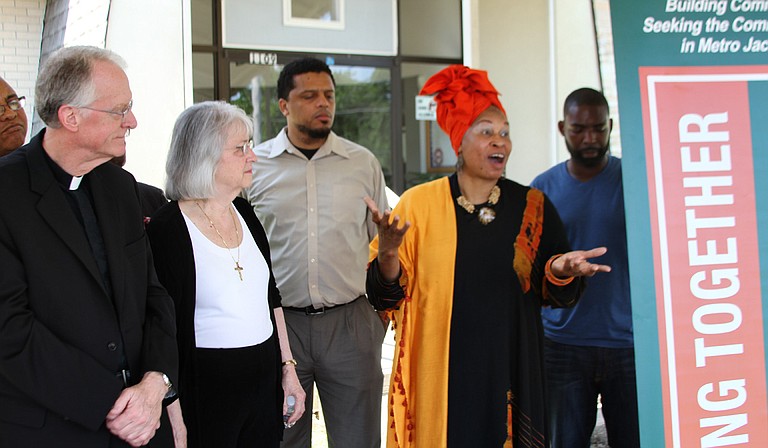 JACKSON — Working Together Jackson, a religious and community mega-group comprised of the heads of around 40 Jackson-area organizations, will sit down with Mayor Yarber on Monday to ask him about issues facing their constituents.
"We will be meeting with Mayor Yarber this coming Monday at 7:30 at Emmanuel Baptist church," Rev. Monsignor Elvin Sunds of St. Therese Catholic Church said at a press conference on Friday, June 10. "We are asking Mayor Yarber to work with us, which he has agreed to do, of course, and one of the things is what is happening with regard to the one percent sales tax that is supposed to be improving our streets."
The meeting will be a congress of the Working Together Jackson Delegate Assembly, a group comprised of area leaders that will address issues that they believe affect the community the most. In a release sent out before the press conference on Friday, WTJ outlined the most pressing problems, including addressing the food deserts in Jackson, creating of a housing fund and the revival of the Lumumba-era of a City of Jackson Infrastructure Reinvestment Tax.
"We are a very different organization, a very grassroots organization that doesn't just complain and talk about the problems," Dorothy Triplett, a member of St. Andrew's Episcopal Church and a spokeswoman for the groups, said. "We come together with our people and ask what are you willing to work on. And we will also be talking about our vision as we move forward for the 2017 municipal elections. We hold all of the candidates accountable."
Triplett said that WTJ will continue its practice, which dates back to the 2013 election, requesting that mayoral candidates pledge to run a civil campaign and to continue to meet with the WTJ.
But WTJ is unique in that it is not just religious or solely Christian.
"Even though we are 40 various, different organizations with leadership, we also represent the community of Jackson, so you are talking about 40 organizations that have citizens all over Jackson," Okolo Rashid, one of the co-founders of the International Museum of Muslim Cultures, said.
"This is the first in a series of accountability meetings, not only with the mayor, to discuss the 1-percent sales tax but also to ask for support for the housing trust fund for the city of Jackson," Khalid Hudson, special projects and community outreach coordinator for the International Museum of Muslim Cultures, said. "From there we will have a series of meetings moving forward, starting in September, to connect those community-based organizations with those that have been placed in charge of making decisions for the city of Jackson."
Triplett and the others encouraged all members of the Jackson community, including organizations that may not be a part of WTJ, to join them for the meeting.
"We invite them to join us," Triplett said. "Its not a stagnant organization; it's a growing organization."
But when asked to choose between all of the issues for one that stood out, each of the members named a different topic, from education to blight.
"It's the quality of life for the city," Triplett said. "They are all interrelated."
Email city reporter Tim Summers, Jr. at tim@jacksonfreepress.com. See more local news at jfp.ms/localnews.