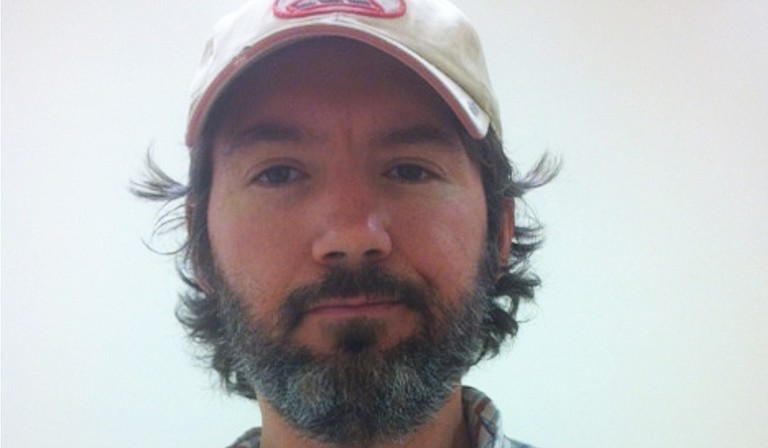 JACKSON — A blue, pink and yellow dragon holds a coffee cup as a girl in a green dress, who is perched on his tail, reads a book. A lizard with an umbrella stands on the top rung of a wooden ladder-like structure as a teapot, connected to a slanted post, fills his mug. Below him, a wheel, which reads "turn" off to the side, is turning a brain on the middle rung.
For the June edition of Museum After Hours at the Mississippi Museum of Art, the theme, "Dreamscapes and Dragons," will focus on the surreal and fantastical forms of self-expression of ceramic artist Sam Clark and painter Kelly Walters.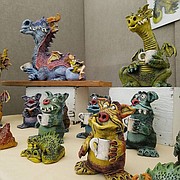 Sam Clark is from Louisville, Miss., and now lives in Madison. As a fan of J.R.R. Tolkien and "Star Wars," he says he loves mythical creatures. He also grew up exploring the woods, and his desire to discover magical things has flowed into his art. Clark makes anything from ceramic trolls to robots, but dragons are his particular favorite.
"They represent these imaginary things that you wish were real," he says.
When he's not making art in his studio, Clark works with The Mustard Seed's ceramic department.
"I've drawn my whole life. But with the clay I can occupy actual space and bring the things of my imagination into the real world," he says about ceramics.
He says that his art is about giving people "a break from the mundane."
"You're taken into these wild and strange places, and when you come back to the real world, you feel more refreshed," Clark says.
He hopes his art is a fun experience for guests. "I want them to come away with the idea that nothing is too silly to pursue seriously," he says.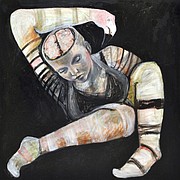 Walters is originally from Clinton and now teaches at Mississippi School of the Arts in Brookhaven. Her art portrays surreal scenes, based off the idea that "things are not quite what they seem to be," she says. Lizards, teapots and stripes are some of the repeating motifs. Walters suffers from epilepsy and says that her art is a representation of the sensory overload that she experiences.
"I'm trying to explain how I perceive the world," she says. "The pieces may seem like a dreamscape, but it's how I'm seeing things."
Walters's artwork for the pop-up exhibit will be heavily mixed media—including ink, acrylic, Conte crayon and pastel. Her paintings have many layers that, when seen in the light, almost appear to move. She hopes that her art helps people "see through someone else's eyes" as the story unfolds around them.
"It's going to tell a different story to each person," Walters says.
"My art works well with Sam's," Walters says. "We are both storytellers who don't use words."
Walters will be teaching an art class this week as a part of the museum's summer camp, and her students will contribute to a piece for the event. She also plans to have an interactive component for viewers to take part in creating their own art.
On, Thursday, June 16, Mississippi Museum of Art Executive Chef and Culinary Curator Nick Wallace will begin hosting his monthly 'sipp Sourced menu. For June, the menu is called "CrawFresh" and will feature dishes with Mississippi crawfish in them, along with a crawfish boil. The menu will be available starting with dinner at 5:30 p.m. on Thursday, and it will be available during lunch from 11 a.m. to 2 p.m. on Friday and Saturday. June's featured film for Screen on the Green is "Smokey and the Bandit" and will start at dusk on the museum lawn. Mississippi Improv-a-lot will also perform.
Museum After Hours is June 16 from 5 to 10 p.m. at the Mississippi Museum of Art (380 S. Lamar St.). The event is free to the public, but food and a cash bar are available for purchase. The museum will be open until 8 p.m. For more information, visit msmuseumart.org or call 601-960-1515.