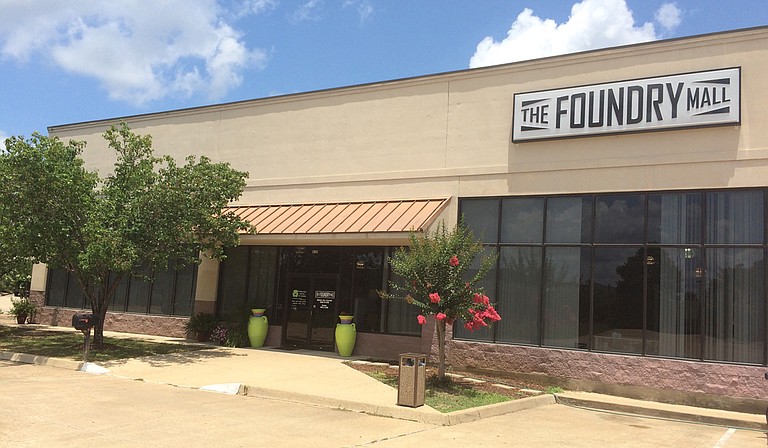 JACKSON — Mike Peters, a Jackson-based realtor who owns Peters Real Estate and the Fondren Corner building, recently opened a new 15,000-square-foot vendor market in Ridgeland called The Foundry Mall (820 Wilson Drive), located in the former Shoe Gallery building next door to Shapley's. The mall, which currently has 50 booths and is preparing to open more, officially opened for business on May 1.
The Foundry Mall's managers, James Briggs and Kimi Fancher, will host a ribbon cutting ceremony with the Ridgeland Chamber of Commerce on Tuesday, June 21, at 10:30 a.m. and plan to hold a grand opening for the mall following the addition of 20 new booths and vendors in late summer.
"A lot of people felt there was a real need for a place to show and sell Mississippi-made wares when places that sold that kind of thing started closing down recently," Briggs told the Jackson Free Press. "Mike decided to respond to those people, and that's how The Foundry Mall came to be."
The Foundry Mall contains a large consignment store, From Our House to Yours, and booths that offer Mississippi memorabilia, hand-painted signage, antiques, furniture, jewelry, artisanal glass, paintings and other art from Jackson metro artists.
The Foundry Mall is open Monday through Saturday from 10 a.m. to 6 p.m. and Sunday from 1 to 5 p.m. For more information or to inquire about a vendor space, call 601-487-8350, find the mall's Facebook page or visit thefoundrymall.com.
Sam's Southern Eatery Comes to Jackson
Sam's Southern Eatery, which opened its first location in Shreveport, La., in January 2008, recently came to Jackson with the grand opening of its newest location on June 7 inside the former location of The Pizza Shack in Colonial Mart (5046 Parkway Drive). Sam's currently has 43 independently owned and operated locations across seven states.
The menu at Sam's includes chicken strips, wings and hot wings; a variety of po'boys such as grilled or fried fish or shrimp or fried oysters; Philly cheesesteak or fried chicken sandwiches; and shrimp, chicken or fish salads. Customers can also choose four to six-piece fish plates, six to 12-piece jumbo shrimp plates, six to eight-piece fried oyster plates and other seafood options such as whole catfish and crab cakes. All seafood plates come with a choice of two sides including corn, green beans, coleslaw, red beans and rice, fries, macaroni and cheese, okra and coleslaw.
Sam's Southern Eatery is open Monday through Saturday from 10 a.m. to 9 p.m. and Sunday from 11 a.m. to 7 p.m. Call ahead to place pick-up orders at 769-447-5553. For more information or to order online, find the restaurant's Facebook page or visit samssoutherneatery.com.
Superior Shine Comes to JMAA
The Jackson Municipal Airport Authority recently announced a new partnership with shoeshine business Superior Shine, which will begin offering services at the Jackson-Medgar Wiley Evers International Airport on Monday, June 20. Superior Shine will operate Monday through Fridays from 5 a.m. to 3 p.m. in the airport's east and west concourses.
Cedric T. Nelson, president of Superior Shine, has more than 20 years of experience in airport concessions and currently has operations at Baltimore-Washington International Thurgood Marshall Airport, Bradley International Airport in Connecticut, Indianapolis International Airport, Memphis International Airport, Nashville International Airport and Raleigh-Durham International Airport.
Superior Shine is certified as a Disadvantaged Business Enterprise with the Department of Transportation in six states, including Mississippi. The DBE program is designed to remedy ongoing discrimination in federally assisted highway, transit, airport and highway-safety fields by providing small businesses with socially and economically disadvantaged owners a fair opportunity to compete for federally funded transportation contracts.