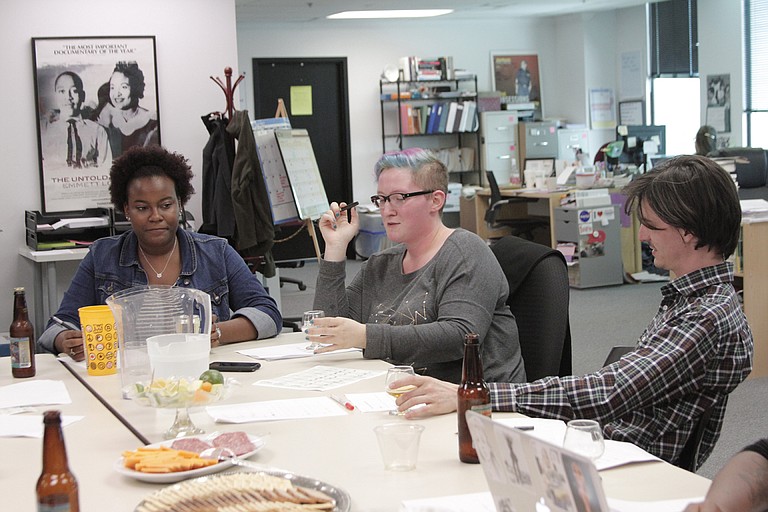 We did it again. We tried six more beers in our annual beer tasting. Thanks for LD's BeerRun for supplying us with the drinks and to Craig Hendry and Raise Your Pints for organizing the tasting.
Biloxi Brewing Co. Salty Dog
Type: Gose
Aroma:
Micah Smith: Flowery; citrus; light scent.
Mary Osborne: Grapefruit.
Maya Miller: Uh ... it smells like beer? Not bad-smelling beer, though.
Zilpha Young: Mild; sweet; citrus.
Sierra Mannie: Mango.
Arielle Dreher: Sweet and salty, sort of like pee.
Tim Summers Jr.: Bitter.
Amber Helsel: Sour.
Craig Hendry: Sweet.
Chad Dacus: Floral; citrus with slight funky sour.
Larry Voss: Somewhat flora for a typical gose; very slight funk; lemon.
Brad Lovejoy: Great aroma of malt and wheat; lemon-y.
Taste:
MS: Sour, but in a pleasant way; crisp and fruity.
MM: Kinda citrus-y; it tastes like sparkling water and oranges.
AH: The smell of wet dog—not a bad thing, in this case.
LV: Moderate salt; tangy; lemon on the finish; very light biscuit-y wheat; fairly dry.
BL: Great aroma of malt and wheat; lemon-y.
It reminds me of:
MS: Pineapple; beach; Pine-Sol; rain; boardwalk.
SM: Wine; Europe; fall; cold air.
AD: That one beer that sits in your fridge too long.
TS: The sea; surf; sun.
CH: Beach; boats; summer; sodium; shrimp.
CD: Summer time by the barbecue grill.
BL: A margarita on the beach.
I would pair this with:
MS: Philly cheesesteak.
MM: Burgers and Netflix.
SM: SUBWAY bacon ranch sandwich.
ZY: Salami.
CH: Gulf-caught fish.
CD: Barbecue ribs from The Pig & Pint
LV: Grilled pork chops.
BL: Amerigo's chicken Margarite
Alpine Beer Company Mandarin Nectar
Type: Fruit beer
Aroma:
MS: Citrus; sour; fruity.
MM: Oranges; honey.
SM: Mandarin; vegetables, specifically beets.
ZY: Citrus; slightly musty.
AD: Faint sweetness.
AH: Nectar; sweet.
CD: Very subtle fruit.
LV: Malty; tropical fruity;
overall aroma is understated.
BL: Delicate aroma of oranges and honey.
Taste:
MS: Sweet; crisp; effervescent.
SM: Bitter; milky.
ZY: Mild flavor; subtly sweet; spicy; orange zest.
AD: Smooth; faint orange; orange zest.
TS: Fruity with a tiny hint of orange, coriander on the edge.
CD: Thin with light fruity oranges; orange zest.
LV: Dry; slight to moderate bitterness; melon; orange rind; slight honey.
BL: Very sweet (honey-like) with a prominent orange flavor.
It reminds me of:
MM: A long weekend in Oxford, Miss.
SM: Orange soda with cigarettes in it.
ZY: Zesting an orange.
TS: A Coney dog.
AH: Eating a grapefruit with a hint of honey
CH: Bees; honey.
CD: Melted orange popsicle.
LV: Orange sherbet minus the tang.
BL: Honeysuckle on the Natchez Trace.
I would pair this with:
MS: Hamburger
MM: Baseball-game food.
ZY: Pork chops.
AD: Summer time, sitting by a body of water.
TS: Sweet, light appetizers.
AH: Barbecue pork sandwich.
CH: Crawfish.
CD: Shrimp scampi.
LV: Salty foods.
BL: Fresh fruit tart.
Lazy Magnolia Brewing Company Heirloom Ale
Type: Sour ale
Aroma:
SM: Grapefruit; wheat; pine; pinot noir.
ZY: Strangely like wine.
AD: Pine; red wine; fresh air.
TS: Rich, complex; grape rind.
AH: Caramel; root beer.
CH: "Earthy."
CD: Oak and pinot with fresh-cut wheat.
LV: Alcohol; dark fruit.
Taste:
MO: Citric; hint of pink peppercorn; sparkly.
MM: Very sour; not like SweeTarts (no matter what they tell you!); like a bad grapefruit.
SM: Spicy; Christmas.
ZY: Spicy, not hot but with spice; tart; sour grapes.
AD: Tart pinot noir made with young grapes.
TS: Obviously, the red wine matched with the thorns; oaken.
AH: Bitter; very dry wine; popping; heavily salted caramel.
CH: Complex.
CD: Sweet and sour with a red wine aftertaste.
LV: Sweet maltiness; bready; light to moderate tangyness; dark fruit; less alcohol flavor compared to the aroma.
It reminds me of:
MM: My ex-boyfriend.
ZY: Picking muscadines in my grandma's backyard.
AD: A classy wine beer that I would want when I want cold red wine.
TS: The last beer of the night.
AH: Fondren Beverage Emporium.
CH: SweeTarts.
CD: Sitting by a fire.
I would pair this with:
MM: A restraining order.
ZY: Sharp cheddar.
AD: Pasta
TS: Steak and potatoes.
CH: Grilled steak.
CD: Smoked duck with blackberry sauce.
LV: Dessert.
Chandeleur Brewing Company Curlew's Toasted Coconut Porter
Type: Porter
Aroma:
MO: Chocolate; nutty; light honey; chocolate coffee.
MM: Like brown sugar and coffee.
ZY: Coffee; chocolate; creamy.
AD: Chocolate; a hint of coffee; porter goodness; toffee.
AH: Weed; dark chocolate; caramel.
CD: Smokey coffee with slight chocolate.
LV: Roasted malt; coffee; slight chocolate.
Taste:
MM: Like burnt coffee.
ZY: Woody; not much acidity; like burnt caramel.
AD: Chocolate/velvety; aftertaste of coconut.
TS: Coffee; sour.
AH: Chocolate; coconut; toffee; grapes; black coffee.
CH: Cold coffee.
CD: Chocolate and raisins.
LV: True to the aroma; coffee; some chocolate; lingering (hop) bitterness.
BL: Rich toffee and chocolate with a finishing of flaked coconut.
It reminds me of:
MO: Chocolate candy bar
AD: My favorite kind of beer that I can drink in the summer time!
TS: Cool summer afternoon.
AH: Sipping a beer at an outdoor festival.
CH: Winter time.
CD: Watching the sunset on the beach while eating fresh seafood.
BL: Cups Espresso Cafe in Brandon.
I would pair this with:
MO: Steak; salmon.
MM: A big bacon cheeseburger or steak.
AD: Coconut ice cream.
AH: Tiramisu.
CH: HERSHEY'S chocolate bar.
CD: Raw oysters at Saltine Oyster Bar or a cream-cheese pop at Deep South Pops.
LV: Barbecue.
BL: Coconut cream pie.
Southern Prohibition Brewing Co. Crowd Control
Type: IPA
Aroma:
MO: Citrus; grapefruit.
MM: Like mandarin oranges!
ZY: Citrus and mint.
AD: Peach, tangerine sweet; fresh air (40 degrees or lower) that's sharp.
AH: Really strong orange smell; citrus; licorice?
CD: Pine-y and citrus with sweet caramel.
LV: Pine-y/citrus bomb; some malt.
BL: Orange juice, and I mean that in the best possible way.
Taste:
MO: Citrus; grapefruit; tangy.
MM: Why do I keep doing this to myself? Tart; bitter; sharp. Help.
ZY: Very bitter, but also very bright and citrus-y.
AD: Sweet; flower-y; crisp.
AH: Acetone; mop water; very bitter; lemon.
CD: Hoppy but not over the top; balanced hop/malt flavors.
LV: Boom—over-the-top citrus bomb; juicy; solid malt backbone but the mosaic hops rule the day; citrus; melon; tropical fruit.
It reminds me of:
ZY: The beach in summer.
AD: The beer I buy on summer nights while everyone is drinking Bud Lights.
CH: Pint nights.
CD: Football season and grilling burgers.
LV: Being in the tropics.
BL: The best IPA ever.
I would pair this with:
MO: Baked fish.
MM: Maybe burnt barbecue chicken, real crispy on the edge—good sh*t.
ZY: Veggie ravioli.
AD: Literally anything.
CH: That fried bologna and egg sandwich at The Pig & Pint.
CD: Venison bacon burger and spicy oven fries with jalapeno ketchup.
LV: Hamburger; steak; spicy Mexican food.
BL: Pineapple cashew chicken fried rice from Thai Tasty.
Miller Brewing Company Steel Reserve Alloy Series Blk Berry 211
Type: Fruit beer
Aroma:
MO: Tangy grape with Jolly Ranchers; chewable Flintstones vitamins.
MM: It smells like blue Kool-Aid mated with an IPA.
ZY: Smells like the color purple.
AD: The purple Jolly Ranchers that no one ate or the purple Gatorade I refused to drink during grade school.
AH: Grape soda.
CH: Like Gatorade.
CD: Purple Gatorade with a purple Jolly Rancher.
LV: Sweet berries—tons of sugar.
Taste:
MO: Fruity pebbles; purple drank.
ZY: Like the syrup in a Fruit Gusher.
AD: Grape soda; liquid Jolly Rancher.
AH: Drunk Gatorade; Jolly Ranchers and vodka.
CH: Bad cough syrup.
CD: Watered-down grape soda.
LV: Loud berry fruit punch
It reminds me of:
MO: A bad nightmare.
MM: Mixing cheap vodka with a purple soda when I was a freshman in college ahem I mean senior.
ZY: Being 7 and eating Gushers.
AD: When my mom made me drink Gatorade after I had played a basketball game in middle school.
AH: Partying when I was a teenager.
CH: Cough syrup.
CD: Melted grape JELL-O shots.
LV: Grape popsicle.
BL: 5-year-old's birthday party.
I would pair this with:
MO: A drunk night in jail.
MM: A Lunchables meal.
ZY: Late-night McDonald's
AD: Despair—it's a drink, but don't drink it.
AH: The most greasy food ever.
CD: Vanilla ice cream might make this better.
LV: A toilet bowl.
BL: Cheetos.