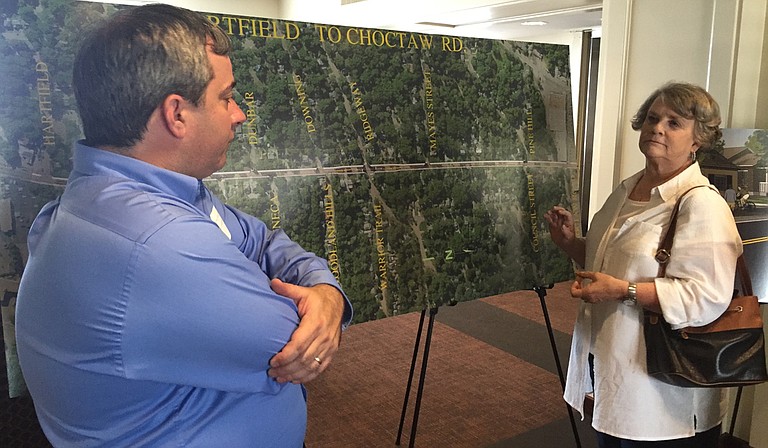 JACKSON — For Bill Wilson of Fondren, like many others, the memory of city infrastructure projects from years past haunts the current endeavor to rip up and reconstruct sections of North State Street from Hartfield Street in the south to where it crosses Sheppard Street.
"Invariably, I am seeing incredibly inflated advisory cost and engineering cost. And so it is like you are going to do a million-dollar project, and you are going to spend $4 million on studying it, and you still get screwed," Wilson said at the June 9 listening session for the "Greening the Gateways" project at St. Luke's United Methodist Church on Duling Avenue.
The engineering firm Neel-Schaffer received the contract for managing the $19-million project to completely renovate State Street from the pipes underneath to the asphalt above, a derivative of the federal Transportation Investment Generating Economic Recovery, or TIGER, grant.
The City of Jackson competed against other projects to win funding for the "Greening the Gateways" proposal, which also includes some work on West County Line Road.
This is a separate segment of work than the State Street efforts, Robert Walker, senior vice president and central region manager for Neel-Schaffer, said at the listening event.
"So both projects are a part of the TIGER grant application," Walker said. "The idea is to not just reconstruct the road but fix the utilities, provide more green space and more multi-use sidewalk along the corridor. And at the same time providing obviously a reconstructed road, which is much needed."
Stan Wright, project manager for Neel-Schaffer, said that the project, subdivided into three sections, includes a multi-use trail for cyclists and pedestrians, in addition to the road rework.
"The road is going to be reconstructed. We are going to dig it all up. It is will be a total reconstruction. And there will be a multiuse trail from one end to the other," Wright said. "It is essentially a 10-foot wide sidewalk that allows cyclists and pedestrians to use it."
'Not Just the Cosmetics'
The type of traffic, whether two lane or three, sets up the delineation of the three stages of the work. One of the highlights for anyone that has ever traveled up State for long enough is the complete and total overhaul of the road itself, not only the surface issues, but the pipes and sewer lines beneath that can leak and undermine any work on the asphalt above.
Some residents, like Lawson Newman who lives on State Street, is happy about the improvements to the road, mostly because of the way it will control the constant problem with runoff.
"That's a critical issue," Newman said during the listening event.
"In my section of North State Street, the street has been paved over so many times that the curb is no longer visible. And stormwater in the street just runs into people's yards and down your driveway and into your backyard ... or into the crawlspace of your house ... wherever it wants to go."
"It will be inconvenient at times and over a period of time, but I think ultimately the benefits will far outweigh the inconvenience," Newman said.
"And the improvements in the Fondren business district look like they are going to be nice, and probably improve, not just the cosmetics but ... traffic flow in certain areas and make everything work a little better," Newman added.
Providing Access for All
The roadway will get additions required by the Americans with Disabilities Act, including adequate sidewalk space for wheelchair access. Mike Hintz, a disabled Jacksonian who lives in the area, said the plans seem like an improvement.
"Normally they will hire a contractor who will just grind the asphalt and pave over it and you don't get any new curb cuts or accessibility improvements that are required by ADA since 1990," Hintz said. "ADA requires, when they pave a surface they have to make everything accessible. They tend to not. This appears to be done right."
"This looks like it is going to be very similar in quality to the Fortification Street improvements that they did between State and I-55," Hintz said.
Although this would help, be parts of Fondren will still lack adequate access, even to St. Luke's.
"I came through the McDade's parking lot, and there's no curb cut to get to the sidewalk from over there," Hintz said. "I had to go out in the street and come down half a block, and there is a curb cut right over here by the front of the church, but I have to go out into the street to get to it."
However, Wilson is not too upset about the work, quite the opposite actually. He simply remains cautious with his enthusiasm.
"We know that there are going to be logistical challenges," Wilson said, "but at this point the road is becoming so unusable that whatever they do is going to be a positive for us."
He and another Fondren resident, Sarah Morris, agreed, though, that how the money is dispersed will remain at the top of their concerns, not the inconvenience of having to find a new way to get around.
"That's our biggest fear," Wilson said, "that huge amounts of money will go into studying it..."
Here Morris interrupted, "And it will stop in the middle."
"But if you are guaranteed that it is going to be a much better ride and benefit the people that live in Fondren and people that don't," Morris said. "You learn to live with things. You learn that there is a back way to get to your house. And yeah, it's inconvenient, and dust is everywhere ... so it is not too much difference."
Email city reporter Tim Summers, Jr. at tim@jacksonfreepress.com. See more local news at jfp.ms/localnews.