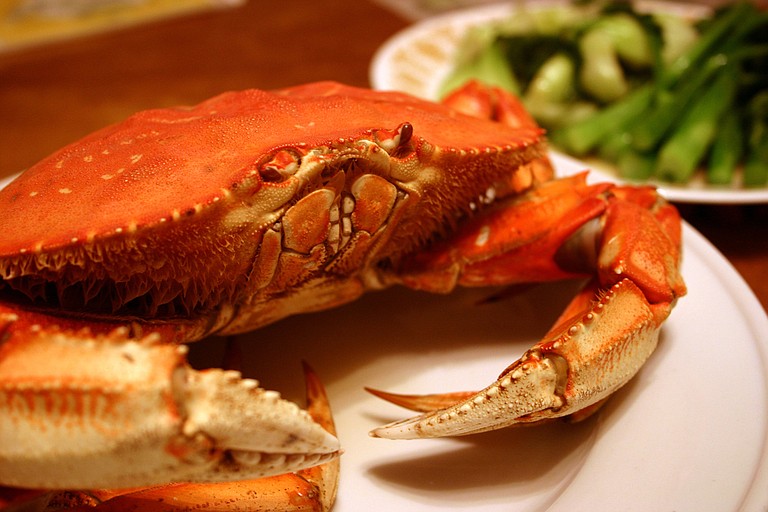 A nice addition to the barbecues and picnics of summer is an equally informal but celebratory sit-down lunch or dinner for a few friends. A June birthday is the perfect time. It just so happens that one of my very favorite people, my sister Savanna, has a June birthday. Maybe for that reason, I am partial to June birthday parties. Thinking of what she would like for a birthday dinner is a fun pursuit.
Because we grew up loving seafood, this year I decided on something extra special for the entree: a sauteed soft shell crab entree placed on a decadent white butter sauce. While these crunchy, rich and sweet crabs are wonderful enough to serve with just a squeeze of fresh lemon, the white butter sauce creates another level of decadence and presentation. Side dishes were spears of al dente asparagus and roasted red-pepper strips with a small crispy salad and, of course, warmed French bread to soak up any remaining sauce.
For dessert, the choice was easy. As children, Savanna always chose strawberry, whether it was strawberry cake, strawberry shake or just raw strawberries. So, as much as I love strawberry cake, I wanted something a little different and decided on a type of strawberry shortcake as a dessert. In place of sponge cake, I substituted a round cookie of sugar-sprinkled Scotch shortbread.
Pan-Seared Soft-Shell Crabs
Serves four
1/2 cup flour
A pinch (1/16th teaspoon) of salt, or more to taste
2 tablespoons cayenne pepper
12 small soft shell crabs, cleaned
1 cup butter or olive oil
2 limes cut in to four sections each.
Preheat oven to 400 degrees. Combine flour, salt and cayenne pepper and lightly dredge the crabs in the flour mixture. Prepare the butter sauce and keep warm.
Heat an ovenproof saute pan large enough to hold the crabs (or work in batches). Add the butter or oil and heat until very hot. Lay the crabs in the pan, top side-down and pan-fry them for about two or three minutes. Turn them over to fry the other side and finish cooking them in the oven for about three minutes more. Place a ladle full of the butter sauce onto four plates. Remove crabs from the pan and arrange on top of the butter sauce. Garnish plates with lime sections.
This dish is excellent with a fruity Chardonnay or a cold iced tea with lemon.
If you plan to serve the butter sauce almost immediately after its preparation, the cream can be omitted. If you want to make the sauce ahead of time, it will only stay emulsified with the addition of cream.
Beurre Blanc (Basic White Butter Sauce)
Makes two cups
6 tablespoons white wine
3 tablespoons white-wine vinegar
1/4 cup finely chopped shallots
1 bay leaf
1 teaspoon cracked black pepper
1/2 cup heavy cream (necessary if sauce is not used very shortly after making)
1 pound cold butter, broken or cut into small pieces
Salt and pepper to taste
1 teaspoon lemon juice
Directions
Put the white wine and white-wine vinegar into a medium-sized heavy saucepan with shallots, bay leaf and cracked pepper, and reduce over a medium heat.
If you're preparing it ahead of time, when the shallot mixture is reduced to about three tablespoons, add the cream and reduce by half. Whisk the butter in, piece by piece, until it is all incorporated. Strain sauce through a fine-mesh strainer. Add salt, pepper and lemon to taste. Keep warm in a double boiler.
Scotch Shortbread
Makes 30 cookies, depending on size.
2 sticks butter
1/2 cup powdered sugar
2 cups flour
Directions
Cream the butter and then gradually add sugar. Combine flour and stir into creamed mixture. Roll on a lightly floured surface 1/4 inch thick. Cut to size and shape desired. Place on cookie sheet and prick tops with fork. Sprinkle tops with granulated sugar (if desired).
Bake at 350 degrees for 20 to 25 minutes.
Tips: A generous four-inch-diameter round makes a nice single dessert size but may yield less then 30 smaller cookies. Serve dessert on separate plates for each guest. Top a piece of shortbread with plain sliced strawberries and a sprig of fresh mint. Additions such as whipped cream or vanilla ice cream or a drizzle of melted chocolate over the top are also nice.