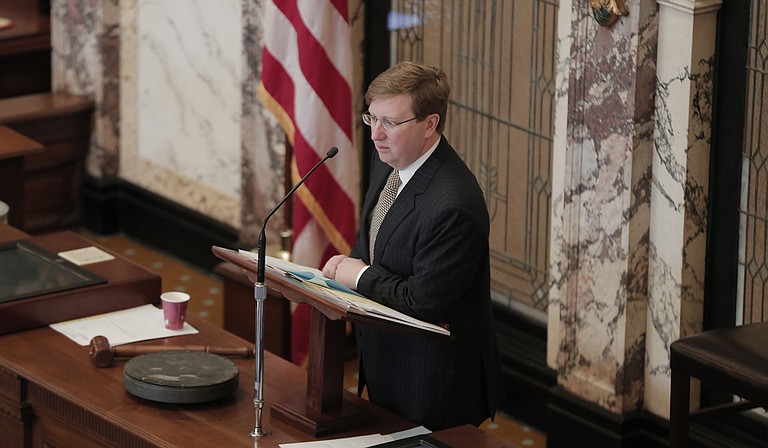 JACKSON — Empower Mississippi, an education "choice" nonprofit organization, named Lt. Gov. Tate Reeves the "Education Reformer of the Year" for his work on several education bills in the past legislative session.
Grant Callen, president of Empower Mississippi, said the award went in conjunction with the organization's 2016 Education Report Card, which graded lawmakers on their votes on several education bills this past session. The Report Card scores lawmakers on the charter school, education scholarship account, dyslexia scholarship and appointed superintendent legislation—all bills that Empower Mississippi supported.
"The lieutenant governor received our award because of his leadership on those bills and key education reforms that we see as critical to giving children in Mississippi more education options," Callen told the Jackson Free Press. "He's been a long-time advocate for giving kids more options."
Reeves received the award Thursday at Empower Mississippi's awards luncheon.
"We are taking the steps to transform education in Mississippi with every dollar invested in the classroom and every initiative expanding educational opportunities for students," Lt. Gov. Reeves said in a press release. "I appreciate Empower Mississippi for its hard work to support more educational options throughout our state."
This year the Legislature made significant changes to the state's charter-school law—changes that, in the end, only passed by a vote of 24-21 in the Senate. Callen said his organization supported the changes to the law, particularly the new provision that allows students in C, D or F school districts to cross district lines to attend charter schools.
"This expansion, coupled with the original charter-school bill, really does lay a great foundation for the charter school movement in Mississippi to grow," Callen told the Jackson Free Press.
Empower Mississippi participates in political campaigns, and its PAC donated to several lawmakers' campaigns in the 2015 election. Empower PAC donated $15,000 to Reeves in 2015.
Callen said that the PAC supported close to 30 legislators in districts all across the state. The Empower PAC spread almost $110,000 over the campaigns of Reps. Dana Criswell, R-Olive Branch, Dan Eubanks, R-Walls, Ashley Henley, R-Southaven, and Steve Hopkins, R-Southaven—all of whom were successful in defeating "anti-charter" Republican incumbents back in August. Criswell, Henley and Hopkins were all placed on the House Education Committee.
"We supported candidates, both first-time and incumbents, who we thought were going to stand up for kids; our Report Card is a good assessment of where we think legislators are actually standing up for kids," Callen said.
Email state reporter Arielle Dreher at arielle@jacksonfreepress.com. For more education news visit jacksonfreepress.com/education.