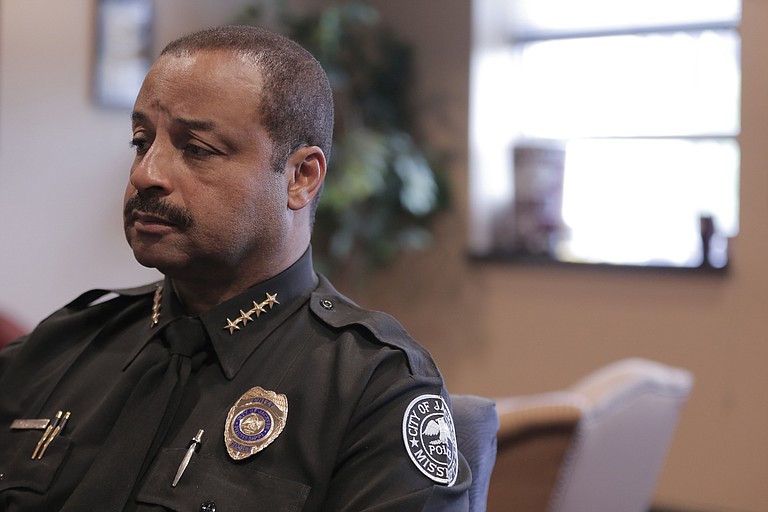 JACKSON — The Jackson City Council gave the Jackson Police Department week the go-ahead last to purchase 39 "conducted electricity weapons," or Tasers. At the council's June 14 regular meeting, however, some council members expressed concern that officers must be trained well to use the weapons, which are considered less than lethal than guns but still potentially dangerous.
"There are pros and cons to these weapons," Ward 7 Councilwoman Margaret Barrett-Simon said, "and the chief assured us yesterday that they would be used sparingly and they would start with the highest-trained officers, supervisors. I was very pleased to hear that, and I will try to stay on them to make sure that we handle them responsibly."
She was not the only council member who was concerned.
"My take on that was whoever these Tasers are issued to, that they be well-trained," Ward 5 Councilman Charles Tillman said. "That they do the right thing, know when to use it and when not to use it."
"It is already ready," Jackson Police Chief Lee Vance told the council. "We have sent officers to instructor schools. The intent of the Tasers is a less-lethal weapon. It gives us the opportunity to deal with very combative, out-of-control, violent suspects, in many cases, without having to shoot them."
The agenda packet for the meeting, located on the City's website, lists the total cost for the purchase of the 39 Tasers, the X-2 model, to be $49,913.60. This puts the sticker price for each gun at a little over a grand each. The memo from the chief to the mayor explains that the price includes accessories like holsters and training cartridges.
"You have to be cautious, and you have to be well-trained to do any of this stuff," Vance added. "And you are right, there are pros and cons to all these weapons, but when you look at it overall, we are looking for ways to save lives, not have to shoot or kill anybody unnecessarily and it gives us another option on not having to do that."
"It is also an upgrade for Jackson police officers," Vance said, listing other departments in the area that already had the weapons, including the Hinds County Sheriff's Department and Mississippi Highway Patrol. "You name them, just about everybody has them but us."
Vance told the council about a recent situation during which an officer was involved with a "combative violent" suspect. He said that the officers had to call the Hinds County Sheriff's Department to the scene to subdue the suspect with a Taser.
"It is intended to save lives and keep officers safe," Vance said.
Ward 4 Councilman De'Keither Stamps said that when the city's officers come into contact with unpredictable suspects, such as drug addicts, these non-lethal options are a way to keep both the officers and the citizens safe.
"When you have these people who are high on different substances, they don't need to die because of their combativeness; they need rehabilitation," Stamps said. "But if they are dead, they can't get that rehabilitation."
"It gives them super-human strength, there is no doubt about that," Vance said about use of substances. "And we have to deal with a lot of mental patients. Our officers put their lives on the line everyday, and it is up to us as the administration of the police department to give them equipment that is pretty much state of the art."
"So we are just upgrading our officers to where everyone else is, and all training prerequisites will be met, I assure you," Vance said.
A 2015 Washington Post investigation into police use of Tasers across the country concluded that 48 people died in situations in which police used Tasers.
"The link between the use of Tasers and the 48 deaths this year is unclear," the Nov. 26, 2015, Post story states. "At least one of the deaths occurred when an incapacitated person fell and hit his head."
While the Taser may not be the exact cause of death, it joins several other factors, including drug use, that might all contribute to loss-of-life.
"Other factors mentioned among the causes of death were excited delirium, methamphetamine or PCP intoxication, hypertensive heart disease, coronary artery disease, and cocaine toxicity," The Washington Post reported. "Twelve of the 26 cases in which The Post was able to obtain autopsy reports or cause-of-death information mentioned a Taser along with other factors."
Vance said the Tasers will arrive in about two weeks and that training would begin immediately. But that is not the end of the orders, the chief said.
"We plan additional purchases until we have everyone equipped," Vance said.
Ward 3 Councilman Kenneth Stokes asked if the chief had a plan to get Tasers to the rest of the 400 officers in the department. "What kind of timeframe are we looking at? I know that the next order is going to be a little more major with the budget and everything else," Stokes said.
Vance said the money for the current purchase would be out of the department's forfeiture fund and that later purchases would come from grants.
"It is not any budgeted money included in this," Vance said. "We just felt like, especially in light of a couple of incidents that have happened recently, we could take the money out of the forfeiture fund, (because) it was available now."
Stokes also said that he was concerned about the prevalence of the use of embalming fluid to get high, a process the chief called "wet."
"They dip a marijuana cigarette in formaldehyde and smoke it," Vance said. "And it enhances their strength greatly, and it makes people just crazy. And we run into a lot of people that are under the influence of this stuff, and it just makes them dangerous."
He said that the Tasers would keep situations like those with individuals who are "wet" turning into a lethal moment.
"That's what we are trying to avoid doing," Vance said. "This is less lethal."
Email city reporter Tim Summers, Jr. at tim@jacksonfreepress.com. See more local news at jfp.ms/localnews.