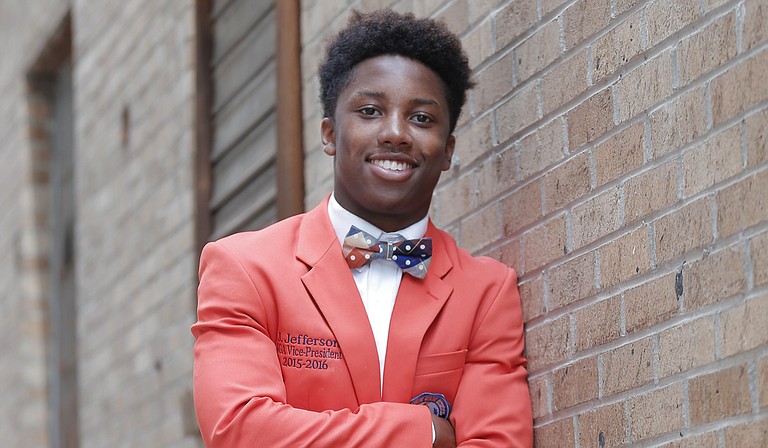 For Jordan Jefferson, who graduated as the valedictorian from Callaway High School in May, time management has been a critical skill in his daily life. Jefferson juggled duties as president of the Callaway High School Honor Society and participated in the school's football, soccer, track and power-lifting teams during his time there.
Jefferson, 18, was originally born in Tulsa, Okla., but spent his early years in Kansas and then Byram before his family moved to north Jackson 10 years ago. He lives with his mother, Tiffany Jefferson, his 6-year-old brother, Jones, and his 4-year-old sister, Kennedy.
In addition to serving as president of the Callaway High School Honor Society, Jefferson was vice president of the student body.
Jefferson first became involved with the honor society two years ago at the suggestion of his AP U.S. history and government teacher Willie Brady Jr., who mentored Jefferson. His primary duties included leading and organizing events and helping other members with their grades and community-service projects.
In addition to his studies, Jefferson has played football for seven years, soccer for four years, and has been doing track for five years and power lifting for three years.
Jefferson recently received a full scholarship to Jackson State University, where he hopes to join the school's football team as a running back or wide receiver. He plans to major in mass communications and pursue a career as a television news anchor.
"I want to be able to talk to the world about things I don't usually get to talk about, like the true stories behind crimes, or deaths involving black people that a lot of people either don't talk or hear about," Jefferson says.
Dance has also been a large part of Jefferson's life since he was 4 years old. He has learned tap dancing, ballet, hip-hop, contemporary, jazz and other styles over the years.
Jefferson became a member of Dance Works Studio in Byram in 2007 and the Montage dance program at Hinds Community College in Raymond, where his mother works as a dance instructor, in 2004 and remains a member of the group now. He plans to get involved with a dance group at Jackson State when classes start this year and will also continue to work with Dance Works.
Jefferson will also serve as a student ambassador for Jackson State, tasked with introducing new and prospective students to the campus and its facilities.
In his valedictorian speech at his graduation ceremony, Jefferson stressed to his fellow students the importance of not fearing failure in anything they aspire to.
"I feel failure is really just a payment for opportunity and success," Jefferson said in his speech. "Opportunity is something you create from your failures, so the thing to do is to hurry up and fail, so you can start succeeding."