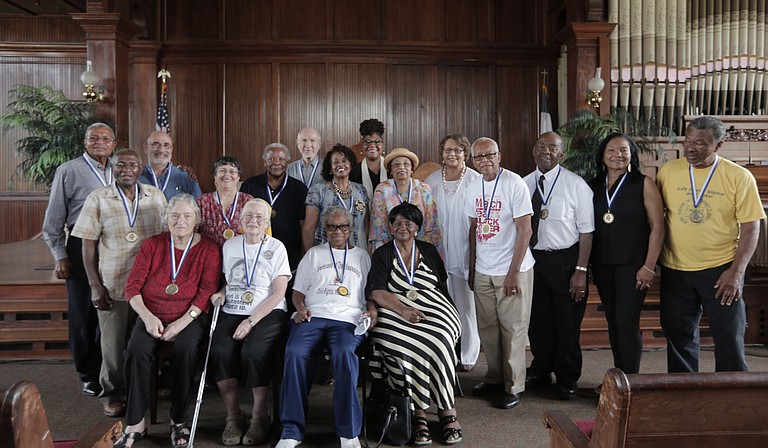 JACKSON — Dalai Lama XIV once wrote, "If you think you are too small to make a difference, try sleeping with a mosquito." This notion that one solitary person can influence a mountain of change is evident in the 1966 March Against Fear. Jackson marked the 50 years since James Meredith's famous, violent walk for freedom with three days of events that culminated in a march on Sunday, June 26.
Meredith, who became the first African American student to attend the University of Mississippi, in 1962, wanted to encourage African Americans in the South to vote. In an attempt to bring attention to the issue, on June 5, 1966, Meredith left Memphis, Tenn., and began his journey to Jackson, calling it a "March Against Fear." What began as a solitary movement finished with more than 20,000 people in Jackson, a number that grew in part because of an attack on Meredith's life that influenced leaders from Southern Christian Leadership Conference, Congress of Racial Equality and Student Non-Violent Coordinating Committee to join the march.
On Saturday, June 25, the Veterans of the Mississippi Civil Rights Movement, Inc., Tougaloo College, The Fannie Lou Hamer Institute and Nissan hosted the 50-year commemoration of the March Against Fear at Tougaloo in a ceremony called, "The March Against Fear and Tougaloo College: A Safe Haven."
At the celebration, 1966 Marchers Annie Pearl Avery, Dorie Ladner, Charles McLaurin and Robert Smith participated in a question-and-answer session with audience members.
Though this was not the obvious intention, several of the questions and answers had a roundabout way of addressing the role of young people in continuing the work started by those in 1966.
A recent Tougaloo graduate asked the panel what young people had to fight for, to which Ladner responded, "None of us are free as long as the least of us are free." Each of the responses reflected the need for voting rights and the continuing racial and gender discrimination and, often, police brutality.
Avery specifically addressed African American audience members in her answer, encouraging them to do genealogical research in an attempt to recreate bonds with African culture and people that were destroyed because of the transatlantic slave trade.
Smith addressed voting rights. "Yes," he said, "you have the right to vote, but we have thousands of people in Mississippi who still aren't registered. There is a serious need for voter education."
Ladner continued her earlier thought by saying, "We are in the process of trying to make ourselves better and not to condemn our brothers and sisters, but to uplift (them)."
Several of the audience members were marchers in the 1966 March Against Fear, many of whom shared their memories of the even with the audience gathered that day.
Wendell Paris, who lives in Jackson, reflected on the creation of "Black Power" in Greenwood, Miss. Local African American leaders gave Stokely Carmichael permission to organize at a park there, but local white leaders arrested him for it. As a result, Carmichael gave his now-famous speech in which he said: "We have to tell (white people) we are going to use the term 'Black Power,' and we are going to define it because Black Power speaks to us. We can't let them project Black Power because they can only project it from white power, and we know what white power has done to us."
Two days before the celebratory events on June 25, people gathered in Canton, Miss., gathered to pay tribute to the men and women who organized there 50 years ago. This time, instead of being met with tear gas and gun butts, the organizers were able to peacefully unveil a marker commemorating the event on the Mississippi Freedom Trail. On June 26, the weekend ended with a Walk for Good and Right and a visit to the "Am I or Am I Not a Citizen" exhibit at the Smith Robertson Museum and Cultural Center.
Email Adria Walker at adria@jacksonfreepress.com.