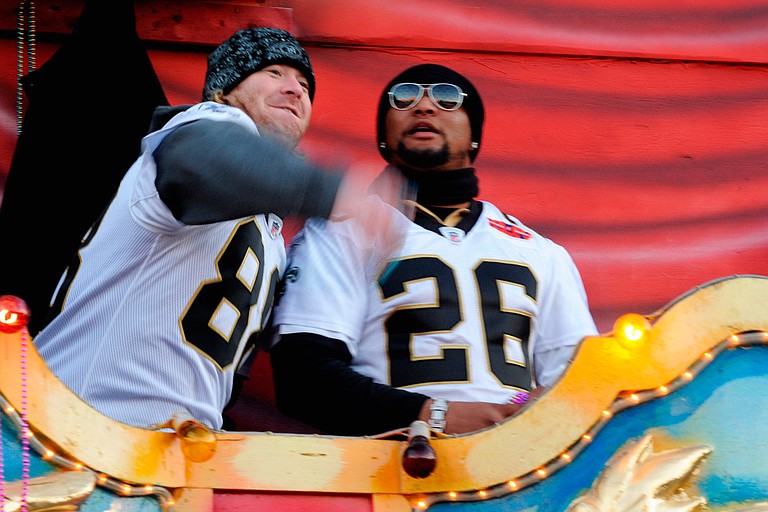 The New Orleans Saints have had several popular players through the years. You could name ones such as Drew Brees, Archie Manning, Rickey Jackson, Pat Swilling, Sam Mills and a few others.
But no Saints fan would forget about Dulymus McAllister, better known as Deuce, one of the Saints' all-time most popular players.
Even before coming to New Orleans, McAllister was already a legend at the University of Mississippi, where he won the 1999 Conerly Trophy as the best college football player in the state of Mississippi.
As a Rebel he is the school's all-time leading rusher with 3,060 yards with 41 touchdowns and all-purpose yards with 4,889.
New Orleans drafted Deuce with the 23rd overall pick in the first round of the 2001 NFL Draft. McAllister went on to become the Saints' all-time career leader in rushing yards with 6,059 yards and rushing touchdowns with 49 before injuries forced him to call it quits.
As the Saints went on their lone Super Bowl run, McAllister was on the roster. When New Orleans defeated the Indianapolis Colts 31-17 in Super Bowl XLIV, Deuce got a Super Bowl ring.
McAllister is now joining the Saints Radio Network as the new color analyst for the team broadcast in announcement from WWL 870-AM. The former running back is replacing Howard "Hokie" Gajan, who passed away from cancer this April.
Gajan was a former Louisiana State University football player who the Saints drafted in the 10th round of the 1981 NFL Draft. He played for New Orleans until 1985 and spent the last 15 years as the color analyst for the Saints.
While Gajan received chemotherapy, McAllister filled in for him in the booth during the final four games last season. McAllister was widely praised for his work and knowledge of the game during his short stint on the job.
Deuce joins a long line of former Saints players who have taken the color analyst job over the years such as Manning, Jim Taylor, Stan Brock, Danny Abramowicz, Steve Stonebreaker and Gajan.
McAllister will work with long-time play-by-play announcer Jim Henderson and sideline reporter Kristian Garic. He will make his official debut on Aug. 11 during the Saints' preseason game against the New England Patriots.
The former running back will also make appearances for WWL's coverage during the Saints' training camp in July and August. It seems likely that Deuce will be just as loved in the booth as he was on the field.