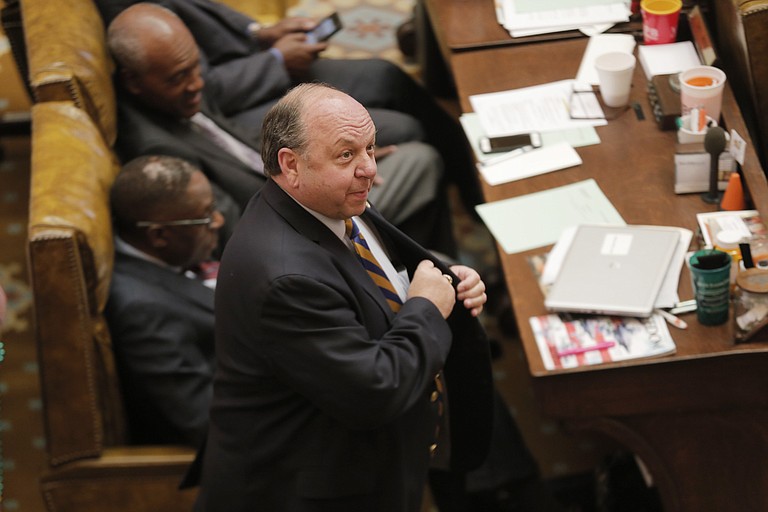 JACKSON, Miss. (AP) — One of the most colorful and outspoken members of the Mississippi House says he might be leaving office after 33 years' service.
Democratic Rep. Steve Holland of Plantersville announced during a House budget debate Wednesday that he has filed retirement papers, effective 5 p.m. Thursday.
But, moments later, Holland told reporters he's only about 85 percent sure he will actually retire.
He said if he steps down, someone will replace him — as happens when any lawmaker leaves.
"This is a democracy, whether you like it or not," Holland said. "And it will survive and it will thrive."
The 60-year-old undertaker said he needs to spend more time on his funeral business in northeast Mississippi.
Holland regularly waves a tiny American flag at his desk on the House floor. To poke fun at xenophobes, he once proposed renaming the Gulf of Mexico as the Gulf of America.
He has been known to stick out his tongue and make raspberry noises. During a tense committee meeting years ago, he let fly the queen mother of dirty words at a young staffer for then-Gov. Haley Barbour, even though Holland and Barbour, political opposites, had a genial working relationship.
Holland described himself Wednesday as a "total, out-of-the-closet liberal" who believes government has a role in caring for the needy. He said he had considered leaving the Legislature years ago, but decided to stay because he wanted to speak "for the least, the last and most vulnerable."
With Republicans holding a House majority the past five years, Holland is no longer a chairman as he was when Democrats were in control. Holland had been a friend and confidante of Democratic House Speaker Billy McCoy from 2004 to 2012, and held one of the top jobs as chairman of the House Public Health Committee.
Holland's public musing about retirement came just over a week after his father died, although he said the two events are not connected. Instead, he said he's concerned about his 85-year-old mother, Lee County Justice Court Judge Sadie Holland, because she operates the funeral home when he's out of town. During legislative sessions, Holland often drives the 180 miles from the Capitol back home to Lee County to bury the dead.