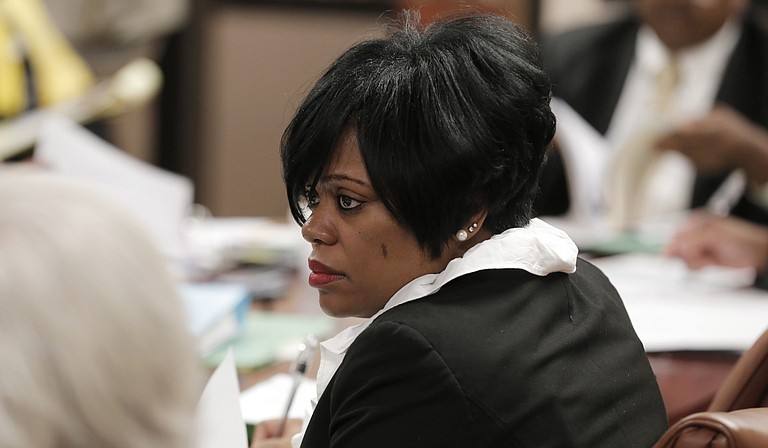 JACKSON — Jackson Redevelopment Authority Chairman McKinley Alexander said he would not pursue any action to replace or oust board member Andria Jones, amid questions about her pending legal charges.
Attorney General Jim Hood announced June 7 that a Hinds County grand jury had indicted JRA Commissioner Andria Jones, along with Jennifer Green of Pearl, for three counts of Medicaid fraud and one count of conspiracy to commit Medicaid fraud.
"Green and Jones," a release from the AG's office states, "are accused of submitting and conspiring to submit false claims to Medicaid under various codes on behalf of Tutoring, Assessment and Professional Services (TAPS), located in Jackson."
Green served as the director of TAPS with Jones as the assistant director, the release states. The two were booked into the Hinds County jail, each with a $20,000 bond. Each faces up to five years and $50,000 in fines for each Medicaid fraud and conspiracy count, which could total up to two decades in jail and almost $200,000 in fines.
The two also could be liable for up to $1,040,000 in restitution and penalties to be paid back to the Medicaid program. Jones, for her part, has not stepped down from her position on the JRA board, and as of the June 22 regular meeting she is still a voting member of JRA, a quasi-governmental agency that oversees Jackson projects.
Keeping It Public
Because the JRA's past legal problems, the board constantly discusses how its affairs are perceived.
One of the clearest forums for this talk is the chairman's address section of JRA meetings, wherein Chairman Alexander usually restates the board's commitment to proceeding through the development process in the correct way, even if it is a bit slower than he would like. Last Wednesday's meeting was no exception.
"To the best of my knowledge, no commissioner who has served," Alexander said, "has engaged in any unethical practices in regard to any Jackson Redevelopment Authority business."
Later on in the meeting, during the new business section, Commissioner Jennifer Johnson said she wanted to discuss a sensitive issue, later revealed to be whether Jones should remain as vice chair to the board.
"I have a matter that I think we need to discuss in executive session," Johnson said, adding that she was not sure of the section of the Open Meetings Act that covered the subject.
The Mississippi Ethics Commission's website maintains a copy of the complete Open Meetings Act, MS Code Section 25-14-7. It includes the exceptions that allow for an executive session, and they are very specific, covering discussions about medical personnel within public hospitals, carte blanche for the Legislature in its proceedings and a provision for governing bodies to discuss potential or ongoing litigation outside of the public eye.
However, while there is a provision for a body to enter into executive session for "investigative proceedings by any public body regarding allegations of misconduct or violation of law," Johnson could not find an allowance for an executive session applicable to Jones' situation, and the board discussed her position publicly.
"So, I am not certain there is an exception to permit an executive session, so I will try to address this matter carefully," Johnson said to the board.
'In That Protective Spirit'
"The recent events that you referenced in your chairman's speech, Mr. Chairman," Johnson told the board, "may have an impact on our directors and officers insurance coverage as well as an impact on our auditors if we have an officer who has pending criminal charges for fraud. And I think we should, as a body, address that."
Alexander said he would not assume Jones's guilt.
"The chair is of the opinion that the persons charged are innocent until proven guilty and that since those charges did not pertain to anything at JRA that it is not the business of JRA," Alexander said. "And that JRA will only enter into such activities if the charge pertained to something at JRA."
"These are the public's bank accounts, these are the public's contracts we are signing," Johnson said. "In that protective spirit I am asking that we discuss it as a board."
"But I don't see that is something that we have the power to do or vote on." Alexander retorted, "that we not try to create policy,," as to removing Jones from her responsibilities and authority as commissioner.
"That's not an area that the board needs to spend a lot of time and energy on," he said, adding that he believed it was one more way to slow down the board's progress.
Alexander said JRA would consult with its providers and bonding consultants about Jones' legal situation, and if they advised for her removal, that the board would ask her to do so, instead of creating a policy of board removals.
"And again an indictment is merely an accusation; I have not been charged with anything, and we will let the courts decide," Jones said, the only time she spoke during the meeting. "And I am innocent until proven guilty." 

Email city reporter Tim Summers, Jr. at tim@jacksonfreepress.com. See more local news at jfp.ms/localnews.