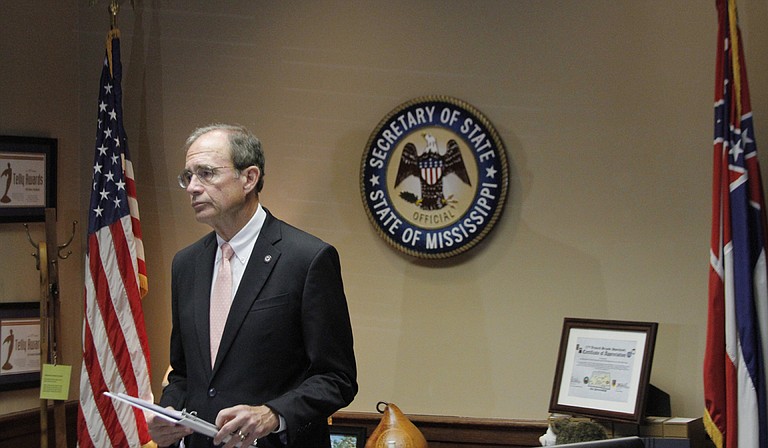 JACKSON — After years of appeals, the local developer tasked with renovating the Belk building in Metrocenter Mall must pay over $600,000 in restitution and fines.
The Mississippi Court of Appeals reaffirmed a decision against local developer David Watkins and Watkins Development, LLC, Monday for four counts of securities fraud related to a bond loan to be used by Retro Metro LLC, whose investors include Socrates Garrett and Leroy Walker, to revitalize the Belk building at the Metrocenter Mall.
"In that, the Mississippi Court of Appeals has ordered and confirmed our charges totaling approximately $75,000 in fines; $25,000 is the maximum amount for each of these charges," Secretary of State Delbert Hosemann said during a press conference on June 30. "In addition, they have ordered $587,084 be returned as restitution to Retro Metro."
On the same day he obtained financing for the project on behalf of Retro Metro as its manager, Watkins paid his investors 40 times their collective investment.
Court documents show that after obtaining a bond loan on April 12, 2011, for $5,195,000, Watkins wrote checks to investors, who had each put in a total of $10,000, for six amounts totaling $400,000. Then, months later, Watkins wrote a check for $587, 084.34 from Retro Metro to another company, also in his name, known as Meridian Law Enforcement Center, LLC, for which he planned to use to renovate an old Cowboy Maloney's in Meridian into a new police station.
At the moment, the secretary of state's office lists Leroy Walker as the registered agent for Retro Metro.
"I am very pleased with the Court's decision to affirm the Secretary of State's final order," Leroy Walker said in a press release from Hosemann's office. "The Secretary of State's Office has been extremely professional in their due diligence in this matter, and I am very appreciative."
"The three remaining partners were committed to fulfilling their obligation to finish the build-out for the City of Jackson, borrowing $1.5 million dollars to complete the project. This is a very good day for the partnership. This ruling further assists us in completing our goal for revitalizing the Metrocenter Mall," Walker said.
The other current investors listed for Retro Metro are Howard Catchings and Leland Socrates Garrett, along with Leroy Walker.
As a result, the Court of Appeals decision requires Watkins and Watkins Development to repay the money transferred along with $75,000 from three violations of Mississippi Securities Act that carry $25,000 fines.
The secretary of state's office prosecuted Watkins and his development company as one all the way up to the Court of Appeals, as a part of the office's mandate to scrutinize securities exchanges in the state.
Watkins could not be reached by press time.
Email city reporter Tim Summers, Jr. at tim@jacksonfreepress.com.