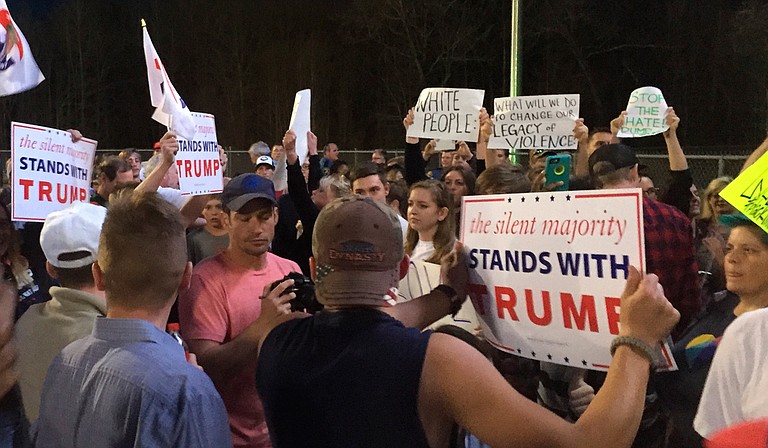 JACKSON — The group of mostly young, white protesters formed a circular pit, face to face, outside Madison Central High School last night after Donald Trump roused the crowd inside. Half the crowd shouted, "All Lives Matter!" and the other half challenged the statement with, "Black Lives Matter."
Photo Gallery
Trump Rally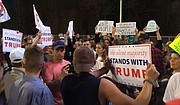 In each other's faces, the #blacklivesmatter sympathizers shared reasons why black lives are the center of political agenda in a country where police brutality and racism thrive, saying that racism is still prevalent today.
"You're never going to change the fact that there is racism," a young Trump supporter responded loudly. "You are starting racism."
The Republican frontrunner, businessman and the center of GOP controversy attracted large crowds at Madison Central High School—although far from the 10,000 he claimed—which soon afterward turned into a heated altercation outside about race, taxes and name-calling.
After Trump signed his speech off with chants of "Making America Great Again," mixed crowds of supporters and protestors gathered on the school's track underneath the stadium's jumbotron. Protestors silently held signs that read, "Trump: Making America HATE Again," and "Trump: I'm proud to be Christian; whoever says 'I love God' and hates his brother is a liar."
In a state that still flies the Confederate battle emblem in its flag, race was the main issue supporters and protestors passionately disagreed on.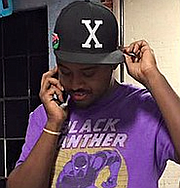 DJ Venom was kicked out of a Trump rally in Mississippi for wearing Marvel's Black Panther shirt and an X cap.
The young Trump supporter claimed he stood with black people as well, but that singling out support for certain races sparks controversy and furthers racism, an argument #alllivesmatter supporters often repeat.
"They just don't understand that black lives are being murdered at a disproportionately higher rate than any other," a young Sanders supporter responded. "Ridgeland is currently being sued because they want to rezone the area so that they can change the atmosphere to a more socially acceptable level, but they're targeting minorities."
Onlookers filmed the altercation on their smart phones, while others silently stood in protest, and supporters stood their ground making claims as to why Trump would make a good president.
Richard Austin Fairchild, 24, a Madison, Miss., native and political-science graduate, was among the protesters.
"I saw the media interest with Donald Trump and how his political rallies are entertaining, and I would have to agree with that," Fairchild said. "It was very funny, but then it turned very scary. I felt like I would be witnessing history if I came down for this."
Fairchild took center stage during the altercation and shouted, "I want to pay taxes, I want to pay for roads, and I want to build bridges."
This statement rattled the opposing side and led to a name-calling frenzy on tax issues. Trum p supporters argued that they work hard for their money and do not want to have the majority taken away by taxes, unlike the "liberal, left-wing Bernie supporters."
"Hey, you like roads, and you like public schools? Well, that's socialism," shouted a Sanders supporter in reference to the candidate's self-identification as a socialist, which Trump supporters often criticize.
The altercation took a sudden turn and broke away when Trump made his appearance through a motorcade around the stadium. People shouted and chased the motorcade as the cars drove seemingly aimlessly.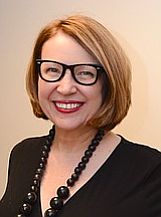 JFP Editor Donna Ladd challenges the idea that it is "politically correct" or a violate of free-speech rights to challenge hateful speech.
"I'm tired of watching the left wing destroy America," a young Trump supporter said. "I have not seen one good thing come out of the Obama administration, and Donald Trump will be the opposite of that and bring America back to its roots."
Trump supporters held signs, reading, "The silent majority stands with Trump."
"He speaks to what I want to hear, and that is the truth," Cassie Stutts, a Ridgeland native and Trump supporter, said of her candidate.
Correction: The above story has been corrected to reflect that a comment during the argument about "socialism" was by a Sanders supporter rather than a Trump supporter. The Sanders supporter wrote to clarify that he made the statement, but asked not to be identified.
Oneila Hawa is a Jackson Free Press intern. Read more political coverage at jfp.ms/politics.