At Belhaven University's Bitsy Irby Gallery, Samara Thomas, who goes by Sam, seems at home among the photographs and objects on display. Outside the gallery in the open rotunda entrance to the building, her sculpture titled "Proliferation" is included in an alumni exhibit. From a distance, the 15-feet by 4-feet-by-6-feet sculpture looks like white fabric spilling off a low pedestal and pooling on the floor.
The sculpture is from a series of installation pieces she made out of foam fruit nets. Over the last three years, she has collected thousands of individual pieces of fruit netting and hot-glued them together to create pieces that look like fabric or drapery.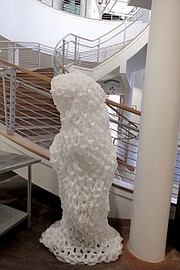 With a closer look at the sculpture, the netting found on fruits such as Asian pears is recognizable. The nets create a dynamic pattern similar to star coral, one of many repeating patterns found in nature.
"A lot of my work has connecting ties to organic nature," she says. "During the last few years of school, I spent a lot of time drawing the fruit nets—the components of my sculpture. After drawing them over and over, the inter-webbing lines developed into a vocabulary of mark making."
Thomas is a mixed-media artist who is putting her bachelor's of fine arts degree to work. Since graduating from Belhaven University in 2013, Thomas has successfully transitioned from college student to working artist. Splitting time between her home studio and her job as a display coordinator at Anthropologie, (1000 Highland Colony Parkway, Suite 2004, Ridgeland) she's making the most of the creativity and skills a fine-arts education can foster.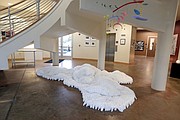 Thomas, 24, relocated from Georgia to Mississippi in 2009. Her soft-spoken and distinctly British accent reveals that she's not a southerner. She is originally from Sussex, England. At 13, her family moved to the U.S., when her parents, Hilary and Wayne Thomas, who are both Christian missionaries, were transferred to Atlanta. After graduating from college, Thomas decided to stick around Jackson.
Currently, she is doing more mark making with a series of mixed-media drawings on wood tiles.
Made with India ink and wood glue, the pieces' sinewy lines wriggle and flow, connecting shapes that form when the ink is applied to the glue. The individual tiles function as stand-alone pieces as well as one part of a larger whole.
"I discovered the process during my senior year," she says. "The India ink reacts with wood glue and creates these flowery shapes. After the ink and glue dries, I draw over it and manipulate the surface. I have a series of 25 tiles that I install in a grid pattern so that all of the lines connect. When you see it on a wall, it's sort of massive."
Thomas began working as a visual assistant at Anthropologie in 2012. In November, she was promoted to display coordinator while her coworker went on maternity leave.
"It's such a fun job," she says. "I do design work and creative problem-solving and a lot of construction and hands-on work with many different materials. They have a whole art room in the back of the store that's really cool."
Thomas is part of a visual team that creates the seasonal window displays and visual presentation of the store. Every store nationwide is given the same examples, templates and prototypes, and each location is allowed it's own interpretation. White doing a recent display, Thomas enjoyed putting her personal spin on a spring wall installation made from 400 paintbrushes.
"Working there keeps my creative juices flowing," she says. "There are some days when I finish at the job and come home, I'm too tired to do my own work, but it's still inspiring. I'm always learning something—how to miter and route an edge—skills that I can incorporate into my own work."
Thomas will show and sell her work at the Stray at Home Arts and Music Festival, which is Saturday, May 7, from 11 a.m. to 7 p.m. at Smith Park. For more information, visit samarathomas.com.
Terms to Know
Mark making—a term that describes the different lines, patterns and textures created in a piece of art
India ink—a black ink often used for drawing
Routing an edge—carving edges to create details in pieces of wood
CORRECTION: This story has been edited to reflect a factcheck change. Samara Thomas learned how to route, not wrap, an edge from her position as the display coordinator at Anthropologie in Ridgeland.