Wednesday, March 23, 2016
JACKSON — Jackson Police Chief Lee Vance is pushing back on the Clinton police's version of a recent car chase that ended in tragedy, saying the suburban department had not warned JPD in advance of the chase, as it claims.
"I am disappointed in the misinformation that been disseminated by supposedly responsible people in an effort to draw us into a controversy that we did not participate in," Vance said at a press conference at police headquarters in downtown Jackson Thursday. "I'm disappointed that the facts did not get out."
Audio clip
JPD Call to CPD
On Monday, March 21, a Clinton police chase left one innocent driver, Lonnie Blue Jr., 34, dead in west Jackson. At 11:40 p.m., the Clinton Police Department responded to a call at Walmart on Highway 80 in Clinton. Clinton Police Chief Michael Gill said in a statement that the suspects, identified as Donnell Williams Johnson, Ashley Travis and James Williams, had stolen electronics from the big-box retailer and were leaving when CPD officers spotted them as they headed toward Jackson. Clinton police chased the car into west Jackson; then the driver, Johnson, drove into oncoming traffic and hit another vehicle. Blue Jr. died on the scene.
Vance said while Clinton Police alleged that they called JPD beforehand to "block off the street," it was JPD's dispatcher who called CPD after JPD officers noticed Clinton officers in Jackson, indicating the chase was well into Jackson.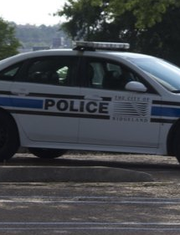 A police pursuit killed a mother in Flowood in 2012. Learn why law-enforcement agencies are adopting strict pursuit policies.
CPD Interim Chief Michael Gill defended his earlier claim in a statement Thursday: "My statements at the press conference were based on what I heard and saw in the dash camera recording as well as officer reports," he wrote. "In the video you can hear the CPD officer asking dispatch to notify JPD and HCSO. The dispatcher responds 'Already notified.' It is clear from video that JPD knew about the pursuit before the wreck."
"This is a tragedy," Gill added. "Our hearts and prayers are with the Blue family. Going forward we will direct our discussions with JPD regarding this incident, and I hope we can continue to work together with them to make the metro area safer."
Vance, however, said that the dash-cam video released by the Clinton Police Department shows how deadly and dangerous police chases can be. JPD has a strict police pursuit policy, and Vance said that chasing criminals for crimes like shoplifting is not the way to catch them.
"When police participate in pursuits … they are unpredictable, and they are dangerous," Vance said. "We've asked that outside agencies do not conduct those type (of) chases within the city of Jackson when seeking misdemeanors and some property criminals. We value life over property. This is a safety issue."
Johnson was released into JPD custody and denied bond. He has been charged with second-degree murder. In 2013, Johnson was convicted of four counts of auto burglary and sentenced to seven years, but three of those were suspended with three years of probation. He has six outstanding tickets, four with the Ridgeland Police Department and two with Mississippi Highway Patrol. CPD took him and the two other suspects into custody. The vehicle they were driving had a tag from a different vehicle, and CPD is currently investigating whether the car is stolen.
The Clarion-Ledger ran edited comments from Councilman Stamps' remarks at a rally against police chases.
High-speed chases often end in tragedy, such as one in 2012 that began in Ridgeland after a shoplifting incident and ended in Flowood, leaving an innocent mother, Milinda Clark, dead. More recently, a Madison police chase of auto-burglary suspects, which began at the Target store on County Line Road, caused two auto accidents, left a bystander in critical condition and caused $30,000 in damages to a Jackson building.
Last October, an alleged domestic-violence attack led to a JPD pursuit last October. While no one died in that chase, it ended in a six-car collision that landed the driver in the hospital.
Earlier this year, and again yesterday, Ward 3 Councilman Kenneth Stokes spoke out against police departments chasing petty criminals into Jackson after several agencies chased a suspect from Richland into Jackson, suggesting that Jacksonians should throw bottles and bricks at police cars, causing outrage toward him.
Stokes' concern about police chases isn't misplaced, however, as data from the National Highway Traffic and Safety Administration shows that from 1982 to 2009, 10,642 people have been killed in these chases, around 400 deaths per year. The dangers of police chases balanced against the dangers to human life have caused many departments, including Jackson Police Department, to change their policies allowing police chases in many instances.
Read earlier coverage of police chases at jfp.ms/policechases. Email Deputy News Editor Maya Miller at maya@jacksonfreepress.com and follow her on Twitter @MayaLMiller.