Wednesday, March 30, 2016
JACKSON — When Ward 4 Jackson City Councilman De'Keither Stamps stepped up to the microphone on March 25 at the corner of West Capitol Street and Galvez in west Jackson, he wanted to express the magnitude of the police-pursuit problem in the Jackson metro. Just days before, Clinton police had chased shoplifting suspects through a jigsaw puzzle of city streets in west Jackson until the driver, Donnell Williams Johnson, hit motorist Lonnie Blue Jr., killing him. Williams was, thus, charged with much more than shoplifting; he faces second-degree murder charges.
The Clarion-Ledger ran edited comments from Councilman Stamps' remarks at a rally against police chases.
Stamps chose a loaded metaphor to express his frustration at the persistence of suburban high-speed pursuits into Jackson to the media gathered at the Capitol Street Coalition, organized by Zakiya Summers and Cassandra Welchlin to demand safer police pursuits.
"Every surrounding city who refuses to use common-sense policies must be economically challenged because it's not safe for you to shop there," Stamps said. "Clinton is a Ferguson waiting to happen. Clinton is a city with a high minority population and oppressive police tactics. It's steps away, steps away from a Mike Brown. It's only a matter of time."
Stamps, one of multiple speakers, said later that his point was to warn that bad policing would eventually incite an outcry, but emphasized that he wasn't calling for a riot. Still, The Clarion-Ledger chose to lead its coverage with the juicy Ferguson sound bite on its front page, with the headline, "Stamps calls Clinton 'Ferguson waiting to happen." The paper left out the middle of his quote about Ferguson—the part warning about the high minority population and the oppressive tactics that could ignite a powder keg if nothing changed.
Ledger readers pushed back in comments underneath the story and on social media. "Stamps is chomping at the bits, hoping something like a riot will break out so he can become the next Al Sharpton or Jessie Jackson," one commenter said.
By Saturday, Stamps had posted the full video, passing it around on social media with the hashtag #Tellthewholestory. On Easter Sunday, he called a press conference at City Hall to explain his comments, saying that he was drawing a parallel to the "pain" Ferguson residents felt after Brown's death.
It was "frustration that led to the issue in Ferguson, Mo.," Stamps said Sunday. "Part of it was you had a family and community in mourning, and that conversation, that pain overshadows all these other conversations. Then that pain leads to frustration because you've got people screaming, 'what about my pain?' Because it was my sister, I wouldn't be wanting to hear about police chases, and cities, and all these other people."
Audio clip
JPD Call to CPD
Stamps criticized both the criminals who flee and the police officers who pursue them—as well as the lack of good policies and cooperation across the metro. He also called on police to give more discretion to officers on the scene to decide whether to chase, saying that video showed that some Clinton officers disagreed with the pursuit.
"Even some of the police officers question the practices from a personal standpoint," Stamps said.
"Hot pursuits" are an issue Jackson Police Chief Lee Vance addressed to the Jackson Free Press in a 2015 interview. He criticized media reports that had accused the JPD of a dangerous police chase that ended up with the death of a young person who hit a tree. In that case, he said, the officer had passed going the other direction, recognized a reported vehicle and turned around. The kids in the car, he said, saw the officer turn around and fled, driving into a tree.
"She didn't have time to engage in a chase," Vance said of the officer. "... A chase to me is when, if she had got behind them, and they kept going down McDowell Road, and they ended up out here in front of headquarters on Pascagoula Street and then crashed into something with her in hot pursuit. That's a police chase."
In recent years, JPD adopted a more progressive chase policy, more in line with national safety standards on pursuits, Vance said, but added that nearby jurisdictions will engage in dangerous pursuits based on shoplifting, such as the one that resulted in Blue's death or Milinda Clark's death in 2012. In that case, Ridgeland police chased shoplifters into Flowood going over 100 miles per hour until the suspects hit her Nissan Altima as she sat on Grants Ferry Road. The 38-year-old mother died at the hospital.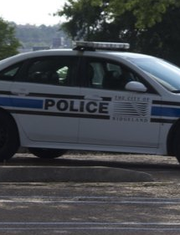 A police pursuit killed a mother in Flowood in 2012. Learn why law-enforcement agencies are adopting strict pursuit policies.
"For shoplifting," Vance said, pausing before adding that "some of those jurisidictions don't even have a policy. ... A lot of them, the policy is this simple: It's up to the discretion of the officer. That's their policy," indicating a disagreement with Stamps' call for officers to decide themselves.
The Jackson Free Press requested the Ridgeland police's pursuit policy after Clark's death but never received it.
Vance added that it's probably harder to sue the suburban police in their jurisdictions. "That's one of the differences between Jackson and Ridgeland, and Jackson and Madison County," he said. "Those jurors up there are far less likely to bring back a verdict against their police department."
"And I think they're probably cloaked in that knowledge when they do some of that crazy stuff," Vance added last year.
The Clinton police maintain that they warned JPD that the pursuit was moving into west Jackson, but Vance held a press conference last week to dispute that claim. "I am disappointed in the misinformation that has been disseminated by supposedly responsible people in an effort to draw us into a controversy that we did not participate in," Vance said at the press conference at police headquarters in downtown Jackson Thursday. "I'm disappointed that the facts did not get out." Clinton police say that's not true.
At his Easter presser, Stamps said all metro police jurisdictions need to embrace national standards, such as guidelines for 21st century policing developed by police chiefs around the country and issued by the White House. Those pursuit standards almost universally caution police to use tactics other than pursuits for low-level offenses such as shoplifting due to the dangers to innocent bystanders, as well as the police and those being pursued.
"We are seeing how we can make our practices better," Stamps said. "I'm not saying that JPD does not need some help in practices and ways to get better. We're doing that, and we're looking at ways that the region can do that as well."
Read more about police pursuits at jfp.ms/policechases and visit. Maya Miller contributed to this story.