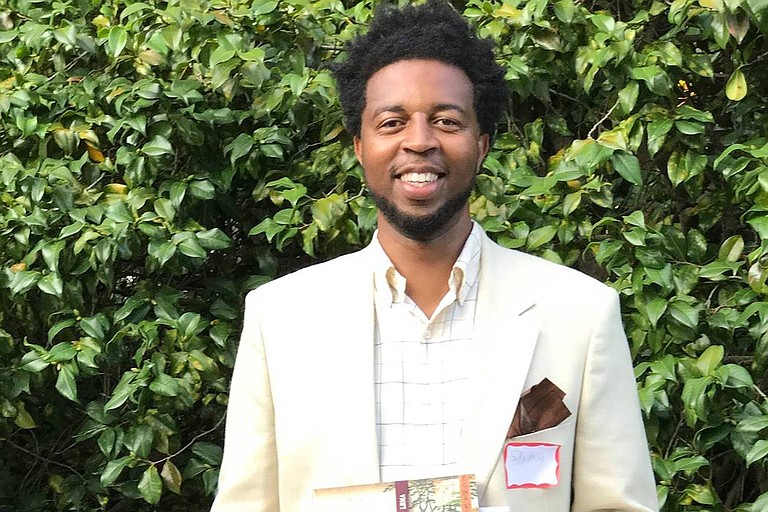 Art has been a part of George Miles Jr.'s life since he was in third grade. The artist, who creates art as Sky Miles, works in mediums such as photography, ceramics, watercolors, mixed media and more.
"I got into (art) because of my community and my parents," Miles says. "It was an artist who came in and did a workshop and gave us guidelines, and the teacher was amazed at the project I did based on the tips, so I got the spark early on."
Miles, a Starkville, Miss., native, received his associate's degree in photojournalism from Hinds Community College in 2000, and went on to attend Jackson State University, where he graduated with a bachelor's degree in liberal arts in 2002.
After graduation, Miles says he was ready to get out in the real world and test the fields by doing something creative.
"I formed a group of artists (that included ones such as Tony Davenport and Josh Hailey), and we started doing shows around the city. That's when things started to take off; it became like a movement," he says.
Miles has worked for Ask For More Arts, which is a program of Ask For More Jackson (formerly known as Parents for Public Schools of Jackson) for the past seven years and has been its art director for three. The group's goal is to build a creative foundation for students by incorporating art into the classrooms. He works with all students, from elementary to high school.
Miles will showcase some of his work at Fischer Galleries during the upcoming Art Lovers' Soiree event. The series he will present during is called "Backyard Mississippi."
"("Backyard Mississippi" is) centered around old homes that were once full of love, but now they're empty and (abandoned), and I incorporated the blues throughout the pieces as well," he says. "It's something you'll understand when you look at it."
He says the series kind of took him back to his childhood, and he felt it was a good way to preserve the history of the homes.
"It reminds me of a time when society was slower, and there were no cell phones. It felt good to bring life to the things that people are kind of looking over now," he says.
Miles says he is happy he never gave up on art, and he is grateful to see how it all came around full circle for him.
"The reason I became an artist, a true artist, is because I'm thankful to be living my childhood dream," Miles says. "Art was a continuous conversation between me and my mother, and she used to always showcase my work. The reason I never gave up on my dream is because she always supported me."
His mother, Helen Miles, passed away in 1998.
Miles says the best pieces you will create as an artist are the ones you are thinking of in the moment. In the future, he hopes to inspire the next generation of artists. He wants to give them the same passion and ambition he has received.
"I want this community to know that they've given me so much, and now it's my time to give back to them," Miles says. "Art is the blueprint of life; it's the foundation of life. Where would we be without it?"
Art Lovers' Soiree 2018 is Thursday, Feb. 8, from 5 p.m. to 8 p.m. in the Dickies Building (736 S. President St.) in downtown Jackson. On Thursday, Feb. 15, Miles will also be one of the exhibitors during the JXNStands Photo Exhibition at the Mississippi Museum of Art (380 S. Lamar St., msmuseumart.org). For more information, find the events on Facebook.
CORRECTION: In this story, the Jackson Free Press said that Ask for More Jackson was formerly known as Ask For More Arts. However, Ask For More Arts is actually a program of Ask For More Jackson, which was formerly known as Parents for Public Schools of Jackson.