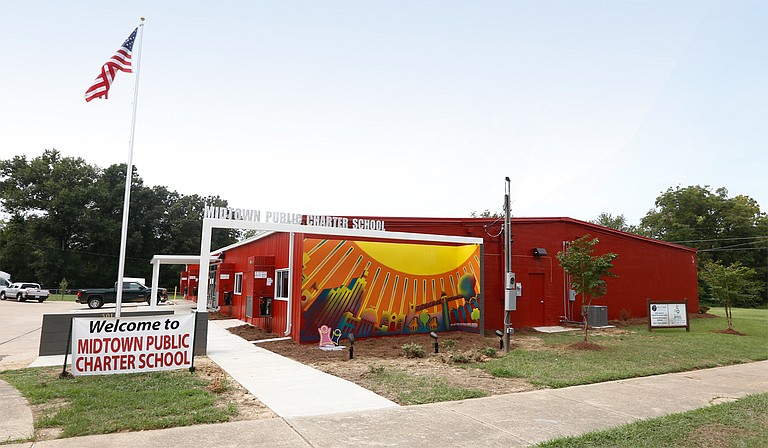 Wednesday, February 21, 2018
JACKSON — Mississippi's charter-school law does not violate the state's Constitution, Hinds County Chancery Court Judge Dewayne Thomas ruled almost a year after getting the case.
Lawyers from the Southern Poverty Law Center argued on behalf of parents in the Jackson Public School District that the Mississippi Charter School Act violates the constitutionally mandated provision requiring public schools to use local funds to maintain and operate their facilities. SPLC also argued that charters are not "free schools" under Mississippi law because they do not report to the statewide or a local superintendent and are instead accountable to Mississippi's charter authorizer board. SPLC attorneys had to prove that the charter law was unconstitutional "beyond a reasonable doubt," a high legal hurdle to clear.
Judge Thomas emphasized that he was ruling only on whether the Mississippi Charter School Act violated either section of the constitution that SPLC attorneys alleged.
"This court's consideration of the MCSA is extremely limited in this action. This court need not consider whether the Act is proper or improper, beneficial or detrimental, wise or unwise," Thomas wrote in his Feb. 13.
The judge essentially affirmed supporters' belief that charter schools are considered "free schools" under state law because they do not charge tuition. Thomas wrote that charters must "'be conducted as a free school' and no evidence has been presented that they are not.'" The judge also ruled that charter-school funding provisions do not violate the Mississippi constitution because the local tax dollars follow students to different districts, when they transfer in some circumstances or attend special schools or programs.
"In the current action, the Legislature provided for local taxes to follow the local students. If a taxpayer parent of a particular school district chooses to send their child to a public charter school, the local tax follows that child," Thomas wrote.
Local ad-valorem tax dollars do follow the child from the public-school district to the charter. The Joint Legislative Committee on Performance Evaluation and Expenditure Review of charters released in December 2017 examined how this works. Lawmakers found that the calculation of local ad-valorem tax funds to charters "provides unequal shares between charter schools and the school districts."
This means that charters receive more funds per pupil than the district where the student lives, the PEER report says. Local ad valorem receipts are calculated using average daily membership of the district where the charter school is located. For Jackson Public Schools, this meant sending $1.38 million to the three charter schools located within district borders in fiscal-year 2017. Using average daily membership, as state law prescribes, means that charter schools receive more local funds per pupil.
"As the charter schools grow, this statutory calculation will affect the school districts in which multiple charter schools are operating," the PEER report says.
The report suggests that lawmakers address the local funding discrepancy with legislation in order for local ad-valorem funds to be "equitable between school districts and charter schools."
Despite lawmakers' suggestions in the report, few have survived in the Mississippi Legislature. Sen. Tommy Gollott, R-Biloxi, authored a bill with many of the report's recommendations, including this local funding change. The bill did not make it out of the Senate Appropriations or Education Committees.
SPLC plans to appeal Thomas' ruling to the Mississippi Supreme Court. Attorney Will Bardwell released a statement on the ruling.
"This decision is disappointing, but it does not end our fight for Mississippi's children. ... By the time the Supreme Court hears this case, Jackson schoolchildren will have lost millions of public dollars to privately operated charter schools. We owe it to every public school student in Mississippi to continue this fight," Bardwell stated.
Not all education groups in the state oppose charter schools. Mississippi First, a nonprofit education policy center that contracts regularly with the Mississippi Charter Authorizer Board, agreed with Thomas' decision.
Rachel Canter, Mississippi First's executive director, said there are many instances in state law where local tax dollars follow the student out of district. The state's transfer law is complicated, she said, and in some instances looks like a list of scenarios pitched by lawmakers for their constituents. She said supporters of charter schools brought up this example in their legal briefs and arguments, which Thomas ultimately found compelling.
"One of the reasons he found that is that there are many instances in Mississippi law and practice where local tax dollars follow children to other school districts," Canter said about Judge Thomas.
Thomas' ruling was the right call, she said. Lt. Gov. Tate Reeves agreed, releasing a press statement on Feb. 13.
"I appreciate the Court for recognizing the Legislature's responsibility to improve the education attainment level of all students," he said. "It's time for the coalition of the status quo to stop fighting us in courts and join us in focusing on educating all Mississippi children."
The court battle will likely not be over for at least another year, however, if and when SPLC appeals.
Email state reporter Arielle Dreher at arielle@jacksonfreepress.com.