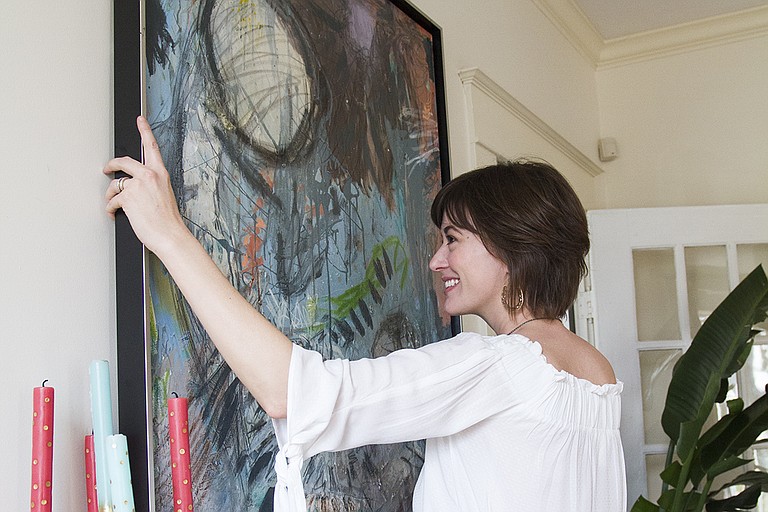 Thursday, February 22, 2018
On the wall behind Elizabeth Fowler's couch are four pieces of abstract art in white frames. The color splotches of teal and yellow, blue and light green, purple and blue, and green and salmon, contract against each other. The pieces give an insight into Fowler's mind and emotions.
Fowler, a Noxubee County native, says she liked the idea of art when she was a kid, but wasn't good at 
representational drawing.
"I couldn't focus long enough, and it just didn't seem important to me to, like, capture that amount of detail, so I never really considered art because I thought, 'Oh, you have to be able to replicate something in order to do art,'" 
Fowler says.
When she was little, her grandmother, Mattie Sparkman, would teach her skills such as shadowing with oil paint. Around fourth grade, Fowler made a Valentine for her friend, Megha Ramaswamy, and Ramaswamy said, "This is so beautiful. You need to be an artist."

"I looked at it, and I just thought, 'It's just kind of a jumbled mess,' but she saved it for all these years, and we're 37 now, and she still has it," Fowler says.
Fowler graduated from the University of Alabama with a bachelor's degree in communication and information science in 2003. She worked as an account executive for Intermark group from 2003 to 2006, as a freelance marketing management consultant from 2006 to 2014, and as the marketing manager for Eat Here Brands from September 2014 to spring 2016.
When Fowler and her husband, Jason Fowler, were getting ready to have their first daughter, Elin, they didn't have money to buy art, so she decided that she would make the art herself. "I was, of course, looking on Pinterest trying to figure out what I would want to make a calm environment, and so I (thought), 'I'm just going to paint this stuff on my own," she says.
She got an idea from Pinterest and went out to their garage, got some plywood and leftover paint from the walls, and used the materials to create a piece of art. She says though she was still dissatisfied with her creation, she knew that this time it was for a purpose.
When Ramaswamy's son, Siddartha Park, was born, she commissioned a piece from Fowler of a 
lotus flower for his room.
"[T]hat was the one thing where I look back, and I (thought), 'That was really good for somebody that didn't know what they were doing,'" Fowler says. "Again, those kind of lessons on shadowing came into play, not accurate shadowing. It was more ... expressing emotion through color."
In 2016, when Elin was around 3 or 4, Fowler says the job she had then became more than 
she could handle. "The company had just grown so much that it was more than I could do at that point, so we decided that I would take some time off," she says.
Since she had been working since graduating from college, she decided to give herself a couple of weeks to relax and figure out her next step. She began considering painting and researched local art programs. Ultimately, she decided that she did not want to go to school for art.
"I decided I would take a different path, and it's a crude expression, but I just said, 'Screw it,'" Fowler says. She wrote down all the fears, found negations for them and decided that she would move forward as an artist.
"(I) just was like, 'I'm just going to paint, and I'm not going to try to paint in a way that is academically rooted or that's trying to push some idea or whatever. I'm just going to paint because it's a therapy for me to get beyond (the) fear of moving in a direction and staying stuck in this past career,'" she says.
She bought art supplies and got to work.
"Another fear that I had to overcome was showing people because, of course, I never thought my work was very good," Fowler says. "I decided, 'OK, my next brave thing is going to be that I'm going to post these on Facebook.'"
She didn't price the art, both due to not knowing how and because she didn't think the pieces would sell.
"I had a couple people that don't live here but that I've worked with in the past ... reach out and want to buy the pieces that I posted," Fowler says. "... They were not great friends. They were more colleagues, and so I was able to receive their praise because I knew it wasn't just like, 'Oh, I love you, so I'm going to tell 
you I like your work.'"
For the next couple of months, Fowler decided that she would paint whatever came to mind, and if anyone on Facebook raved about the piece, she would 
send it to them. "That was really awesome," she says. "Who knows? They may have thrown it away as soon as they got it, or they may not have, but it was (a good feeling) to be able to surprise people by sending them art."
Over time, Fowler began watching how artists sold and marketed their work, and kept setting goals. After a few months, she pushed herself to sign up for the 2016 Bright Lights Belhaven Nights.
"Not having anything ready to sell, but just thinking, 'OK, I'm going to push it out and make it 
happen," she says.
Friend and local artist Mary Sanders Ferriss helped her create the booth, and Fowler began painting works on paper to sell. She says the people who came by her booth and bought pieces were often people who appreciated art, including Ellen Langford, a local artist she looked up to. Langford bought three of her pieces.
"I was draw to how willing she is to be free with forms and shapes and things like that, the compositional elements of painting," she says.
For the next year, Fowler considered painting her job and would reinvest what she made into her craft, taking classes, meeting local artists to talk about art and more.
"There are no dumb questions, but (I would ask) very basic questions that I didn't know the 
answers to," Fowler says. Throughout that year, she says she developed friendships with local artists and also created 
an artist community.
"I didn't go into this trying to establish an artistic community, but I did, and there have been a couple of people who are really encouraged by that," she says.
When Fowler paints, which she often does in her backyard, she does "intuitive painting," which is a more meditative way of creating art.
"This is just an expression of my own 
mindfulness," she says.
Fowler's art will be in a show at HAVEN Curated Home with work from Sabrina Hagerman in early May. For more information on Fowler's art, find her on Facebook.