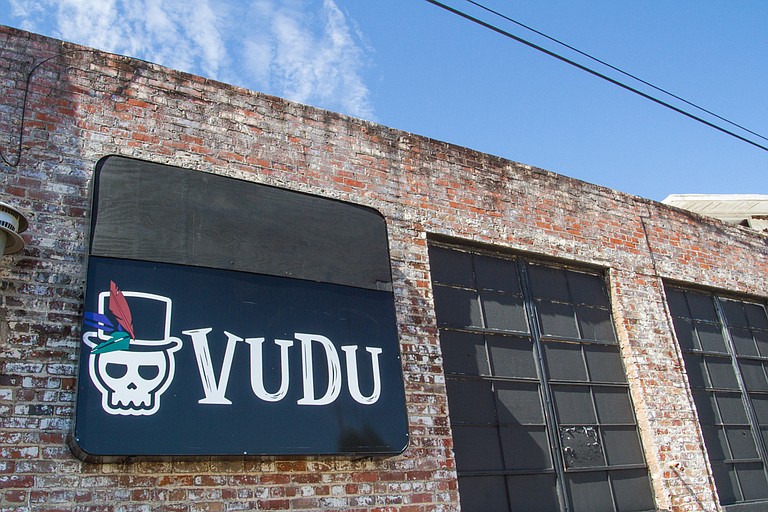 Tuesday, February 27, 2018
Club Vudu (209 Commerce St.), a new nightclub coming to downtown Jackson, will hold its grand opening on Friday, March 2. The 10,000-square-foot venue will feature rock, country and electronic dance music, top-40 hits and music by request late at night. Vudu will also host live acts and deejays at least once a week.
The club interior takes inspiration from bars on New Orleans' Bourbon Street and features two large dance floors, one of which has built-in floor lighting, and a 10-foot crystal chandelier above the dance floor that deejays can control. The stage features equipment for three-dimensional-projection-mapping lightshows. Vudu also has arcade games, basketball goals, pool tables, and areas for playing cornhole and beer pong.
The venue will offer food such as burgers, wings, fries, nachos and tacos, as well as $3 domestic and $4 imported beers.
The grand opening will feature an all-night performance from DJ T-Zilla from The Hangout bar in Gulf Shores, Ala., and Vudu will waive the cover charge for women until 11 p.m.
Club Vudu will be open from 7 p.m. to 3 a.m. Thursday through Saturday. The cover charge will be between $5 and $10, depending on events. For more information, call 601-750-3037 or visit clubvudu.com.
The Murals Coming to Jackson in March
Jackson couple Amanda and Timaal Bradford will open The Murals (750 N. Jefferson St.), a men's urban-wear store that will focus heavily on local brands, in Belhaven in March of this year. Amanda describes the shop as a lifestyle market that will offer shirts, hats, sweatpants, vintage apparel, and rare thrift- and consignment-shop finds that other stores no longer sell.
"Amanda is passionate about pushing hip-hop culture forward in Jackson," Timaal told the Jackson Free Press. "There aren't many places interested in doing something quite like this, so she's doing her best to embrace the culture of local urban areas like Jackson and help younger people keep it going."
The Bradfords have already been active in Jackson ahead of the opening, hosting podcasts, pop-up shops, and photo and video shoots around the city to promote The Murals. They also plan to use their shop as a venue to host local artists who may not have a platform to perform. The Murals recently hosted a "tiny store concert" on Feb. 10, which featured local artist Sika performing in an intimate audience setting while the Bradfords filmed a video of the concert.
"I opened this store to give young people options besides Northpark Mall," Amanda said. "I wanted to create something for my generation and to be an urban warrior like Phillip Rollins (who owns Offbeat in midtown), while also offering something for everybody. I also want to carry the torch for the next generation, and give them a place to showcase their projects and help them get recognition."
The Bradfords will have a pop-up event for The Murals with the Pre-St. Paddy's Parade Supershow on Friday, March 16, at 7 p.m. at Lucky Town Brewing Company (1710 N. Mill St.). The concert will feature performances from Timaal and other hip-hop artists such as DevMaccc, 5th Child, Flywalker, Vitamin Cea, DONO Vegas, Sippi Queen, Mike Hustle and Beezie.
For more information about The Murals, call 601-927-3730 or find the business on Facebook.
Spectacles Opens in The District at Eastover
The District at Eastover, a mixed-use retail facility in Jackson, recently added optometrist and eyewear shop Spectacles to its list of stores.
Spectacles (120 District Blvd. E., Suite D109) offers popular glasses brands such as Costa, Kate Spade and Elle, as well as unique lines such as Iyoko Inyake of Belgium; Matisse, a hand-painted Italian line; and Kirk & Kirk of London, which offers handmade eyewear in pop colors. Spectacles also has an exclusive line called Drift Eyewear, which features frames made of driftwood from the Mississippi River.
Spectacles' offerings include eyewear with special lenses for patients suffering from migraines, blue-light eyewear protection, and sporting gear, such as professional shooting eyewear from Randolph and Wiley-X.
Dr. Rebecca Cox Patton, Spectacles' optometrist, has provided eye care in the Jackson area since 2001, specializing in contact-lens fittings and eye exams. She is currently completing a specialized certification to provide comprehensive eye care for children diagnosed as dyslexic and those with attention-deficit disorder or attention-deficit hyperactive disorder, and will be the only consultant in the state with this certification.
The shop also offers special patient services such as home delivery in Jackson, on-site adjustments or after-hours visits by special appointment. Spectacles accepts most insurance plans, and walk-ins are welcome, though it encourages patients to make appointments.
The shop is open Monday through Friday from 9 a.m. to 6 p.m., Saturday from 9 a.m. to 2 p.m. For more information, call 601-398-4662 or visit spectaclesms.com.