Wednesday, February 28, 2018
JACKSON — Jackson Public Schools could have a new superintendent by July if the Board of Trustees gets its way. Earlier this month, the board finalized its top two superintendent search firm candidates: McPherson & Jacobsen LLC and Hazard Young Attea Associates.
They will interview both firms in open work sessions on Thursday.
Last week, Michael Casserly, executive director of the Council of the Great City Schools, discussed the superintendent search with the board. Board vice president Ed Sivak said the conversation was helpful for the upcoming conversations and decisions the board will make. Sivak said the board is considering looking at firms that have done searches in cities similar to Jackson, as well as weighing the options of doing a national or local search—or both.
"(We discussed) the role of the board, you know, pushing the search firm ... not just having them conduct a passive search but really to go find the best candidates," Sivak told reporters last week.
Both search firms still in the running have experience in other urban school districts around the country, copies of their responses to the request for proposals show. Hazard Young has worked with school districts in Portland, Ore., Houston, Texas, Los Angeles, Calif., and Boston, Mass. McPherson & Jacobsen has worked with school districts in Little Rock, Ark., Jacksonville, Fla., Charlotte, N.C., and Starkville, Miss.
JPS is the second-largest district in Mississippi, with more than 25,000 students in the capital city. Still, the district is smaller than many urban districts nationwide. Charlotte-Mecklenburg Schools, in North Carolina, has more than 145,000 students, for example.
Both search firms have experience working in districts with much larger as well as similar-sized districts to JPS.
McPherson & Jacobson estimates costs for its search to be about $37,000. Hazard Young starts its consulting fee at $28,500, but this price tag does not include advertising or background checks or surveys, which could bump that cost to about what McPherson estimates it will cost.
Board President Jeanne Hairston said the board selected the two search firms based on their written applications but said she is unafraid to re-issue the RFP if after the interviews if needed.
"If we are not satisfied with what they have to offer, I don't think we would have a problem with re-opening the search because you can't get a high-quality candidate if you don't have a high-quality search team," she said.
Hairston emphasized that the board wants a superintendent who is excited about both the challenges and the opportunities of walking into the district.
"JPS does have challenges, but we want them to be able to see our incredible strengths in Jackson: our vibrant city, our outstanding citizens, our partners in community and, most particularly, our children that have great potential," she said.
The district is in the throes of several studies, adjustments and additional work to comply with state accreditation standards.
Earlier this year, the Council of the Great City Schools recommended that the board re-evaluate the organizational structure of the district. Hairston and Sivak said they wanted to install a new superintendent first before re-organizing.
"We know that right now our priority is getting a strong superintendent in place. We want to make sure we create an environment where she or he can come in and be successful, so we want to be careful about making lots of changes prior to that person getting in place so that they can work with the board to build a structure where our students can succeed," Sivak told reporters
CAP First, Studies Later
The six members of the board, who are still pretty new to their roles, have had their fair share of challenges from the beginning. The new board was just a small piece of the city-governor-district-W.K. Kellogg Foundation partnership that helped JPS maintain local control and avoid a state takeover last fall.
The Mississippi Department of Education conducted an investigative audit of the district, finding JPS to be out of compliance with 24 state accreditation standards. The governor declined to declare an emergency, however, and JPS entered into a time of transition. The State Board of Education still put JPS on probation for their accreditation violations.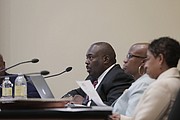 JFP's stories about the state takeover of the Jackson Public Schools district
The Better Together Commission, compiled of local business leaders, educators and other stakeholders in Jackson's schools, has since hired the Insight Company, from California, to conduct an in-depth needs analysis of JPS by November 2018. Additionally, the Council of Great City Schools had already been at Jackson Public Schools last year with plans to release a report this spring.
Last week, the JPS board approved the revised corrective action plan, required for JPS to get off probation. The state board will vote on the plan at their March meeting. Sivak said a lot of the corrections needed in the CAP were to ensure that the district has ways to measure and prove that it is meeting accreditation standards. Both Hairston and Sivak said the board's determination to maintain a healthy, working relationship with MDE officials is working. They praised the amount of time that state Department of Education workers have met with the board and JPS officials to iron out the CAP.
"Through the back and forth, it's not adversarial; it's thought-provoking and coming to the best practice for the district," Hairston told reporters last week. "And it takes colleagues thinking it through to come up with the best solution."
Hairston said the public often thinks the parties are fighting.
"Well no, we're just trying to build the best corrective action plan so that we can follow it and honor it and feel good about it," she added.
Email reporter Arielle Dreher at arielle@jackson freepress.com. Follow her on Twitter @arielle_amara.