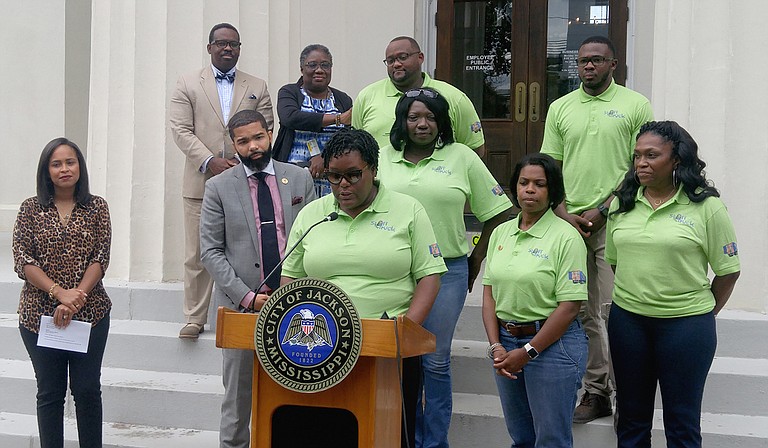 With Jackson Public Schools starting in less than a month, the City started a campaign to equip students with supplies they'll need.
"This campaign is very instrumental in making sure our young people, as we start the school year, are prepared with the resources necessary for learning," Mayor Chokwe A. Lumumba said at a press conference. "What we have learned over time is that there is such a gap between the resources students have across our district, and we want to make sure that all of our children have all of the resources that are important to the education process."
This year's campaign is different, because supplies will go to the JPS Resource Center, and teachers will be able to take what they need for their classrooms. This prevents any issues with children losing supplies between the time of the donations and the start of school, Lumumba said.
"We just want to be able to make sure that any of the students in elementary and middle school have the items and school supplies they'll need to start the year," Constituent Services Manager Keyshia Sanders said at the press conference.
The campaign also helps address the unequal wealth distribution throughout JPS, as it will allow lower-income students to have access to supplies they need for school, Lumumba said.
"There are equity issues that exist across our school district, and we have to be mindful of those equity issues and do all that we can to address those issues," Lumumba said. "We don't want any students learning process interrupted simply because they don't have the resources necessary to participate in that process."
The campaign concludes July 28 with an event at the Jackson Convention Center, from noon to 3 p.m. During that time, an 18-wheel truck will be stuffed with school supplies. Attendees can get health screenings, interact with vendors and enjoy food on site, Sanders said. "Stuff the Truck" is looking for these items, and more: dry-erase markers, highlighters, three-ring binders, crayons, wide-rule paper, 70-page wide-rule spiral notebooks, two-pocket folders, backpacks, compensation notebooks, pencils, pens and glue sticks.
The campaign began July 9 and ends July 28. Community members can donate supplies at Vision Unlimited, 5261 Greenway Drive, and Valvoline, 4950 I-55 N. Frontage Road. Monetary donations are also accepted. Visit backtoschooljackson.org for more information.