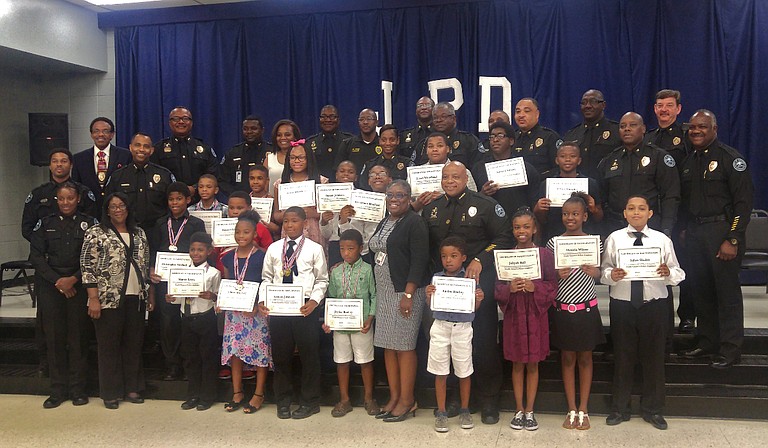 JACKSON — More than 20 children between the ages of 7 and 12 graduated from the Jackson Youth Citizen's Police Academy on Friday, July 13.
The kids spent a week with Jackson Police Department officers learning about the police force, its interactions with the community and the laws in the city. Attendee Kamari Armant said one of the biggest takeaways from the week was learning to say no to drugs and how to interact with police officers. He said he also learned how prank calls to 911 can harm other people because it takes resources away from people who really need them.
"I am extremely proud of each and every one of you, that you have chosen to join the Youth Citizens' Police Academy," Chief James Davis said. "As you enter this new school year, you will have the opportunity to demonstrate that you have the leadership capacity within you to become a member of your student council, captain of a sports team and to exceed academically as a student."
As part of the graduation ceremony, students received medals for winning the athletic competitions modeled after the police officers' training. Categories included jumping jacks, sit-ups, crab crawls and pushups.
"This week, your body has been strengthened through physical training, which provides you the mind and spirit so your body is ready to meet challenges that you will face in the 21st century," Davis said. "It is my hope that you remain in control of your health and nutrition, and continue to stay energetic and physically active."
The graduates have the responsibility to look out for themselves and those around them, speaker Ingrid Cloy of the Mississippi Center for Excellence said at the graduation. They can encourage their friends to make smart decisions because the citizens' academy trained them to make good decisions.
"You can be the voice of reason with your friends," Cloy said. "Sometimes your friends can say and do things that get all of you all in trouble, right? So you can say, 'Let's not do that.'"