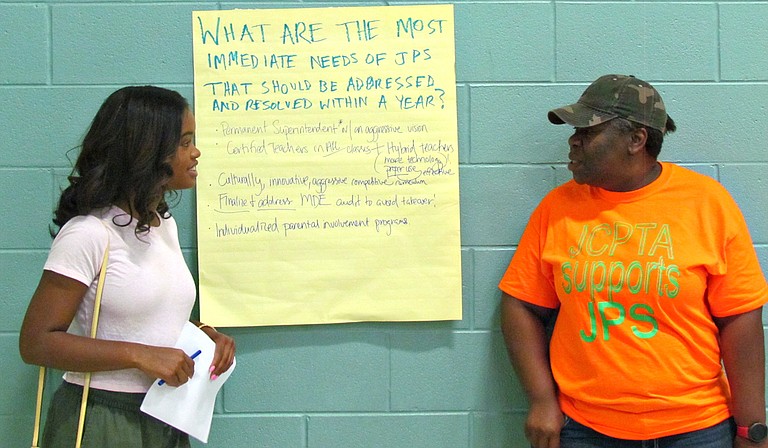 JACKSON — "How many times do we have to say something before someone actually hears it?"
Maisie Brown, an incoming junior at Murrah High School, was expressing frustration at the lack of action to improve and repair Jackson schools at Grove Park Community Center in Jackson on July 17. Brown said she is tired of seeing her classmates not have the resources they need to succeed at school.
"We're looking for change, and we're hoping for change," Brown, who previously attended Jim Hill School, said.
Teachers, students and Jackson Public Schools board members filled the community center in Jackson on July 17 for a people's assembly in support of the upcoming $65-million bond referendum.
More than 70 people spoke about the need for the bond to pass, although the crowd thinned as the two-hour meeting continued. Then, attendees divided into small groups to discuss questions about tax rates, repairs and the necessity of the bond, which does not come at a cost to taxpayers.
Trustees and event organizers assured people that, no, taxes will not increase, and yes, the bond is necessary if the district wants to avoid a state takeover.
"That state takeover threat is still going to be there and with the half-a-million-dollars facility budget in our capital budget for next year, there's no way we can address those issues," JPS Board Member Robert Luckett told the Jackson Free Press.
If the bond passes on Aug. 7, it will pay for repairs to the 56 school buildings in the JPS district. The Mississippi Department of Education developed a list of 1,700 items that need to be repaired or replaced under its improvement plan for the district. There are about 300 items left to fix, totaling roughly $15 million.
The repairs MDE requires relate to the safety of the students, Executive Director of Facilities and Operations Don McCrackin told the Jackson Free Press. Some of those repairs include replacing windows and fixing structural errors in the buildings.
The remaining $50 million will fund needed repairs and renovation, including the addition of canopies over elementary school playgrounds, fixing interior and exterior lighting in more than half of the buildings, and making bathrooms and walkways handicap accessible.
Until those items are resolved, the threat of a state takeover of the district still looms, Luckett said in the interview.
"If the bond issue doesn't pass, there is no way we can address roughly $15 million in facility issues that we've been cited on by MDE," Luckett said. "We quite frankly can't come out from under that audit without this bond issue."
The election is set for Aug. 7 because if it is not renewed by Aug. 15, the millage property tax is reduced. If the bond does not pass, taxes will decrease. If the bond passes, taxes will remain at the same level.
The urgency in passing the bond is because inflation will increase, which means any future tax will be more expensive to get the same $65 million, Luckett said.
The Repairs
If the bond passes, the district will make the required $15 million of MDE-mandated repairs, and then spend the rest of the money fixing and improving the buildings. For the 2018-2019 academic year, the district has a budget of $500,000 to make capital improvements to the 56 buildings, which include replacing broken windows, fixing drainage issues, and repairing walls and doors.
The district published a list outlining how it will spend the money. JPS will spend $14,355,000 on the 33 elementary schools, fixing problems such as drainage, lighting, restrooms and repairing playgrounds.
The district will spend $11,225,000 on 14 middle schools, with every school receiving an upgraded and/or renovated science lab. Some schools do not have a science lab, and others are barely functioning, McCrackin said. Drainage and soil-erosion control are among other suggested repairs.
JPS will spend almost $39.5 million on renovations to the district's nine high schools. Most buildings need drainage and soil-erosion control, as well as repairs to the air conditioning units.
About $19 million will upgrade the science labs, renovate libraries and academy spaces and renovate and upgrade Newell Field. It will also help build a new JROTC building and a new baseball and softball complex by the Capital City Alternative School, documents from JPS say.
"Our children deserve this," Luckett said at the meeting. "They deserve schools that they are proud of. They deserve state-of-the-art facilities to enable a world-class education. I can tell you, on behalf of the school board, we are completely committed to doing our due diligence and working as hard as you can to ensure that these projects are accomplished and every dollar is spent for the good of our children."
The district arrived at $65 million by asking contractors to estimate the costs of each item project. The price may fluctuate, but the bond price is set, Interim JPS Superintendent Freddrick Murray said.
It will take about three years to complete the projects, McCrackin said. The district will complete most projects in the summer; however, that is not enough time to do every project, so some will happen during the school year.
"I must admit, some people will be inconvenienced because a hundred projects going on in the summer, all of it will not be completed within 60 days," McCrackin said. "Without disrupting classes, some of the work will be after hours and the weekends."
Transparency Concerns
A common concern is transparency of how the board spends the money. The district could create a bond committee, with residents from each of the city's wards, to oversee how the money is spent, but it is unclear if it will happen," McCrackin said.
"As a board, we are committed to seeing this through and doing our due diligence to seeing this through," Luckett said. "We all believe in the children of Jackson Public Schools and that the future of this city depends on Jackson Public Schools."
The majority of people at a town-hall meeting about the bond issue at Barack H. Obama Magnet School on July 16 and the People's Assembly meeting on July 17 supported it.
"This bond referendum is about the humanity of our children," JPS teacher Olivia Cote said at the meeting. "That's it. This is basic human necessity."
Jackson resident Vinson Bibbs said he voted for the bond referendum in 2006, but he will not vote for the one in August.
"They have to do more with less," Bibbs told the Jackson Free Press.
"They're going to make it happen with less money this go round. We are not going to keep bailing them out, wasting money and all of that stuff."
For more information on the bond, visit http://Jackson.k12.ms.us. The election is Aug. 7. Absentee voting is available from 8 a.m. to noon on July 28 and Aug. 4 at City Hall.
Email Marie Weidmayer at marie@jacksonfreepress.com and read related coverage at jfp.ms/jpstakeover.