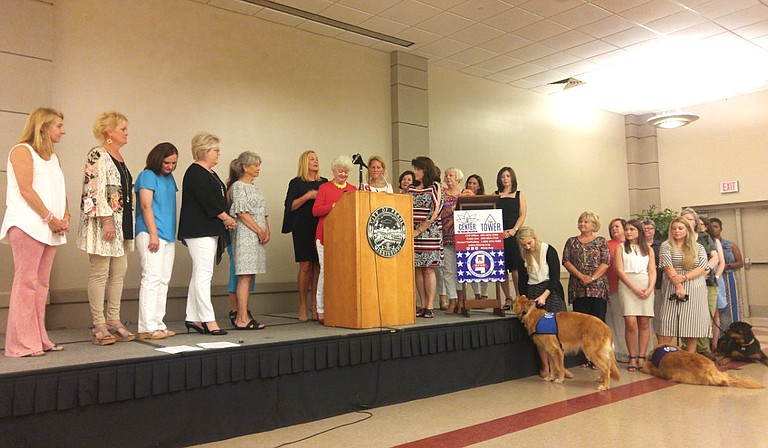 JACKSON — Republican Mississippi women are working to end human sex trafficking and help its victims, a prominent Jackson-area domestic-violence organization said Monday.
The Center for Violence Prevention, based in Pearl, recognized the Mississippi Federation of Republican Women's work on trafficking at a press conference July 25.
The nonprofit operates The Tower, which provides care and rehabilitation for adult women rescued from human sex trafficking, opened one year ago and has helped more than 24 women. It is the only human trafficking shelter in Mississippi, Center for Violence Prevention Executive Director Sandy Middleton told the Jackson Free Press.
Middleton gave MRFW President Vivian Dailey an award to recognize the work the federation has done to bring awareness to human sex trafficking. Its members present to organizations around the state about human trafficking and how the public can help stop it, Dailey said.
"This is not a problem that women—generally, the kind that are attending Republican Women events—have any idea about," Dailey told the Jackson Free Press. "We're opening people's eyes all over the state about this issue and how prevalent it is."
Middleton said the Center for Violence Prevention wants to open another shelter to help more victims.
"The place that we have, we've already way outgrown it," she said. "We have a waiting list. To have a waiting list for victims of human trafficking is just not cool. We've got to do better. It's our intention to construct a new facility to be able to house additional victims."
U.S. Attorney Mike Hurst attended the press conference. He said his office is working on new initiatives to help end human trafficking, but he could not give details.
"This is just a terrible, terrible crime. We're trying to look around the state, trying to figure where the problem areas are and trying to marshal our resources ... to try to combat this crime," he told the Jackson Free Press. "With us being between Atlanta and Dallas, New Orleans and Memphis, we're a center point when it comes to human trafficking and human smuggling. We're seeing it every day, sadly, so we're trying right now to figure out how to combat that and have it stop."
The National Human Trafficking Hotline is 888-373-7888.
Email Marie Weidmayer at marie@jacksonfreepress.com.