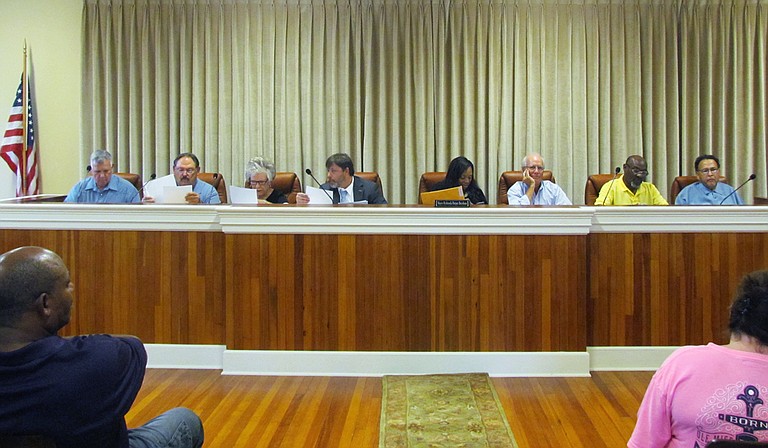 JACKSON — A former Pelahatchie city clerk choked back tears in the backroom of Penn's Fish House in Brandon, as she described the events that caused her to walk out of the job on March 7. Ruby Burns-Ward said Mayor Ryshonda Harper Beechem created an environment of fear in City Hall, so she left a job she loved.
"I told the aldermen, I will not work by myself with her (Beechem)," Burns-Ward said. "She would text us at all times of the night. Any little thing that you said to her would set her off. I lived in constant fear. All day long, it was like she would try to set you up."
Ward One Alderman Michael Adams, former Mayor Knox Ross Jr., retired City Clerk Bettye Massey, Mayor Pro Tem Margie Warren, along with Burns-Ward, sat down with for an interview with the Jackson Free Press and The Clarion-Ledger on May 30, the first time many of them spoke to media since the failed audit was announced.
The day before Burns-Ward walked out, along with the other city clerk, Ellen Davis, Beechem sent a letter to all city employees. Prior to sending it, she emailed a copy to her attorney Thomas Bellinder, documents show.
In the letter, Beechem said some employees have shown a level of disrespect, and as the mayor it is her duty to make sure they are "abiding by the law."
"I will not be held in violation for any of you not abiding by the rules. If any of you have a problem working with me or for me then you may and to find something else," the letter says. "Your conduct from this point on will not be accepted, and I will continue to do what's right and lawful."
Beechem said she wanted people to do their jobs because when she does not know what is happening in the town, it reflects poorly on her.
"You cannot get mad at not wanting to land myself in jail because whether it's me or anybody else, we have a job to do. If it's the law, it's the law and if it's a statue, it's a statue," she said.
The board hired Davis to a part-time city clerk position at its June 4 meeting.
Elected to office in June 2017 by a margin of 12 votes, Beechem is the first black mayor in the county. She reports to the Board of Aldermen, which consists of two black men, two white men and a white woman.
Adams, who is black, said the issues between the board and mayor are not because of racism. Instead, Adams alleges the mayor simply wants publicity.
"If it's not a black issue or a race issue, what is it?" the mayor told the Jackson Free Press. "That's the question that I have that no one can answer."
The Finance Audit
A month into her term, Beechem called the state auditor about Pelahatchie's use of drug-seizure funds. Now, current and former aldermen, city employees, Ross and Beechem owe more than $500,000 total to the state for the misuse of the funds, the audit found.
Aldermen say that they did not misuse the money. They say drug-seizure money was used for law enforcement purposes only, as the law requires. The money did not pay general expenses, the issue is there's a disagreement with how the money was accounted for, Ross said.
"They have done us a favor by putting on record that nobody stole any money and there's nothing is missing," Ross, the former mayor, said.
One issue the audit raises is how now-retired clerk Massey, who is white, was paid. She made about $82,000 a year, in a town of about 1,300 people. Ross said it is because she worked for the city for 30 years and had a workload for one and a half people. However, there was another full-time clerk, Burns-Ward, and one part-time clerk, Ward.
In Walnut Grove, a town of 1,900 people with a full-time mayor, the city clerk makes $38,000 a year. In Ackerman, a town of 1,500 with a part-time mayor, the city clerk makes just under $50,000. In Byhalia, a town of 1,300 people with a full-time mayor, the city clerk makes $57,638, a Mississippi State University survey shows.
"How can we afford $82,000, but you're the same city clerk saying 'we're broke, we're broke, we're broke?'" Beechem said. "If we don't have the money, then why pay? Out of 1,400 people, our residence did not increase to 5,000 people."
 The Disagreements
On Jan. 30, Burns-Ward, who is white, and Beechem argued over user IDs and passwords. She said Beechem yelled at her, saying Burns-Ward was not supposed to talk to the aldermen at all because Beechem was her supervisor. Burns-Ward then threatened to videotape Beechem and went to her office. Burns-Ward texted her husband, asking him to come to City Hall because she was afraid. Her husband came, as did Sgt. Timothy Fikes and Police Chief Keith Poole, Burns-Ward said.
Beechem told the Jackson Free Press she called Poole and asked him to come because she feared for her safety.
Warren was also at City Hall and went to talk to Beechem after the police arrived. "I open the door, and I go in, and she starts yelling 'Get out, get out, get out.' I say, 'what on earth is wrong with you?' (Beechem responds:) 'Get out. It's because of you and that mayor and that board.' She was slinging stuff off of her desk," Warren said.
Beechem said she never threw stuff. Instead, Beechem said Warren accused her of bugging the office phones.
"I asked her, 'Where are the bugs? Take me to them right now. Where are the bugs?'" Beechem said. "They couldn't move. (Warren responds:) 'You can't reason with her.' She walks out."
The Pelahatchie Municipal Court said there is no police report from that day. Police Chief Kevin Poole said he did go to City Hall that day, but did not file a report because no charges were pressed. When he responded, the mayor was upstairs and the city clerks were downstairs.
Email news intern Marie Weidmayer at marie@jacksonfreepress.com.