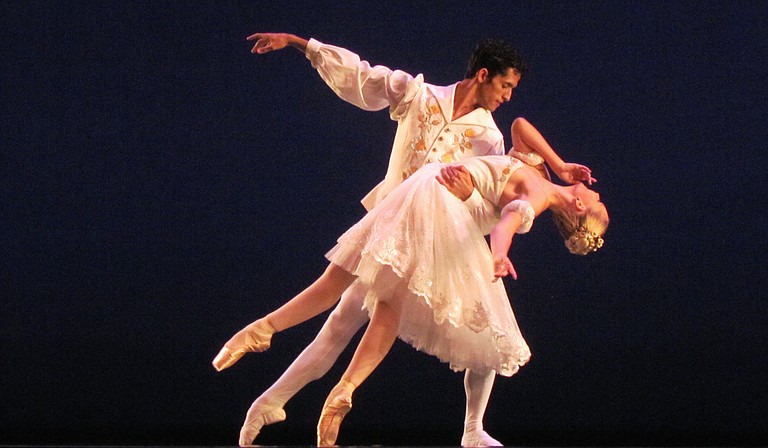 JACKSON — A total of 44 dancers from this year's USA International Ballet Competition are moving on to round two.
A jury narrowed the field from 92 dancers Thursday night, after the eight sessions from round one at Thalia Mara Hall (255 E. Pascagoula St.).
"Those of us who have been on the jury in recent competitions felt that the level here is higher than many, many competitions—recent competitions," jury chair John Meehan said at a press conference Friday morning.
The jury awarded a score of zero to 10 in four categories: technique, artistry, musicality and physique. Then, the jury chose a cutoff score, which stayed around the same amount for each of the divisions, which include senior males, senior females, junior males and junior females.
"As jurors, we all wanted to include as many dancers as possible," Meehan said. "However, there had to be a cutoff for many reasons, mainly because we need quality moving forward, and we need to make sure that those dancers left in the competition have time to prepare."
The artistry category is difficult to judge, jury co-chair Trinidad Vives said. Judges look for stage presence and charisma, and sometimes, it comes down to which dance speaks to each person. With 10 people on the jury, it can make it difficult to find a common choice, she said.
When a dancer falls on stage, it is unlikely to impact their score, Meehan said.
"We've all danced, and many of us (on the jury) have fallen, if not all of us," Meehan said. "Honestly, I don't think that takes away from marks unless it's a real technical flaw that was responsible, and maybe we can see it. It's just bad luck, and I don't think we take marks off of people falling."
This year, the junior categories include dances ages 14 to 18, while the senior categories feature 19- to 28-year-olds. The senior categories expanded include older dancers for 2018, Meehan said, as there are fewer opportunities for them to compete.
He said the senior female competitors impressed him, but their scores were not as impressive. Meanwhile, Vives said she liked the junior females, who represent the largest number of dancers of the 44 still in the running.
"I think the junior females (group) was really strong, and that's probably why we felt that we had to include the larger group," she said.
Round two, which features contemporary choreography and takes place over three sessions, will begin at 7:30 p.m. Saturday, June 16, at Thalia Mara Hall.
Senior male dancers moving on to the next round include: Jorge Barani from America, Jorge Boza Caceres from Cuba, Albjon Gjorllaku from Great Britain, Takahiro Hayashi from Japan, Yuki Kaminaka from Japan, Hirofumi Kitazume from Japan, Sangmin Lee from the Republic of Korea, Ryo Munakata from America, David Schrenk from America, Keynald Vergara Soto from Cuba, and Sicong Wu from China.
Those still in the senior females category are: Veronica Atienza from the Philippines, Katherine Barkman from America, Rieko Hatato from Japan, Sayaka Ishibashi from Japan, Shin Jungyoon from the Republic of Korea, Subin Lee from the Republic of Korea, Risa Mochizuki from Japan, Chisako Oga from America, and Yunting Qui from China.
Junior male dancers still in the competition are: Diego Altamirano from America, Dulgunn Battsengel from Mongolia, Hyuma Kiyosawa from Japan, Joseph Markey from America, Razmik Marukyan from Armenia, Harold Mendez from America, Isaac Mueller from America, Stephen Myers from America, and Tokuyama Rui from Japan.
Lastly, the junior females in round two are: Elizabeth Beyer from America, Nicole Klaudine Barroso from the Philippines, Vanessa Childress from America, Cassidy Daves from America, Carolyne Galvao from Brazil, Kanon Kimura from Japan, Mya Kresnyak from Canada, Liliana Lizalde from America, Jolie Rose Lombardo from America, Alexandra Manuel from America, Julia Rust from America, Rheya Shano from America, Avery Underwood from America, Tia Wenkman from America, and Park Yujin from the Republic of Korea.