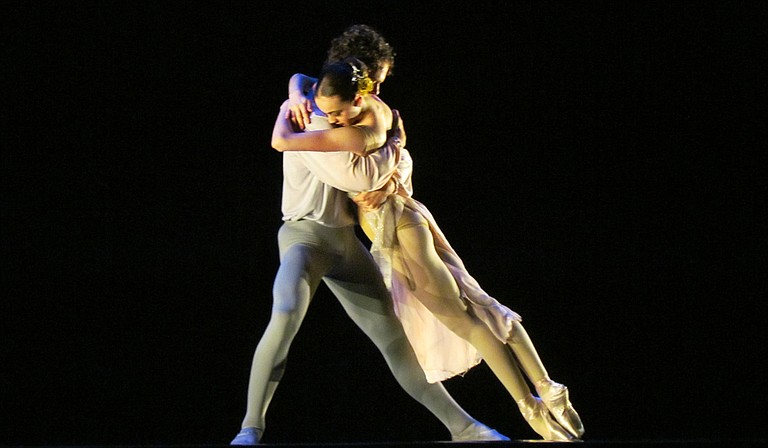 JACKSON — Tutus and pointe shoes were scarce during round two of the USA International Ballet Competition, as dancers performed contemporary pieces.
To qualify as contemporary, the dances had to be choreographed in 2014 or later and no longer than 4 minutes—one performance was to a Justin Timberlake song, "Don't Hold the Wall." Every performance was brand new to the jury, and judging the contemporary round was different from round one, which featured classical pieces, Jury Chair John Meehan said at a press conference Monday.
"The artistry is subjective to each juror," Jury Co-Chair Trinidad Vives told media. "Something is going to appeal more in pieces more than other pieces."
After the completion of three sessions of round two, 32 dancers are moving on to the third and final round. "We have our first winners of the completion because everybody who goes into the next round receives a $1,500 travel stipend, which is awarded through the Peggy Mize Fund of the Community Foundation of Mississippi," Meehan said.
The third round begins Tuesday and runs through Thursday. Friday evening features a gala with the announcement of medalists, who will then perform the jury's favorite piece.
Awards consist of gold, silver and bronze medals in each of the four divisions: senior male, senior female, junior male and junior female. But, the jury has the right to withhold medals if no dancers perform at a high enough level, Meehan said.
"We also look to see how well rehearsed they are," Meehan said. "Some people bring an exciting piece of choreography, but you can see they haven't rehearsed it to the last eyelash where others have. That really makes a difference for us."
The level of competition is high, but those who did not make it to round three still have opportunities to perform and learn from fantastic directors. "I think it is one of the major competitions in the world," Vives said. "I think it's a wonderful experience because you also get all this work with directors and masters from everywhere."
Senior males who are moving on are: Jorge Barani from Cuba, Albjon Gjorllaku from Great Britain, Takahiro Hayashi from Japan, Yuki Kaminaka from Japan, Sangmin Lee from the Republic of Korea, Ryo Munakata from America, David Schrenk from America, Keynold Vergara Soto from Cuba and Sicong Wu from China.
Competing in round three for senior females are: Veronica Atienza from the Philippines, Katherine Barkman from America, Rieko Hatato from Japan, Shin Jungyoon from the Republic of Korea, Risa Mochizuki from Japan, Chisako Oga from America and Yunting Qiu from China.
The junior males in round three are: Hyuma Kiyosawa from Japan, Joseph Markey from America, Razmik Marukyan from Armenia, Harold Mendez from America and Stephen Myers from America.
The following junior females will compete in round three: Nicole Barroso from the Philippines, Elisabeth Beyer from America, Carolyne Galvao from Brazil, Mya Kresnyak from Canada, Jolie Rose Lombardo from America, Alexandra Manuel from America, Julia Rust from America, Rheya Shao from America, Tia Wenkman from America and Park Yujin from the Republic of Korea.
Email marie@jacksonfreepress.com.