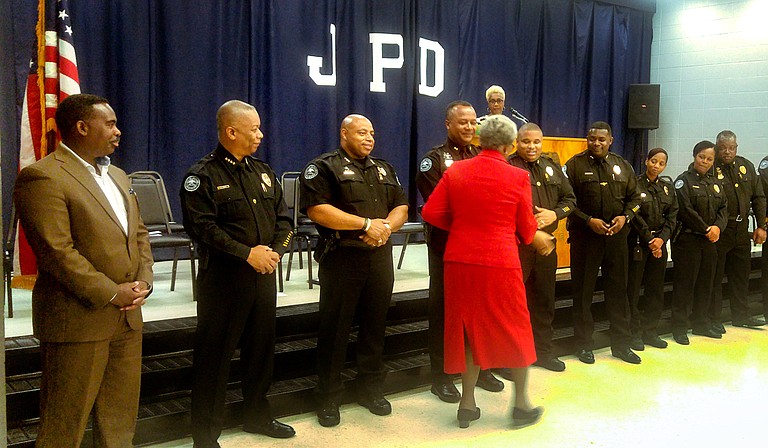 JACKSON — About 30 Jacksonians are now official ambassadors between the local police and the community after graduating from the Jackson Police Citizen's Police Academy on June 18. The goal of the academy is to educate people and encourage good interactions, Commander Herman Horton said at the ceremony.
"I thank you for your commitment to serve and protect with our police department and your commitment to share with your neighbors and communities and for your commitment to use this training in service of making Jackson a better place," Chief Administrative Officer and Interim Director of Finance Robert Blaine said.
Participants spent a week with JPD doing ride-alongs, target practice, attending classes and more, Horton said.
"This week-long process has allowed you to understand the police department, understand what our officers do, and understand how we work day in and day out," he said.
The week taught the new graduates a lot, participant Etta Morgan said. She learned the lack of resources JPD has at its disposal, and its need for more funding to better protect the community. JPD's annual budget for 2018 is $35,010,792, which is 9.5 percent of the City's budget of $366,186,588.
"It's been wonderful," Morgan said. "There are things I thought I knew that I really didn't know that I learned through the class."
Blaine echoed Morgan's sentiment about the need for more funding to better equip officers to do their jobs. "We need more support for our public-safety officers," Blaine said. "We need the community to rally around our police officers, and we need you to spread the great word of what professional, high-quality public servants that we have."
Blaine asked for greater community support as transparency from JPD is on the decline. His comments come during a divided community conversation about whether JPD should start releasing the names of officers who shoot citizens, as well as the circumstances. The department, which has experienced eight officer-involved shootings since Mayor Chokwe A. Lumumba took office last July, does not release this information. It is facing at least one lawsuit over a recent officer-involved shooting.
Since Mississippi Bureau of Investigations started looking into officer involved shootings, it is harder to get information, as the Jackson Free Press reported recently.
The mayor, who ran on a platform of criminal-justice reform and transparency, appointed an officer-identification task force to determine whether or not JPD should release the names of officers involved in shootings and how soon. The task force has met for several months without coming to a consensus on the question.


Read more at jfp.ms/policeshootings and jfp.ms/preventingviolence.