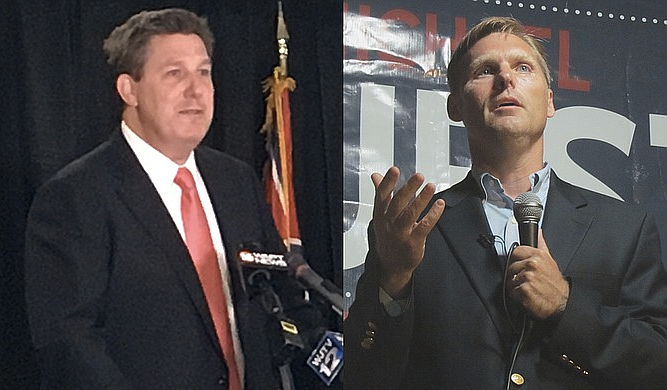 JACKSON — Two spots on the November ballot are up for grabs today, as Mississippians head to the polls for a run-off election. In a statewide race, Howard Sherman and David Baria are vying for the Democratic nomination for the U.S. Senate. The winner of the run-off will face incumbent Roger Wicker.
In the race for the Third U.S. Congressional District, Republicans Michael Guest and Whit Hughes are competing for the nomination. The winner will face Democratic nominee Michael "Ted" Evans in November.
Guest declined to do an interview with the Jackson Free Press, but completed a candidate questionnaire. His Communications Director Rob Pillow, cited a lack of time.
Immigration:
Hughes said he supports a wall along the United States' southern border, and he does not support any form of "chain migration" or a visa lottery program.
Hughes' campaign reached out to say that he has never supported the separation of families at the border.
During Hughes' interview with JFP, this is what he said regarding family separation: "Listen, I support enforcing the laws that we have. I understand this is a highly charged issue that's top of mind for folks right now, and it's an emotional issue. It's an emotional issue for me. It's very hard for me to see families being split up at the border. But this is not because we have new laws; it's because we have new leadership that is actually enforcing the laws. That's what I believe. It's the only way we're going to get control of immigration and do what we need to do as a country to put ourselves on a better track."
Sherman said he does not support a border wall because it is not cost-effective, nor is there evidence that shows it provides any security. Allowing authorized workers to immigrate to the U.S. in fields that need more workers is one way to help solve the immigration problems, he said.
Baria said the Deferred Action on Childhood Arrivals, or DACA, program is important because children did not decide to come to the U.S.; their parents did. He also wants to revamp the immigration system because it is not effective.
Abortion:
Hughes said: "Mississippians can expect me to have very strong, conservative opinions." He then clarified that he is anti-abortion rights.
Abortion rights are not an important part of Sherman's campaign, because as a senator the only decisions he would make about it would be appointing a new Supreme Court justice, he said.
"I think abortion should remain safe and legal, so that we don't have a situation where only wealthy women are capable, because of their wealth, of getting an abortion by flying to some country where it's legal," Baria said.
GOP Tax Cuts:
Hughes said the GOP tax cuts benefited Americans, and it's a track the U.S. needs to stay on to help businesses and increase wages.
"I'm not saying I'm anti the tax cut; I'm anti an unfocused tax cut," Sherman said.
The tax cut was just a payback for the Republicans who donated to Trump, Baria said. It benefited the 1 percent the most, when tax cuts should help the middle class, he said.
To read the full interviews with Baria, Sherman and Hughes, along with candidate questionnaires for Baria, Sherman and Guest, visit jacksonfreepress.com/2018elections.
This story was updated to clarify Whit Hughes' stance on separation of families at the border.